Global smartphone shipments will drop in 2019, but 5G demand should help the industry bounce back
3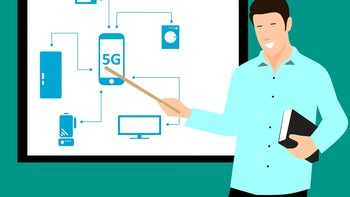 Excited about the
5G revolution
officially
kicked off by Verizon
(well, sort of) earlier this week? If a couple of recent reports didn't make it abundantly clear, it's going to take quite some time for
5G-enabled smartphones to become mainstream
and then ultimately
transform the industry
in a number of truly meaningful ways.

In the meantime, global smartphone shipments are expected to drop below 1.5 billion units in 2019, according to Digitimes Research. The stagnation of a market that's been growing at an incredible pace since the launch of the first iPhone and the impressive expansion of the Android ecosystem has long been anticipated, but now we're talking about an actual decline.

Counterpoint Research estimated around 1.55 billion smartphones were sold worldwide last year, up marginally from 1.51 billion units in 2016. The same firm reported a 3 percent year-over-year dip in Q1 shipments back in May, then a 2 percent drop in Q2 numbers a few months later.

Therefore, it's likely that the market will register its first-ever annual decline in 2018, followed by another small drop or just stagnating shipment scores next year. Fortunately, there's definitely light at the end of the tunnel, as Digitimes projects "replacement demand" for 5G smartphones will "start emerging in 2020."

Shipments should immediately bounce back to over 1.5 billion units in the year and around 1.7 billion in 2023, which doesn't sound very impressive, nonetheless representing overall long-term industry growth.

Basically, you may want to start thinking about 5G as an evolutionary technology rather than a revolutionary new standard.

As far as smartphone vendors are concerned, Digitimes researchers have no reason to expect any dramatic changes at the top of the charts next year, with Samsung, Apple, Huawei, Xiaomi, Oppo, and Vivo all likely to retain their positions among the world's six largest players.

While the names of the 9th and 10th smartphone manufacturers by shipments are unlikely to ring any bells (Transsion Holdings and Reliance), you might be interested to hear HMD Global is tipped to continue growing, with Nokia-branded handsets beating Meizu, TCL, Asus, and ZTE, among others.