The 5G world is closer than you think, what will life look like?
22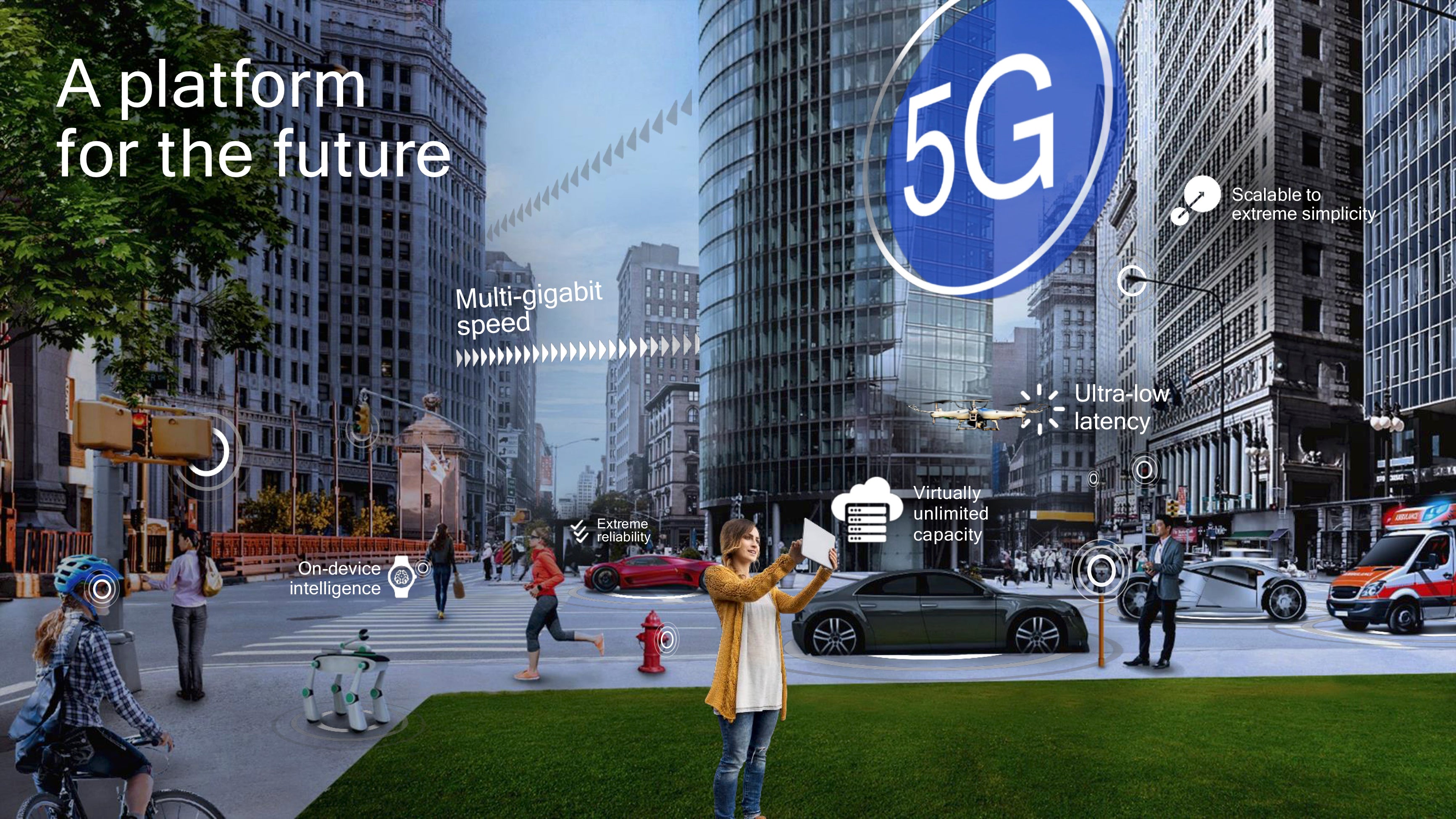 Introduction
5G is going to change our lives in ways that we cannot even imagine at this point. Current estimates state that between 2020 and 2035, the implementation of 5G alone will make a contribution to the real global GDP equivalent to an economy the size of India. And in 2035, the value of 5G will support 22 million jobs worldwide and produce an economic output of $12.3 trillion. So yeah, 5G is a pretty big deal, and everyone from carriers to device makers are keen on boarding the 5G train ASAP.
Originally, 5G was not due to roll out until 2020, but the companies developing 5G technologies decided to bring forward the date, and now we will be seeing the fruits of their labor by 2019. Recently, we have been reporting a lot about telecommunication companies announcing 5G trials. In the UK, Vodafone and EE have already announced plans to hold trials in cities across the British Isles. And across the pond, Verizon, AT&T, T-Mobile, and Sprint have been eagerly making plans. Meanwhile, device makers are all joining the fray with the first 5G phones due to hit shelves in 2019.
So with all the excitement and general chatter about 5G, we thought it would be a good idea to show you what things may look like in a few years, and to outline the core technologies that will make it all possible. In the writing of this article, we have consulted a plethora of materials, mostly from Qualcomm who are at the forefront of developing 5G, and whose new
X50
modem will start bringing 5G capabilities to phones in 2019. We hope that the technologies are presented in a manner that is more comprehensible than you may find elsewhere.
A day in the life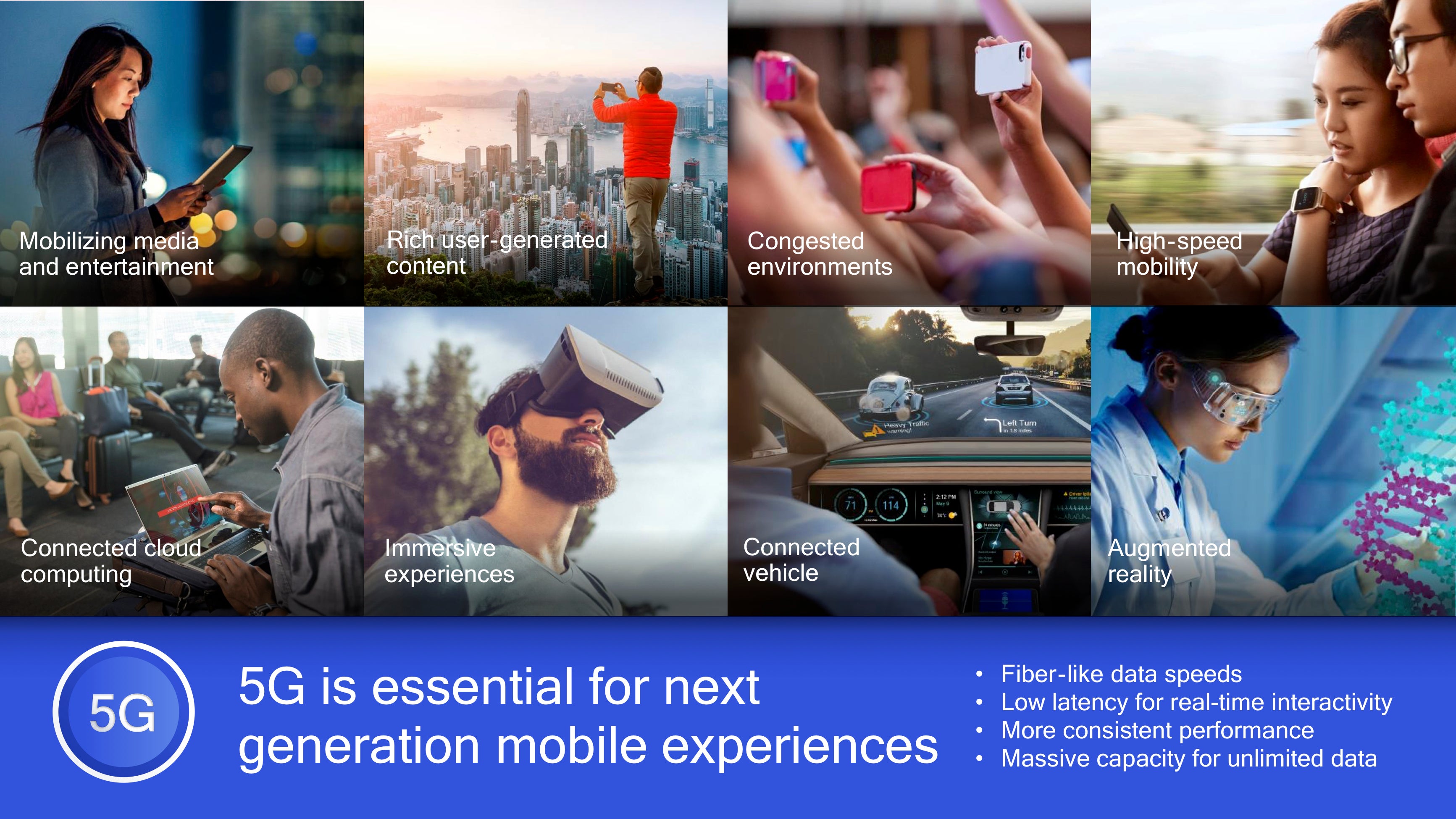 5G offers us many exciting new possibilities
Your alarm goes off in the morning, same as always. But that alarm was the trigger to turn on the water boiler and to set in motion your morning routine. Everything is connected as it is quickly becoming. Some things will not change so much, but when you leave the house and the confines of your Wi-Fi network, things will be noticeably different. Everything from downloading movies in seconds to enabling the next wave of smart cities will be available with 5G. Things will be more efficient, quicker, cooler. 5G acts as a mesh that will connect just about everything in our lives.
In order for everything to be quicker and more efficient, Qualcomm has been developing optimized OFDM-based wavelengths as part of 5G NR (New Radio) which will allow for specialized data connections based on the device. So, an IoT device will have a better optimized wavelength, different from the wavelength of a phone, which allows it to be more efficient. In addition, having devices spread out across diverse wavelengths will make everything faster. Right now, the bands that we currently use for mobile data are very crowded and are becoming more crowded. The more devices that are trying to use the network, the slower the speed is for everyone. 5G is going to change that.
Utilizing the flexibility of 5G NR
In leaving the house for your daily commute, you get into your car and it pulls out of the driveway…by itself. You will probably feel much safer with autonomous vehicles because with the power of 5G technologies, you know that your vehicle will be communicating with the other vehicles on the road to avoid collision. Your car will be able to see around corners with new technology that allows for non-line-of-sight sensing. The car realizes that a couple miles ahead there is a blockage and automatically reroutes to avoid it. You may worry that while you are consuming content, your connection to the network may interfere with your car's connection, as we are warned about on airplanes, but not to worry.
V2X encompasses a variety of different communication pathways that will be implemented to make autonomous driving safe, and transportation quicker and more efficient. V2V (Vehicle to Vehicle) communication allows vehicles to be aware of where they stand in relation to their fellows. This real-time communication will allow vehicles to essentially be able to see around corners because they will be able to view live footage from nearby vehicle cameras. V2P (Vehicle to Person) will allow vehicles to know how we are moving, so that they could sense in advance if nearby pedestrians are about to step into the road.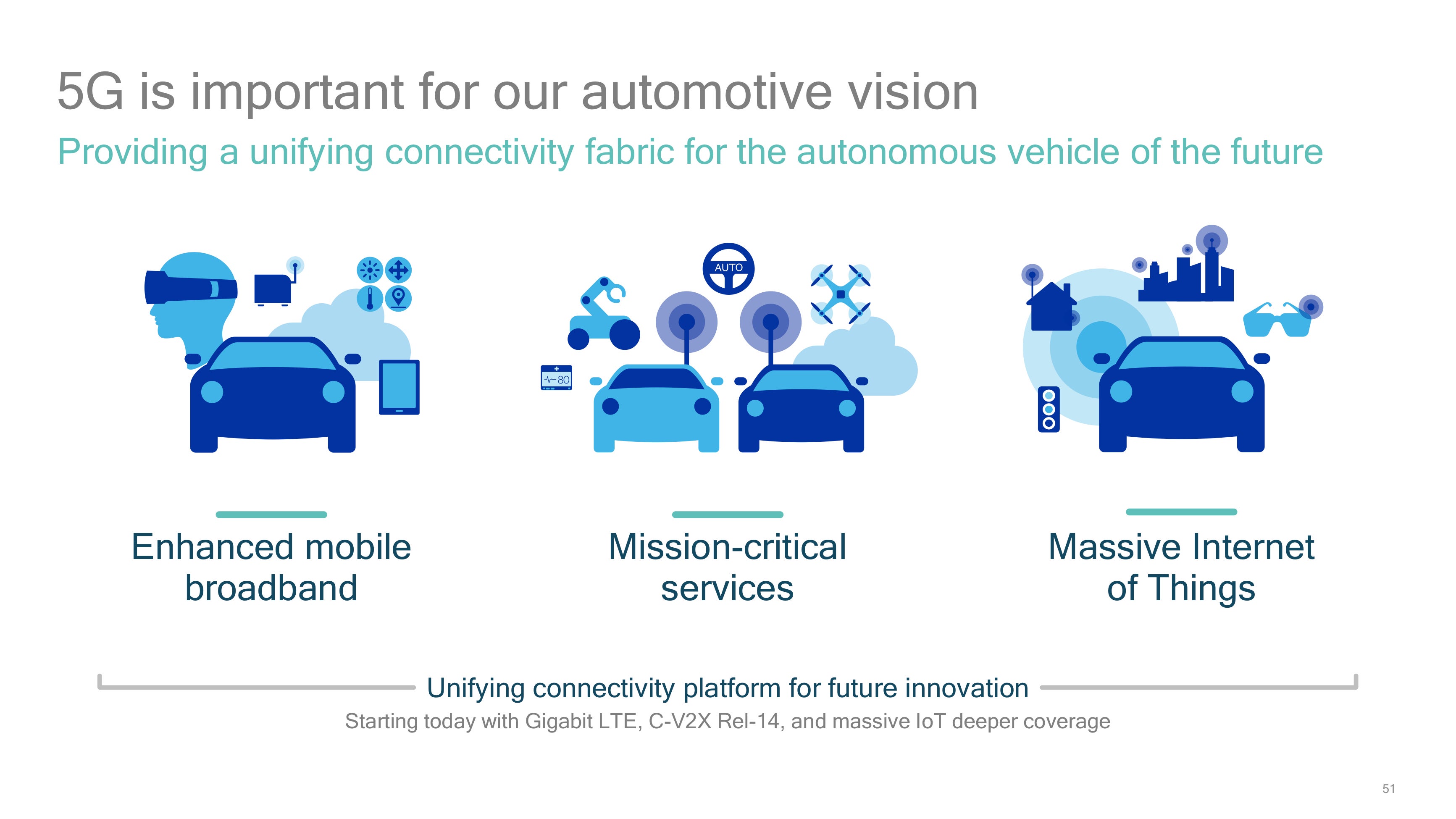 Mission critical services will always have the connection they need
Unlike now, when devices have to wait in order to download data, with 5G standards, autonomous vehicles will be on a higher plane. The vehicles need to get their data in real time, and there is no room for error. With the critical nature of V2X communications, there is a 5G technology being created specially for use cases like autonomous driving and drones which is called uRLLC or, ultra-Reliable and Low-Latency Communications. This higher plane of communication ensures that the devices that need it the most – autonomous vehicles, drones, etc. – have it.
But you also should not worry that you may not get your content just as quickly; 5G is ultra-low latency. In fact, Qualcomm likens it to fiber-like speeds. We can think of latency by considering the file you are trying to download. When you tap the little icon to download the file from the cloud, your device makes a request. This request has to join a queue with other download requests. The length of time between when you request the file and when it actually starts to download, that is latency. With 5G, no more of that nonsense. The new network will have a massive capacity, so unlimited data can be the new normal.
Despite your car's best intentions, you have hit some traffic – it is the city after all. With a sigh of exasperation, at least now you have time to get some work done. You grab your always-connected tablet from your briefcase and open the video editing software that you are using to edit footage for a new marketing campaign. The problem that you used to run into – namely, the tablet not being able to handle this heavy editing job – is a thing of the past. In the 5G world, your processor could be tied to the network so that your devices can call in reinforcements when it needs greater processing power. The low latency will make this real time cloud computing a reality.
You arrive at work and head into a meeting with a company team in Frankfurt, Germany (You are in San Francisco, by the way). The company is getting ready to launch a new product and they have the latest model. You and your teammates put on your VR headsets and now you are all together in Berlin, in real time, and you can all see the new product up close. All of this you could already do, but it was slow, and the quality was not great. Now, everything is crisp and fast.
The factory where your company's new product is due to be manufactured will be able to run more efficiently, because each machine and process will be monitored in real time, all connected to a private LTE network. 5G NR will allow IoT devices to communicate via a broad array of frequencies, saving power whilst communicating efficiently. These new technologies will improve the lives of everyone. Whether you live in the city or in rural areas, the beautiful thing about 5G is that it is incredibly diverse. It has technologies for various applications. A farmer can monitor their crops using drones, and get real time data regarding the health of the crops. A distribution company can monitor the trucks it has in the fleet to make sure that everything is going smoothly.
In closing
It is clear that 5G will affect our lives in profound ways over the next couple decades. And no one, including Qualcomm, is sure what new innovations will be born from the new reality that 5G will bring to us. We have no doubt that there is something new and exciting that will change the way we live hiding behind the corner, waiting for the right technologies to become available.
Do keep in mind that the technologies laid out in this article will not all be available right away. Things like truly autonomous vehicles that communicate with each other are still a long way away. It is estimated that we will be spending upwards of 200 billion dollars each year until 2035 on deploying 5G technologies around the world. From what we can tell, big cities will be the first to start getting the upgrades, then things will start flowing outwards. It is a wondrous future and we cannot wait for what lies in store for us.
Recommended Stories