Smartphones will be 'completely transformed' by 5G and foldable designs... eventually
2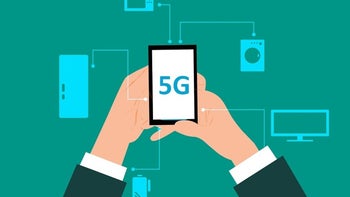 The global smartphone market probably didn't become saturated in recent years because of a general lack of groundbreaking new designs and game-changing features, but the constant reiteration of some of the world's best-selling handsets certainly couldn't drive growth.

Those expecting something truly different from future high-end phones to help shake up the industry should rejoice, according to the latest ABI Research foresight report. If the advisory firm is correct, a number of "transformative" technologies are set to take over the mobile arena... by 2027.
It feels a little silly to predict such a long-term metamorphosis of an ever-shifting business like smartphone manufacturing, but at least as far as
5G speeds
are concerned, this isn't the first time we're hearing
a call for patience
.

The next-gen cellular technology will no doubt debut in 2019, vastly improving not only mobile web surfing speeds, but network reliability, AR experiences, and cloud connections as well.

Unfortunately, 5G is barely expected to become the new "connectivity standard for most smartphones" by 2025. That's a whopping seven years away, although if it makes you feel any better, ABI Research forecasts more than 1.4 billion smartphones will ship with 5G capabilities worldwide by 2027.

Unsurprisingly, foldable mobile designs are not looking at the same kind of traction. But considering their very complex and challenging production process, it's great to hear global shipments are projected to exceed 248 million units in less than a decade.
Obviously, more than
a handful of companies
will need to jump on the foldable bandwagon for those numbers to be reached. In fact, ABI Research analysts expect "most major vendors" to launch devices with the currently-experimental functionality by 2027.
Samsung is still tipped to go first
, possibly followed by... surprise, surprise,
Motorola
.
The final "transformative" smartphone feature expected to become widely used in the (not too) distant future is in-display fingerprint recognition. This also needed quite a bit of time to get right, but now that
Vivo
,
Xiaomi
, and
Huawei have pulled it off
, everyone else should follow suit... by 2027.

Over 553 million smartphones could integrate fingerprint-on-display technology over these next nine years, but what's unclear is what will happen with face scanners.