The most in-demand Apple Watch Series 4 features are LTE speeds and the S4 chipset
4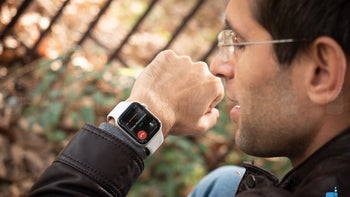 While it was definitely time for the 2016-released
Apple Watch Series 1 to bite the dust
on the heels of the
Series 4
announcement, the Cupertino-based tech giant nonetheless took a gamble by killing off
the world's best-selling smartwatch model
.

Somewhat surprisingly, LTE connectivity is still the number one feature driving US consumer interest. That's a little unexpected because built-in voice call support is not an entirely new thing for the Apple Watch family, and also, because the cheapest cellular-enabled models are $499 a pop.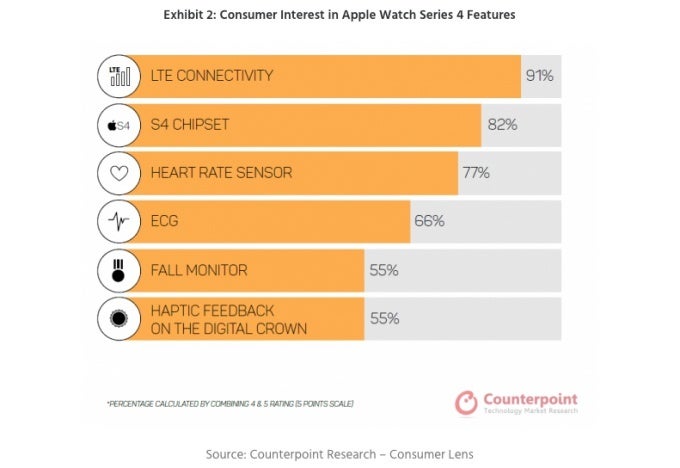 Apple's in-house S4 chipset promising twice the speed and the same stellar battery life of its predecessor follows in second place (predictably enough), while the greatly improved heart rate sensor is the third most popular feature of the Apple Watch Series 4.
The single most groundbreaking thing about the new smartwatch, i.e. the
ECG functionality
that's
technically still dormant
, is only ranked fourth on this list of consumer-requested features, followed by the similarly impressive
fall detection
monitor, and the digital crown's haptic feedback.

Either way, Apple is by far the most preferred smartwatch brand among existing US consumers, with a whopping 42 percent of the total planning to buy an iOS-exclusive wearable device next.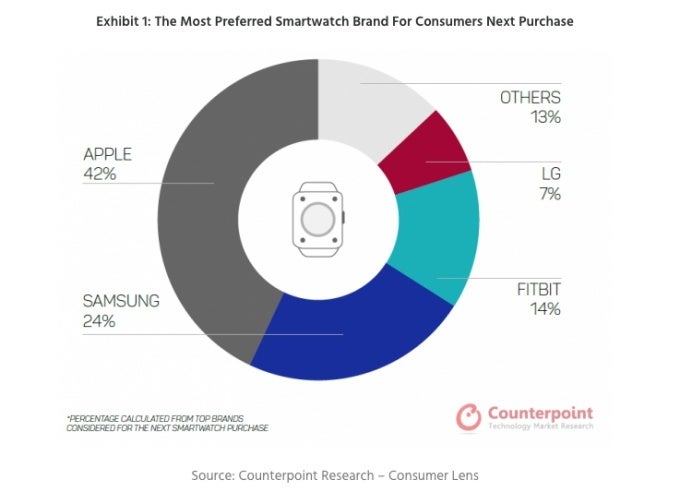 Although Fitbit has just become
the nation's number two vendor
, Samsung follows Apple in this Counterpoint Research Consumer Lens study, with 24 percent, while Fitbit ranks third, at only 14 percent.

Of that pretty massive Apple Watch audience, no less than two in every three potential buyers intend to go with a Series 4, with half of them also interested in standalone LTE capabilities. In addition to sales numbers, that means profits will also go up next year.