Windows Phone 8.1 update, BlackBerry's financial situation, and the first 2K display smartphones: weekly news round-up
5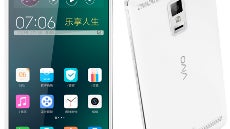 Smartphone screens have now officially broken the 1080p barrier. Several days ago, a Chinese company called Vivo announced the Vivo Xplay 3S, which packs a 6-inch screen with a resolution of 2560x1440 pixels. Awesome, right? By the way, Oppo is working on a smartphone with a 2K screen as well, so keep an eye out for that.
In other news, rumor has it that the next update to the Windows Phone operating system will bring an overhauled notifications system, a virtual assistant, and more. This update may be announced in April, if rumors are to be trusted.
Then there's BlackBerry – a company that's struggling to make any money on the smartphone market. After a not-so-pretty second quarter, the Canadian company reported a whopping $4.4 billion loss for its fiscal third quarter. A huge fraction of that money was lost due to a pile of unsold BlackBerry 10 smartphones in BB's warehouses.
FCC OKs Cingular\'s purchase of AT&T Wireless