April unveiling for Windows Phone 8.1 will reveal notification center and virtual assistant Cortana?
34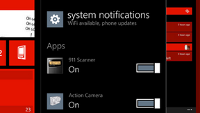 A published report on Monday should immediately zap the cold air out of Windows Phone users, making them feel warm and toasty. The report says that Microsoft is getting closer to pushing out Windows Phone 8.1 which brings some new (at least to the platform) goodies with it. First of all, virtual personal assistant Cortana will be on board. A
Nokia Lumia 920
purchased earlier this year with an early build of Windows Phone 8.1
had revealed plans for this application back in September
. Cortana will automatically remind you of approaching appointments, and in that regard it is expected to be more like Google Now than Siri. Cortana will replace Bing Search on Windows Phone 8.1 handsets and will respond to both vocal and typed input.
Also coming to Windows Phone 8.1 is a notification center that is accessed with a swipe down from the top, similar to iOS and Android. A short swipe from the top will reveal a quick settings feature. After the update, Windows Phone 8.1 users will be able to have separate volume controls. This way, the volume for a ringtone can be set independently of the setting for media playback. Some features are going to be made available as separate apps, such as Xbox Video and Xbox Music.
Microsoft is expected to introduce Windows Phone 8.1 next April at the Build Developer Conference and the OS update is currently being beta tested inside the company.
Nokia is rumored to be getting ready for the new build by prepping a couple of new models. One model, codenamed "Goldfinger" is said to
employ a 3D Touch System
that allows for inputs off the glass, improving on Samsung's
Air Gestures
. The second model, codenamed "Moneypenny," will feature the
virtual navigation buttons
that were leaked the other day. The
two James Bonds-ian names
were part of a tweet sent out last month revealing codenames for some new Nokia handsets.
source:
TheVerge
via
Gizmodo