BlackBerry reports massive Q3 loss, takes huge charge for unsold BlackBerry 10 handsets
23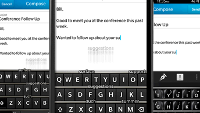 If you thought that things couldn't get worse for BlackBerry
following the $1 billion operating loss reported for its fiscal second quarter
, guess again. On Friday morning, the Canadian OEM put an exclamation mark on the failure of the Thorsten Heins era by reporting a $4.4 billion loss for its fiscal third quarter. And $2.7 billion of that loss was due to a write-off of BlackBerry 10 units gathering dust in the marketplace.
Revenue for the period dropped sharply year-over-year from $2.7 billion in 2012's third quarter, to $1.2 billion. On a sequential basis, revenues fell by 24%. Part of the problem is that the new BlackBerry 10 models just are not catching on with consumers. Of the 4.3 million BlackBerry units sold in the three month period, 3.2 million were BlackBerry 7 OS models. That is quite a revealing, and disturbing, piece of data.
For the quarter, BlackBerry lost $8.37 a share. Not including special one-time charges, the company was $364 million in the red, for a loss of 67 cents a share. That actually was much worse than the figure Wall Street was expecting, which was a 46 cent a share loss. And on a sequential basis, it was lower than the $248 million loss (47 cents a share) that the company reported for its fiscal second quarter.
BlackBerry also announced that it has entered into a five year partnership with contract manufacturer Foxconn. The latter will develop and manufacturer BlackBerry branded handsets and will be in charge of inventory management of the devices. The first new handset under this agreement will be one earmarked for Indonesia.
source:
Forbes