SnapChat for iOS and Android receives location-specific 'Geofilters' feature
1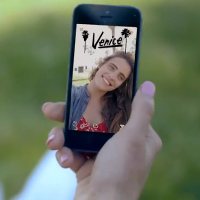 Available only in New York and L.A. at the moment, messaging app SnapChat has added location-specific 'Geofilters' that pop up on your snaps. This could be the
ka-ching
monetizing idea that makes
SnapChat worth the billions of dollars that it has turned down from suitors
like Google. Originally, it looked like SnapChat would be
relying on its "Our Story" feature to bring in some revenue
.
Used on Sunday at Rio during the World Cup Finals
, "Our Story" lets all SnapChat members feel like they are at the same event, by viewing pictures taken by members who are actually in attendance.
'Geofilters' work by swiping to the left after a snap has been taken, and shows the name of a location or a local point of interest. If you check out the video below, you see a couple in Anaheim enjoying fireworks at Disneyland. If you look closely, you can see the stylized Disneyland logo on the screen.
Obviously, SnapChat has a long way to go to make 'Geofilters' a steady flow of revenue. But we do have to say that it is one of the best ideas for monetizing an app that we have seen in a long time. Obviously, coming up with such ideas is not easy. Look at the difficulties that BlackBerry has had making money off of BBM. BlackBerry CEO John Chen has
resorted to peddling stickers
and
sponsoring discussion groups
on BBM Channels.
If you want to see 'Geofilters' in action, click on the video below.
source: SnapChat (
iOS
/
Android
)