Snapchat introduces "Our Story," a living timeline sharing multiple experiences of the same event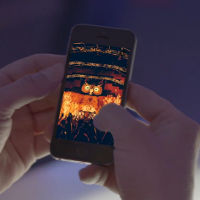 Snapchat has announced "Our Story," a new addition to its app. With "Our Story," multiple Snapchat members attending the same event, can each post an individual Snap representing their own point-of-view. The new feature will debut this weekend at the Electric Daisy Carnival, and if you can't attend, viewing "Our Story" will make you feel like you're at the event, according to Snapchat.
If you are attending the Electric Daisy Carnival, all you need to do is add a Snap to "Our EDC Story," which you will find at the "Send to..." page. Make sure that your location services are on so that Snapchat can verify that you are actually at EDC. Snapchat is providing free Wi-Fi at the event, so you don't have to fret about eating up your precious monthly data allowance.
"We built Our Story so that Snapchatters who are at the same event location can contribute Snaps to the same Story. If you can't make it to an event, watching Our Story makes you feel like you're right there! It's really easy to use."-Snapchat
If you can't make it to the Electric Daisy Carnival, or want to see another attendee's point-of-view, add EDCLive on Snapchat. Through all of the other contributors' Snaps, you will get a more rounded presentation of EDC. For Snapchat, this could prove to be a useful tool, not to mention a lucrative one. Monetizing "Our Story" by offering a "living timeline" at major sporting events seems like one way that this could be a revenue generator for Snapchat. Turning hundreds, if not thousands, of smartphone wielding wanna-be reporters loose at an event could be a good way to garner some publicity, and perhaps turn up an interesting news story or two.
source:
Snapchat
via
TechCrunch