Samsung Galaxy Note5 or... ? Here are 8 great alternatives
28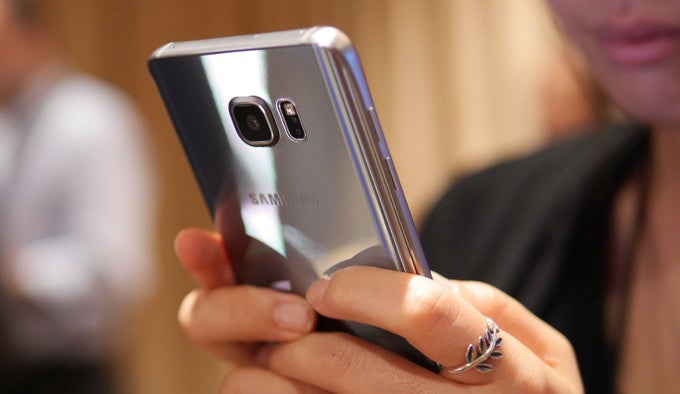 The
Samsung Galaxy Note5
is official: the fifth instalment in the Note series comes boasting the new metal and glass design language that Samsung introduced with the Galaxy S6, it's got an improved S Pen that you can write with straight on the lockscreen of the phone, and it brings a slightly changed TouchWiz on top of Android 5.1 Lollipop.
Compared to the Galaxy Note 4, the new Note5 is a bit thinner, but that comes at the expense of a smaller battery. Luckily, chances are that with improved Super AMOLED display power efficiency and the 14nm process for the
Exynos 7420 system chip
on the Note5, the new phone will be able to last as long or even longer than its predecessor.
Here are 8 worthy alternatives to the Samsung Galaxy Note5
The Samsung Galaxy Note5 also launches alongside
Samsung Pay
, the official entry to the wireless payment market from Samsung that is expected to work in all places that currently accept regular debit and/or credit cards.
Naturally, Samsung has also further polished the 16-megapixel camera image quality, added an impressive new digital video stabilization that works in concert with optical stabilization (OIS), and has brought faster charging both via the wire and wirelessly.
Nonetheless, in a market crowded with large screen devices at various prices and capabilities, there are lots of alternatives to the Galaxy Note5. And if you're not a particularly huge fan of the S Pen stylus, then you might find these more appealing. Take a look at the other big-screen phones worth your attention right now below.
#1: Apple iPhone 6 Plus:
Because updates. iOS also offers smooth performance, and quality apps still come there first
The Apple iPhone 6 Plus is the immediate and most obvious rival to the Galaxy Note5, but if you are considering buying one of the two, we should warn you that the iPhone 6 Plus is due for a refresh in the beginning of September. If you're choosing between the Apple ecosystem and the latest Note5, we would wait just several weeks to see what Apple will offer with its upcoming iPhone 6s family.
If you absolutely need to buy a phone in the near future and can't wait, the iPhone 6 Plus is worth considering because of its overall appeal: it's a beautiful, well-crafted phone with smooth and lag-free performance, a consistently fast and great camera; it also still gets the latest games and apps first and before Android (this mostly applies for games), and it also boasts an outstanding battery life.
#2: LG G4
Genuine leather, great camera, and the flexibility of microSD cards and removable batteries
The LG G4 is the Android flagship that offers the kind of flexibility and wealth of options that many Android fans desire: unlike Samsung, the G4 comes with the option to expand the storage via a microSD card slot, and allows you to easily remove and replace its battery.
The 5.5-inch LG G4 is also well designed with a nice genuine leather back cover, it's got a surprisingly great camera that captures good-looking images under various conditions, and it has fixed many of the issues in the G3: the below average battery life is fixed, the nasty artificial sharpening of the screen is gone, and much of the lag has been eliminated.
#3: Motorola Moto X Pure Edition
Flagship-grade phablet with no compromises at half the price
The Motorola Moto X Pure Edition is the U.S. version of the Motorola Moto X Style. Starting at $399.99, the Moto X Pure Edition has universal LTE banding which means that it will work with all major U.S. carriers.
The Moto X Pure Edition comes with a 5.7-inch LCD display, protected by Gorilla Glass 3. A resolution of 1440 x 2560 gives the screen a pixel density of 520ppi. Under the hood is a Snapdragon 808 SoC, which includes a hexa-core 1.8 GHz CPU and the Adreno 418 GPU. 3GB of RAM is inside with 16GB/32GB/64GB of internal storage. Those requiring additional memory can use the 128GB capacity microSD slot on board.
Motorola says that the 21MP rear-facing camera on the Moto X Pure Edition is the best camera that it has ever produced. Both the back and front-facing shooters feature an aperture of f/2.0, and the camera on front is equipped with a wide angle lens. The phone supports 4G LTE (Cat.6, 300Mbps) connectivity, and is covered with a nanocoating that protects the phone from accidental spills and light rain.
#4: OnePlus 2
Affordable, fast, near-stock Android
The OnePlus 2 comes with a very alluring price tag of just around $320 (that's the full retail price), and with huge ambitions to become 'the flagship killer'. Despite its low price, the OnePlus 2 does not compromise when it comes to hardware: it packs the latest Snapdragon 810 system chip, a 5.5-inch display with a resolution of 1080 x 1920 pixels, a 13-megapixel rear/5-megapixel front cam combo, and a 3300mAh battery. The only downside to this otherwise excellent spec sheet is the fact that there is a nasty invite scheme that you have to go through to buy this otherwise good-looking and fast Android phone.
#5: ZTE Axon Pro
ZTE's entry to the US market is powerful
ZTE is serious about entering the US market, and it is starting its expansion with the ZTE Axon Pro. First and foremost, this is one incredibly powerful smartphone that'll appease the folks who are all about the specs sheet – it just reeks everywhere of high-end hardware befitting of a flagship. Secondly, ZTE surprises us more by accompanying it with a mostly stock Android Lollipop experience. And finally, the $450 cost attached to this unlocked phone makes it so that it's undercutting the competition in a significant way.


#6: Asus Zenfone 2
Powerful and with nice UI, but design is ordinary
Asus is smart for attacking the entry-level segment of the market, as opposed to breaking into the high-end, which means tangling against some of the juggernauts floating about right now. Spending an intimate amount of time with the Zenfone 2, we're confident that this is the kind of phone that grows on you over time. Initially, the design didn't particularly win us over, but the more we use the phone and absorb all of its rich features, that's when we truly realize its potential. It's a powerful phone with Intel's Atom Z3580, it features 4G LTE, and it doesn't break the bank. If you can live with the somewhat ordinary design, this is an easy way to save money yet get a powerful phablet experience, as an alternative to the Note5.
#7: Xiaomi Redmi Note 2
The most affordable alternative
Xiaomi just dropped a bomb that changes the landscape of affordable phones, at least in China: the Xiaomi Redmi Note 2 is official and it comes with a shockingly low price of just $125 (799 yuan), yet is equipped with the most powerful MediaTek chip, the Helio X10, that you find on devices that cost multiple times as much.
The 5.5-inch Xiaomi Redmi Note 2 features the signature Xiaomi design language with various color options and will be sold in a 16GB and 32GB versions (the 32 gig model is slightly more expensive, with an official MSRP of 999 yuan or $155, and will be clocked higher). Both version support expandable storage via microSD cards.
Here is the impressive list of the official Redmi Note 2 specs:
MIUI 7 running on top of Android 5.0 Lollipop
5.5-inch 1080 x 1920-pixel (Full HD) display
Dimensions: 152mm x 76mm x 8.25mm, weight: 160g
Helio X10 octa-core (8x Cortex A53s) system chip clocked at up to 2GHz for 16GB/2.2GHz for 32GB model
2GB of RAM
3,060mAh battery
13-megapixel main camera with phase detection AF, 5-megapixel selfie cam
#8: Meizu m2 Note
Affordable and smooth-running, for those not ready to spend a fortune
The m2 Note comes with a shockingly low price tag given what it offers in terms of hardware: it's sold globally for around $160. How is such an affordable phone an alternative to the Galaxy Note5? If you are looking for a phablet experience and smooth running speeds rather than the best of gaming performance and a stylus, then it certainly is. It runs the mid-range MT6753 system chip that runs fast, the Flyme custom Android skin is smooth and rich in neat gesture, and finally, battery life is solid. Not bad, is it?