Samsung Pay launch date finally revealed. Here's what makes it cooler than its competitors
14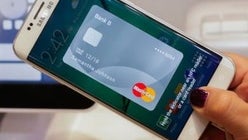 Samsung has been developing its mobile payment service for a while now and it is almost ready to launch. Samsung Pay will become available in South Korea this August, the 20th, and will then hit the USA on the 28th of September.
Should you be excited about Samsung Pay? Well, if you happen to use your credit and debit cards a bit too often and own one of Samsung's hottest devices from 2015 (
Galaxy S6
/
S6 edge
/
S6 edge+
/
Note5
) then yes, you most probably should.
See, Apple's and Google's mobile payment systems rely only on NFC, but a lot of POS devices are still lacking the proper tech to work with them. So, not being aware whether your mobile payment attempt will be accepted wherever you go kind of defeats the purpose of the whole "leave your wallet at home" concept that these services are advertising.
Samsung Pay, however, utilizes both an NFC chip, and MST (Magnetic Secure Transmission) tech, which means that it will work with a lot of the older devices. Basically – if a magnetic card goes though the POS, it's almost certain that your Samsung phone will be able to talk to it, too. Now, the bad news here is that, since older Sammy smartphones don't support MST, Samsung Pay may not be available to them at all – or if it is, it may be just as limited as its competitors.
Activating the process is extremely quick and easy, too – from any screen (or even at screen-off), swipe up from the very bottom of your screen. You will quickly be greeted by Samsung Pay, ready to make a payment with the last registered card that you used. Swiping left or right switches between your cards. Choose the one you wish to pay with and authorize by placing a registered finger on the touch-type biometric scanner – done. You don't even need to worry about the receit, as you will get a digital copy of it in the Samsung Pay app.
So, this all sounds pretty impressive, and we can't wait to test it out in real life. Do you plan on ditching your wallet for Samsung Pay?