Asus Zenfone 2 Review
38
UPDATE

: You can now read our Asus ZenFone 2 Laser Review!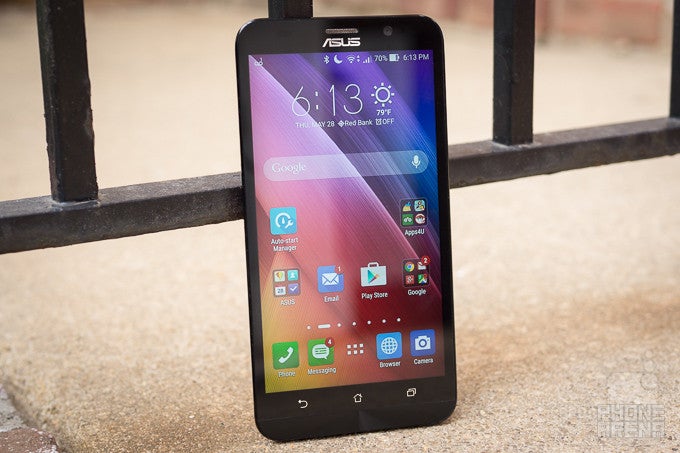 Introduction
Ever wonder why we're seeing fewer high-end phones nowadays? Well, when there's an abundance of high-performing entry-level smartphones permeating the space of late, like the
Alcatel Onetouch Idol 3
for example, there's no wonder why there's been a shift in focus of late with manufacturers. One of them in particular, Asus, has tried repeatedly to secure itself in being an established name in the smartphone world, but even through all of it, they've yet to make any sort of headway – failing to generate any sort of meaningful interest from consumers. However, it seems as though things are changing with the arrival of the
Asus Zenfone 2
, a phablet-esque sized smartphone that's priced aggressively at as low as $199 outright!
The package contains:
Asus Zenfone 2
microUSB wall charger
Users guide
Design
The brushed metallic finish looks sweet, but underneath it all, it's still a conventional plastic phone.
By just looking at the Zenfone 2, one could presume it's a premium thing because of the brushed metallic-like finish with its casing. Once it's actually held in the hand, though, it becomes evidently clear that it's nothing more than a plastic thing. Certainly, this shouldn't be too much of a surprise considering the Zenfone 2 is positioned to be an entry-level thing.
Aesthetically, the design reminds us of the style employed by LG's flagship G line – where it bears a close similarity to the
LG G2
. While there are numerous rear covers to choose from, the personalization it offers still isn't enough to move its design style out of conventionality. Needless to say, it's a handful to use due to its size, but there's a substantial feel to it due to the weightiness of the phone. At the end of the day, the Zenfone 2's design is still typical of past Asus phones – so we don't find it as enthralling as the Alcatel Onetouch Idol 3.
Looking around the phone, it's almost hard to not say that its design is influenced by LG's style – mainly because of how the volume control is placed on the backside of the phone. Unlike LG's smartphones, it's a long and flush button, which makes it tough to differentiate the two by touch alone. At times, too, we find ourselves hitting the wrong button or smearing the camera lens with our finger. Also, we're not fans of how the power button is placed squarely on the top edge because it requires some serious stretching from our index finger to access.
Despite that, folks will appreciate that the back cover can be removed to give us access to its dual SIM slots and microSD card slot – albeit, the battery is fixed and cannot be replaced.
Display
Neither great nor abysmal, the display is your run-of-the-mill thing.
Who knows what the reasoning behind it is, but it looks as though many companies are liking the 5.5-inch screen size for their budget phones – and the Zenfone 2 follows suit. Specifically, it's fashioned with a 5.5-inch 1080 x 1920 IPS-LCD Display with Gorilla Glass 3 layered on top for protection. Much like the other 5.5-inchers with 1080p resolution, it's more than sound with its detail and sharpness.
Diving deeper into the display's other characteristics, like its 7622K color temperature and gamma value of 2.8, they indicate that it isn't necessarily the most pristine screen around. Its color temperature, naturally, means that it exudes a colder tone, which casts a bluish hue on colors. In addition, its 2.8 gamma tells us Asus has gone for a contrasty look, but has ultimately achieved a rather inaccurate image representation.
Even though it doesn't hit all of the target values in the sRGB color chart, it's not as saturated as some other displays. And finally, its 442 nit luminance might not be as potent as we'd like, making it sometimes a chore to view under direct sunlight, but it's not totally unviewable either. After our eyes feasted on the astonishing display of the Alcatel Onetouch Idol 3, we find the one here in the Zenfone 2 to be bland.
Display measurements and quality
Recommended Stories
FCC OKs Cingular\'s purchase of AT&T Wireless