Meizu m2 note Review
35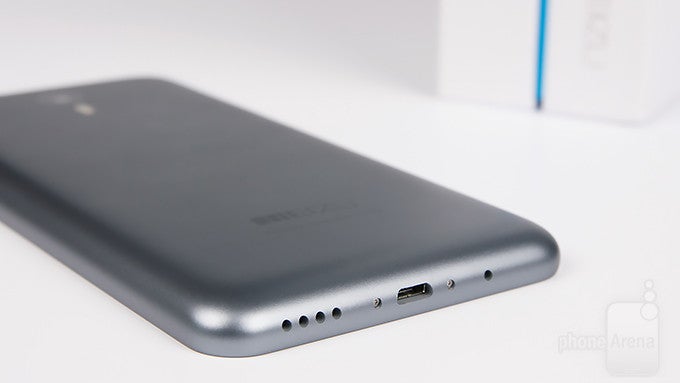 Introduction
The
Meizu m2 Note
comes from Chinese brand Meizu that remains out of the scope of the mainstream customer in the West. This, however, does not mean that it's an obscure and a shady brand – in fact, Meizu has quite a loyal following in China, and recently, it's started building a name for itself as its last year's flagship – the
Meizu MX4
– went on sale in many of Europe's largest markets.
The Meizu m2 Note is the company's affordable big-screen phone: a 5.5-inch phablet with a 1080 x 1920-pixel display, an octa-core MediaTek chip with 2GB of RAM, and the latest Android 5.1 Lollipop on board.
Often, however, specs don't tell the full story. Is the Meizu m2 Note really as good as it looks on paper? That's what we'll try to answer in the full review right below.
In the box:
2A 5V wall charger
microUSB Cable
User manual
SIM ejector tool
Design
The Meizu m2 Note features a plastic body, but it has a nice, non-cheap feel to it and is solidly put together. The new physical mBack button is neat, doubling as a back button and lock key.
The Meizu m2 Note features a plastic body – there are no premium materials such as glass or metal, but that's expected for such an affordable phone. Nonetheless, build quality is great: the phone is put together solidly, with no loose parts, and everything is perfectly well aligned (the camera is completely flush with the back). It comes in a choice of four colors: three glossy shells in pink, blue and white, and a matte gray body (the version that we have for review). The gray matte option is reportedly a big hit in China because it does look somewhat similar to metal, and the feel of the plastic is great, eschewing that somewhat cheap feeling (and messy fingerprint-laden surface) of glossy plastic.
In terms of pure size, the 5.5" handset features a fairly slim side bezel, so overall the phone ends up being narrower than, say, the
iPhone 6 Plus
. The exact dimensions are: 150.9 x 75.2 x 8.7mm. The m2 Note is also surprisingly lightweight for its large size – it weighs 5.26 oz (149 grams), with the weight slightly shifted to the top. While it's not among the thinnest phones (it measures 8.7mm thick), we found the m2 Note to be of average thickness and fairly comfortable to hold.
The more ardent readers who follow the Chinese phone industry would know that the the Meizu m2 Note comes as a somewhat rushed successor to the last year's
Meizu m1 Note
. The rush is reportedly due to a lawsuit filed from ZTE against Meizu, as the larger Chinese company sued Meizu for using a round capacitive button with an LED color ring as the home button. Meizu was forced to redesign its whole lineup, and that is why the m2 Note does away with the capacitive key in favor of a physical home button (the 'mBack' key). Keep in mind that while there is no fingerprint scanner, this is no ordinary button: you can not only physically click it, but you can also tap it to go back a step and long-click it to lock the phone. These two additions add quite a lot of functionality and are a typical Meizu touch. The button itself is of good quality, but it lacks the sturdy tactile response of, say, the home key on the Apple iPhone, and instead feels just very slightly wobbly and not all that stable.
The physical button on the Meizu m2 Note – a lock screen and a volume rocker – are somewhat inconveniently (for a right-handed person) positioned on the left hand side. They are clicky and we had no issues pressing them, but we've seen buttons with better tactile response (yes, we're nit-picking here).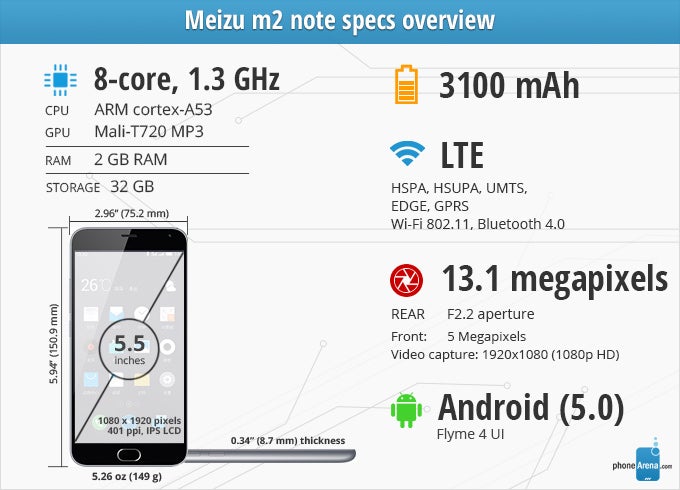 Display
The 5.5" IPS LCD display comes with a 1080 x 1920-pixel resolution. It's a sharp display with pleasing colors.
We've been dreaming about a perfectly well calibrated display for quite a while, but unfortunately, we're yet to see one even in the top-shelf devices. Naturally, the Meizu m2 Note is not one to suddenly surprise us with perfect calibration, but it does manage to do better than most of its peers and its screen actually looks better than the screens of many more expensive devices.
First, resolution: the 5.5-inch IPS LCD screen is an IGZO panel manufactured by Sharp and it features a 1080 x 1920-pixel (Full HD) resolution, resulting in a pixel density of 400ppi. We find this to be more than sufficient, as the screen looks sharp and we cannot notice any pixelization in real-life usage.
What's more important is that the phone features a good color reproduction: whites are not excessively warm or cold with color temperature of 6800K, just slightly above the reference 6500K value (notice that you can manually tweak color temperature from Settings -> Display -> Color Temperature, and we went just a notch below the default value to get closer to 6500K); primary colors are overall well balanced; gamma – at 2.32 – is just slightly north of the 2.2 standard, resulting in images looking a bit darker and more contrasty. Looking at the color charts, we are happy to see that the m2 Note sticks to the sRGB color standard – the universal color standard of the web – rather than some obscure color space. Color calibration is fairly good, with the exception of the more intense end of the color spectrum where we see color getting an artificial saturation boost, for an extra pop. If Meizu were to fix that, we would have a display very close to that perfection we're looking for.
The screen also gets surprisingly bright: at 627 nits (Meizu officially claims that the display reaches 450 nits), this is one of the brightest screens we've tested, and this makes it easier to use the phone outdoors, even on a bright sunny day. What's even more impressive is that at night, it goes all the way down to 1 nit, making reading an experience that is less harsh on the eyes, a great features for all the night birds out there.
Viewing angles are also great with almost no color tinting when you view the display at an angle. The only niggle that we have is that the light sensor does not work as well as we'd like: sometimes it goes too dim to be comfortable to use, and sometimes too bright for the conditions, which is definitely annoying, as you often times have to manually adjust the brightness. The proximity sensor works well as expected.
Finally, while the original m1 Note featured a screen protected by Gorilla Glass, the m2 Note switches to AGC Dragontrail/NEG T2X-1 tempered glass. We have not performed drop tests to test durability, but in terms of how smooth your fingers runs on the glass surface, we have had no issues.
Display measurements and quality