Samsung Galaxy Note 5 Review
99+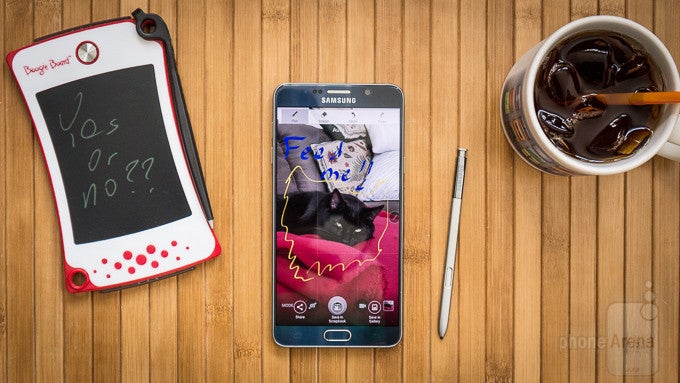 Update:
Read our Galaxy Note 7 review!
Introduction
Boy what a ride it's been for Samsung so far for the first half of the year! In one fell swoop, they generated enviable amounts of interest in the Android arena when they introduced the
Samsung Galaxy S6
and
S6 edge
earlier this year. And why is that? Well, they've completely reconstructed their reputation when it comes down to phone designs, seeing that prior to those phones, their designs have been unflattering in contrast to what the competition produced.
Riding high on that momentum, Samsung is one of the first major players out of the gate to announce and deliver its phones for the second half of the year. Last year, the
Samsung Galaxy Note 4
managed to receive universal acclaim for its superb specs sheet, all-around performance, and most importantly, its utility for being the Swiss Army knife of smartphones with its rich features set. In the world of Android phablets, Samsung's Note line has yet to see any sort of threat – so there's always reason to be excited about a successor.
And that, folks, is where we find ourselves with the
Samsung Galaxy Note5
. Even before its official announcement, we all knew that another major redesign was coming – not surprising, considering that the S6's premium design has been widely received by consumers. While it's almost certain that the Note5 (are we the only ones who like 'Note 5' better?) is going to be yet another solid offering, we've seen a shift in the space of late that points us to the direction of these value-conscious phones that pack impressive qualities without the hefty pricing attached to them. As more and more carriers phase out contract pricing, it's only going to be more crucial for high-end phones to justify their worth, as devices in general are being bought full-priced or financed.
Perhaps, the Note5 can muscle the competition to prove that it's one of the undisputed pound-by-pound champions?
The package contains:
Samsung Galaxy Note5
microUSB cable
Wall charger
Stereo headphones
SIM removal tool
Quick start guide
Warranty card
Design
While there are compromises to its arsenal, the Note5 is the best-designed phone in the series to date.
Straight to the point, this is the best-designed phone in the series to date! The design is undoubtedly revolutionary for Samsung, as prior phones in the series were primarily constructed out of plastic. Last year's Note 4 was notable for its stark redesign as well, shedding the all-plastic construction with a slightly more sophisticated one that involves a metal frame surrounding the sides of the phone. With the Galaxy Note5, however, Samsung followed in form by employing the same design language they've raised eyebrows already with its S6 line.
We won't deny the attractiveness of the Note5's premium aesthetics – one that combines metal with glass once again for that ultimate fusion, though in the process, they've shed the utilitarian look of the Note series for one that's more fashionably stylish. Our eyes are once again mesmerized by the dazzling show produced when light bounces off its glass surface for a shimmering effect – allowing the phone's color to be more profound at certain angles. What's more, the metal trim bezel adds integrity to the phone's construction. However, while we applaud its solid construction and eye-catching looks, the glass makes the phone a little fragile, prone to fingerprints, and slippery. Trust us, you'll want to be extremely careful handling it, since minor drops can probably do a number to it.
Beyond the aesthetics, we're astounded by how they're able to trim out the fat even more from its body. For a phone with a ginormous 5.7-inch display, the Note5 bears a smaller footprint than its predecessor (6.03 x 3.00 x 0.30 inches versus 6.04 x 3.09 x 0.33 inches) – while also weighing less as well (171 g versus 176 g). All of this points to obvious improvements in making the handset slimmer, lighter, and somewhat easier to handle. Sure, two-handed operation is still preferred, but the curved edges around its rear help to give it a more ergonomic feel.
Although the design isn't necessary original per se, it's something that meshes well in giving the phone its premium qualities. The overall package is undeniably beautiful.
The Note series has always been known to be the Swiss Army knife of smartphones. That claim is still reasonable because it's fashioned with several amenities you don't get with most phones. In particular, it features rapid charging via its microUSB 2.0 port, built-in wireless charging, heart rate sensor, and a finger-print sensor.
The latter is worth noting because it employs the same, hassle-free operation brought on by the S6 – one that only requires us to gently rest our finger over the sensor, as opposed to the swipe down method offered by the Note 4. Without question, it's significantly easier to operate than before, and in our experience, it seems faster too with its recognition than the S6. In addition, it's going to come in handy when Samsung Pay officially launches.
At the same time, there's a drastic change to the Note5's arsenal – one that's generating a lot of concern for some folks who are used to seeing it on previous iterations. Gone are classic staples in the series such as a removable battery, microSD card slot for storage expansion, and an IR blaster. We're told from the Samsung folks that the latter has been omitted because they found out that customers rarely use it. To an extent, we can agree with that argument, but the other two items are just tough to overlook. Whatever the reasoning behind it, the Note5 forgoes having them in favor of a design that's more premium, slimmer, and lighter. That's the obvious tradeoff!
S Pen
Fortunately, the S-Pen continues to be one of the Note5's integral features, so its availability continues to make it unique in the space. With this year's offering, Sammy changes things up a bit in the way the S Pen is accessed. It's still tucked away in the lower right corner of the phone, but it employs an auto-eject mechanism – one that's spring assisted to give it a clicky pen-like feel. For us, this new way of accessing the S Pen feels unnatural, and the process adds just an extra step over last year's implementation. And why's that? It's because we have to eject it with our finger, then proceed to pull it out – whereas before, it was a single step process.
We also feel that its placement would've been better suited in the upper right corner, since the ejection process would feel a bit more natural there. Whatever the case, it just means that we'll need to adjust to this new particular method, which should feel a bit more natural over time. Technically speaking, this S Pen is slightly longer when its spring-assisted end is extended and it's skinnier, but gone are the groove marks that gave the previous S Pen a grippy feel. It's smooth all throughout the pen, which thankfully enough, doesn't hinder its operation.
Just like before, too, the tip is sensitive to recognize varying degrees of applied pressure. Therefore, it's able to distinguish light presses from firm ones – it's a useful thing that truly gives this particular stylus an accurate feel. While it can be used for jotting things down quickly and drawing something, it also acts as a useful navigational tool by hovering it over the display. No one does the stylus like Samsung, that's just the undeniable reality! We'll talk more about its new features later on.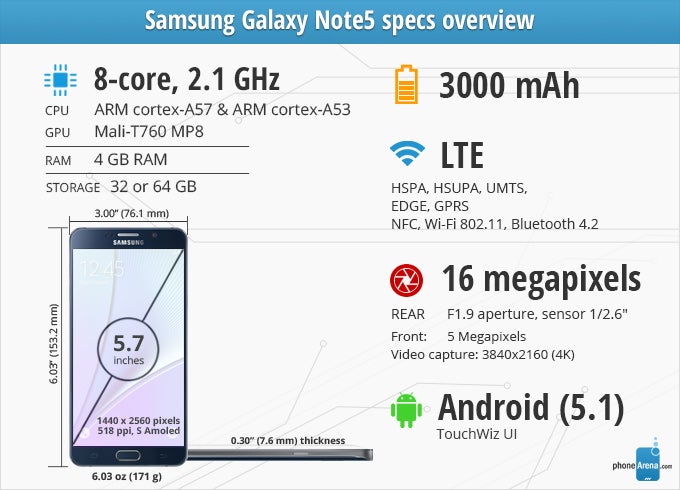 Display
Everything points to the obvious that it's a display not too dissimilar to that of the Note 4, but that's not a bad thing because of its great qualities.
Samsung didn't change the specs of the display with the Note5, it's still a 5.7-inch 1440 x 2560 Super AMOLED display, and it still delivers a number crunching 518 ppi pixel density count. Not surprisingly, it continues to be exceptionally sharp and highly detailed! Yeah, it's tough to notice any noteworthy differences at normal viewing distances against 1080p screens, but its superiority is recognized the moment it's viewed up close and personal.
Looking into the other aspects of the display, it becomes increasingly evident that we're dealing with nearly the same panel used by its predecessor. For starters, the Note5's Super AMOLED display produces just a smidgen better 470 nit luminance, thanks in part to its high-contrast mode kicking in when it's in direct sunlight. Secondly, its color temperature remains similar as well at ~6700k, making it close to that perfect reference value of 6500k. In this regard, the display exhibits a mostly neutral tone when it's in 'basic' screen mode – so it's not overly warm or cold in tone.
And finally, we have to point out how it's perfectly calibrated to hit all the target values in the sRGB color spectrum chart. Comparing the charts of the Note 4 and Note5 side-by-side, they're pretty much the same to one another, which makes us conclude that we're dealing with the same display here. Therefore, it means colors are realistic and true to life! All of these qualities point to the undeniable truth that Samsung has fashioned on the same display. That's not a bad thing per se, as the Note 4 proved to the critics that AMOLED technology has seen considerable improvements to make it just as superior to LCD technology in several areas.
All told, it's a beautiful display that's useful in several scenarios and we can't forget about how exquisitely sharp it is. There might not be any notable improvements over what we've seen with the Note 4's display, but it just reaffirms Samsung's expertise in producing displays with near perfect qualities.
Display measurements and quality