LG G4 Review
99+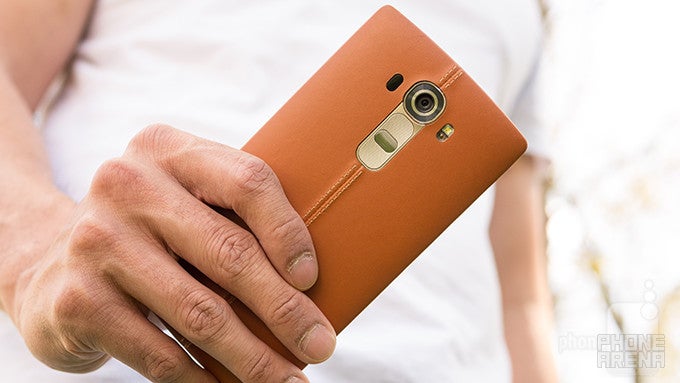 Update

: Read our LG G5 review!
Introduction
Coming in second, third, or even fourth place in the Android smartphone space deserves adulation, mainly because there's just a vast collection of handset makers eagerly trying to snag a piece of the pie. However, when you're constantly being overshadowed by another company, the expectations to improve results and rise to the occasion become higher – almost making any sort of attempt be regarded as futile, unfortunately. That's the reality that LG has been facing for the last several years, as Samsung has been continuously managing to grab the lion's share of the Android market.
Already, Sammy has hit gold with its latest flagship line, which only makes it more difficult for LG to make any headway in closing the gap between it and the unstoppable beast. Needless to say, the bar has been set high for everyone else, but where other phones invoke minimal attention due to their lackluster specs sheet, boring design, or terrible performance, the
LG G4
is on an aggressive approach to make a daring statement. Crazy to say, not every successive phone is a staunch improvement over its predecessor – either that, or in some rare instances, they're worse!
Looking back at LG's track record, there's no denying that the company is all about making long-lasting impressions. In fact, they did that last year with the
LG G3
, one of the first commercially available smartphones to offer a pixel crushing resolution of quad-HD (1440 x 2560) with its screen. It's back again here with the G4, unsurprisingly, but don't be fooled that this successor is just going to sit pretty and let the competition breeze past it. Everything about this phone has been retooled and reworked to ensure it's a flagship worthy enough for all to "see the great, feel the great." So, has LG managed to pull it off?
The package contains:
Wall charger
microUSB cable
Design
The genuine leather back of the LG G4 gives it a distinct, high-quality feel, but the phone's also available in plastic.
Unless you've own or used an LG G3, most people would argue that the LG G4 looks very similar to its predecessor – and that's certainly true to an extent. However, there are subtle differences that make it an undeniably iterative design, as opposed to a dramatic one that we've been seeing in other recent phones. In particular, it now features a more hard-lined style, subtle curvature defined by its Slim Arc design, and a brand spanking new vegetable tanned genuine leather material (provided you go for the leather variant, and not the plastic one).
Yes folks, you read that correct, the G4 can be picked up with a casing that's comprised out of vegetable tanned leather, a process that we're told takes approximately 3 months to complete. The result, surprisingly enough, feels pretty sweet and adds a higher degree of sophistication to an otherwise 'more of the same' phone. Seriously, though, this leather feels a lot smoother and more durable than the leather options for the Moto X – it's not as malleable or mushy feeling. Throw in the Gütermann Mara style stitching running straight through the middle, it really delivers an elegant package that's both classical and timeless.
Offering more personalization to the consumer, the leather back covers are removable and available in 6 beautiful colors. Alternatively, the G4 can be bought with the usual plastic base material, but with a specific 3D diamond shaped pattern that disperses light in an interesting manner at different angles. If it weren't for the new genuine leather material option, the LG G4's design would otherwise be a boring one lost in a world filled with more premium offerings – there's nothing too polarizing about it at that point. Thankfully, though, they're able to mix things up.
Normally, successive smartphones tend to achieve a slightly more compact frame that their predecessors, but in the case of the G4, that's not quite the reality. Even though it retains the same sized screen, the G4's body is longer, wider, thicker, and heavier than the G3 before it – so it's a handful to say the least, requiring two-handed operation more than none for most people. Despite that, the curvature of the phone provides a pretty ergonomic feel in the hand, since our hand naturally wraps around its back.
A signature design choice for LG, the power button and volume controls are again found in the rear of the phone, where our index finger gently rests over them as we're holding it. While this placement seems to be a logical one, especially when our finger naturally falls onto them in a holding position, it's almost impossible to adjust the volume if it's placed in some sort of cradle – whether it's the car or at home, there's just no easy access to it.
Rounding things out, the top edge of the phone is home to its IR blaster and noise cancelling mic – while the bottom is occupied by its microUSB port, 3.5mm headphone jack, and standard mic. There's a small slit on the bottom right area of the phone that allows us to pry off its rear casing, uncovering the removable 3000 mAh battery, microSIM slot, and microSD card slot. Although everything appears fine and dandy, which it is, the additional amenities pale in comparison to what we see and get in other flagships – such as a water resistant construction, finger print sensor, and even wireless charging/rapid charging.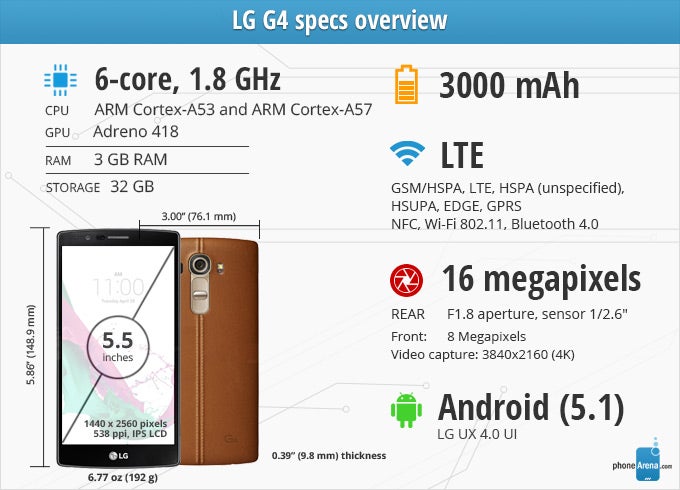 Display
Colors are purposefully overblown and saturated. It's nowhere close to being the most color accurate screen, but it has that drawing factor with its saturated tones.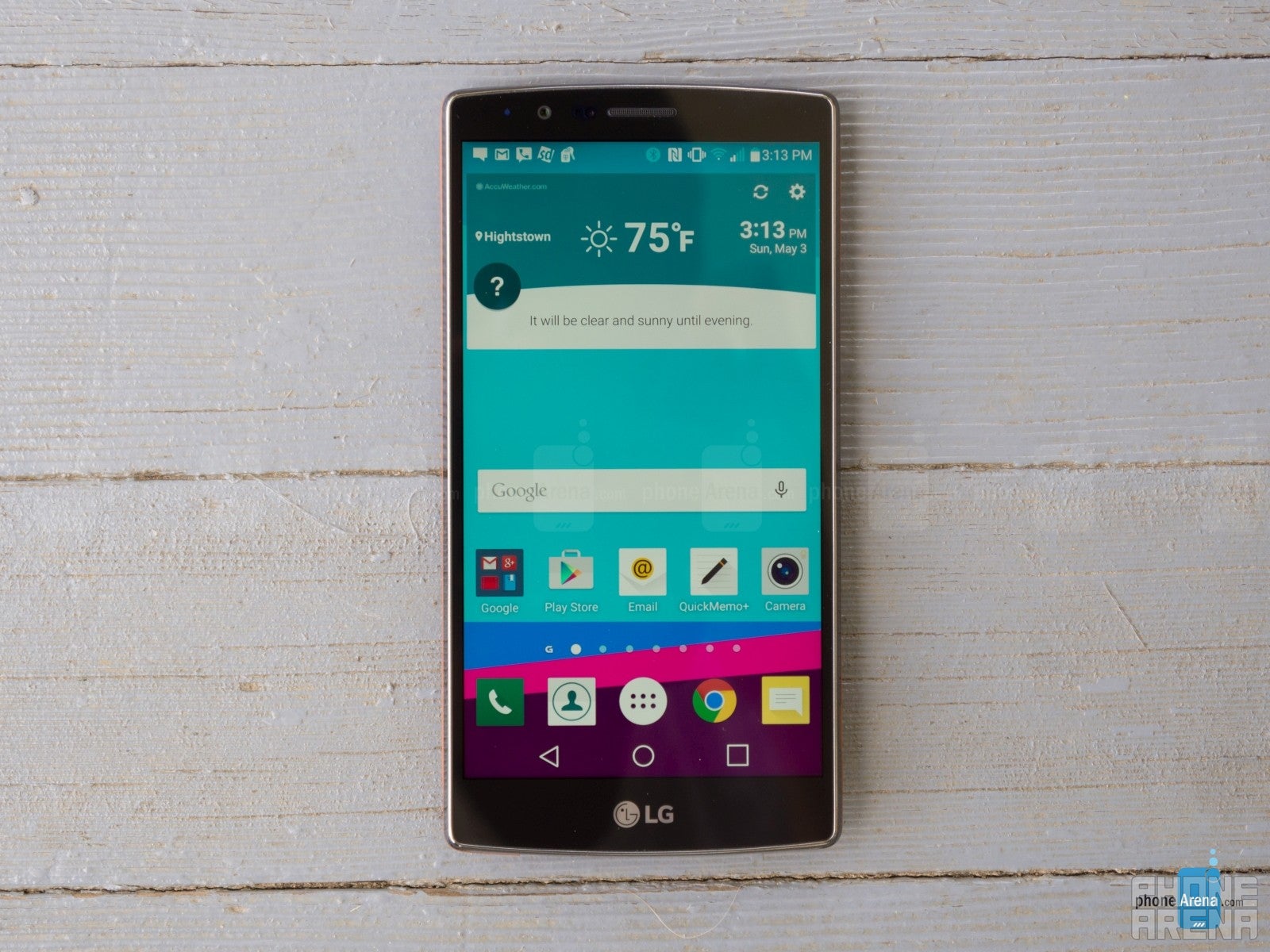 Last year, we were utterly amazed by the introduction of the G3's quad-HD resolution display, one that brought even more detail and pixels than any other screen before it. Back for round two, the LG G4 ensures that it's still a relevant thing in the space because it's fashioned with a new 5.5-inch 1440 x 2560 (quad-HD) IPS Quantum Display, one that LG boldly claims to offer 20% greater color reproduction, 25% stronger brightness output, and 50% better contrast than the G3's screen. Not only that, but it's meant to deliver vibrant colors because it's apparently been calibrated for DCI (Digital Camera Initiatives) standards.
Details have never been an issue with the G3's screen, so it's no surprise it's not an issue here either because the G4's quad-HD resolution and 538 ppi pixel density deliver some amazingly crisp details! There are plenty of them, trust us.
During the G4's official announcement, LG talked big about its new display technology – the IPS Quantum Display, which LG mentions to offer high-contrast, vibrant images that are true-to-life. We'll give it credit for doing that, but it's mainly noticeable when you're running the camera interface and comparing the colors you see in real life to what the display is showing. However, as we dive deeper and check out its color accuracy under the color gamut chart, it reveals the undeniable truth that the panel favors a saturated production – something that's made more profound as each color value in the chart is skewed from the target value.
While it's not as accurate in color reproduction as last year's display, the move is a purposeful one in giving this IPS Quantum Display the rich and iridescent color tones LG has promised. Sure, we can argue about its inaccuracies, but some folks won't mind it as much, especially when it's a drawing factor with its glow. In addition, the G4's color temperature is a stark contrast to the G3, as it reaches a very cold color temperature of ~8000K – giving whites that noticeably bluish tone. And finally, LG ever so slightly improves the brightness with this model, since it reaches 454 nits in our testing, which is shy of the 500 nits LG mentioned it would deliver.
So, what does this tell us? LG follows through in delivering the promised proclaim that the IPS Quantum Display will deliver about 20% color gamut over the usual sRGB gamut standard, something that's profoundly made known looking at its color gamut chart. While it's not as accurate this time around, the decision to offer a more saturated display is a purposeful one – so greens are green, blues are dark blue, and reds are blood red. Don't get us wrong, the display is able to stir up attention due to its rich and vibrant colors, but it's clearly overblown to simply draw people into its glow. Is it accurate? Not really, but some folks won't be too bummed out by that realization because it has that drawing factor.
Display measurements and quality
Recommended Stories