Get a new LG G Watch from Best Buy for as low as $159.99
1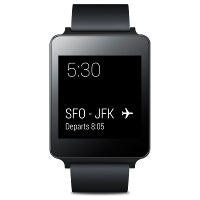 Right after Apple lived up to the numerous rumors and unveiled its upcoming
Apple Watch
, the price of the Android Wear-powered
LG G Watch
got
slashed at both Google Play and Best Buy
. At that time, the wearable that normallny sells for $229.99 could be yours for as low as $179, which seemed like a good deal for those who were looking forward to strapping one of those Android Wear smart gadgets on their wrist.
That said, LG has a more compelling smartwatch in store that will hit the shelves in the following weeks - the
G Watch R
, which is is circular, metal-made, and has a much deeper bag of features- but until then, the G Watch remains one of the available optionson the market to consider if you are looking for an Android Wear smartwatch. Best Buy's latest promotion might get you a new smartwatch. The LG G Watch is now on sale and retails for $159.99, $70 off its regular price. Surely, the online retailer is trying to clear the inventories and make some space for the expected G Watch R, which will most probably be the
most expensive Android Wear smartwatch
.
You can get yourself the Android Wear device on sale by following the source link. Both the white and black versions are available for a reduced price, so hurry up before the deal goes cold.