LG G Watch gets $50 off deal after Apple Watch announcement
10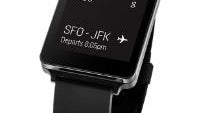 In the deluge of Apple news yesterday, anyone interested in Android Wear may have missed a good deal that hit just after Apple's announcement. It's hard to not draw a connection here, but right after Apple announced the Apple Watch, the LG G Watch saw a $50 off deal begin in various stores.
The LG G Watch has a regular price of $229. This is a price many have considered a bit high given that the Samsung Gear Live costs $199 and features almost identical specs and also includes a heart rate monitor, which the G Watch doesn't have. Now, the LG G Watch will cost you just $179, $50 off regular price. The deal is available through Google Play as well as Best Buy, and the price drop will be in place until September 23rd. Oddly, the G Watch listing on Amazon doesn't quite hit the same price, and is listed at $199.
That's a pretty good price for the G Watch, even if it doesn't have the most inspired design (or any kind of design at all, really). The G Watch is a solid introduction to the Android Wear world. Any takers?