Galaxy Note 4 pre-orders up in the UK and China
28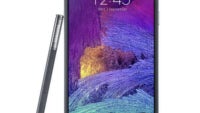 Samsung Galaxy Note 4
is arguably one of the most anticipated phones of 2014. It was presented at this year's IFA and fans are already at the edge of their seats, waiting for its October launch.
Well, those living in China or the UK can pre-order the new phablet, starting today. For the UK, pre-orders are currently open at the Clove Technologiy website, whereas residents of China can put an order down at the e-commerce site JD.com.
As far as prices go, Clove's non-VAT price claims a ₤479.17, which translates to around $780 – a number that falls in line with the general expectation for the US price to be
pinned at $799, just like the Note 3
. First stocks are said to arrive on October 13th, which is more or less what the launch date for Europe is expected to be.
The Samsung Galaxy Note series is the champion of the large-screened smartphone and arguably started the trend with the first Note, released back in 2011. The phablet (a term that became popular after the first Note's success) started with a 5.3" screen size, which increased incrementally, model after model, until we have today's 5.7" slate. The Note 4's improvements over the Note 3 are generally focused on the stylus, Samsung claiming that it managed to capture the most realistic feel of writing possible. Other new features include a more premium looking metal frame and impressively fast charging. For a complete list of Note 4's upgrades over the Note 3 – check
this article
.