Samsung Galaxy Note 4 Review
99+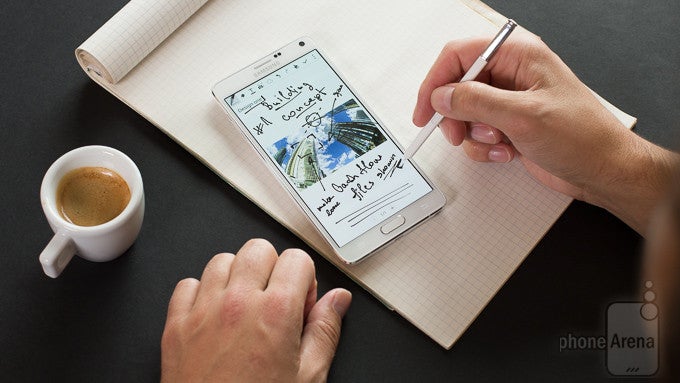 Update

: You can read our Galaxy Note 5 review!
Introduction
Launched in 2011, Samsung's first
Galaxy Note
arrived at a market where phone screens were already getting increasingly bigger, but most were still nowhere near the 5" mark. We were just getting used to working with those "larger-than-life" 4.3-inchers, and out of nowhere came the Galaxy Note – a true monster with a 5.3" screen. It looked scary with its imposing dimensions, and it felt rather weird at first, partly due to its focus on the so-called S Pen stylus. However, Samsung believed in its new form-factor, so it kept pushing it, and most importantly – refining it. The following generations of the Note series all came with even bigger screens, better internals, and refined S Pen capabilities. One by one, hardcore smartphone users were making their bold first step into phablet territory, lured in by the gigantic screen size and added multitasking features. And while the mainstream audience was still mostly interested in the Galaxy S flagship line, the Galaxy Note established itself as a viable alternative for those who wanted a Galaxy S with more of everything. As time eventually showed, 'phablets' had turned into a juicy niche not to be overlooked.
So, what's next for the Note line? Even though multiple smartphone companies have followed in Samsung's footsteps by releasing their own phablet offerings, the Galaxy Note has remained the benchmark device in this supersized category. All eyes are on what Samsung has in store, as each new Galaxy Note defines what a top-shelf phablet should be – after all, no one has managed to leapfrog Samsung in this particular market segment yet.
The latest and supposedly greatest edition in the series, the
Samsung Galaxy Note 4
, has just begun hitting the market in some areas of the world, and as one can imagine, the hype is starting to reach critical levels. As the everything-plus-the-kitchen-sink device in Samsung's portfolio, the Note 4 is expected to pack all the latest technology available, in order to meet the requirements of its tech-savvy public. And, by the looks of it, the Note 4 isn't going to disappoint. The newest phablet by Samsung sticks with the same 5.7" diagonal as its predecessor, but significantly bumps the resolution to the extremely dense 1440 x 2560 pixels. Most other components of the device, including the chipset, the camera, and the S Pen, have also been upgraded, and make no mistake – there's a whole host of different sensors mounted on the device, just to add that extra level of versatility, which is so characteristic of the Note series.
With an enhanced design choke-full of hardware and software features, the Samsung Galaxy Note 4 looks like a dream come true for smartphone enthusiasts who tend to be firmly convinced that more is better when it comes to technology. It's an ideology that we'll put to the test.
Design
A new metal frame adds a touch of premium feel, but is it enough?
Samsung typically isn't the kind of company that one goes to should they seek a meticulously crafted device, and that doesn't really change with the Galaxy Note 4. Nevertheless, Samsung has tried to step things up with its build quality, as the Note 4 now utilizes an external frame made of real metal. The frame itself has a bit of a strange shape, with slightly protruding areas in the four corners – this type of appearance isn't so mainstream, but rather, it tries to make a statement of sorts, though we aren't sure how one is supposed to read the message. Either way, the frame is not really bad, plus it adds a touch of high-end feel to the device.
Aside from that, most other elements of the exterior are unmistakably Samsung. The front of the Galaxy Note 4 is instantly recognizable, while the back has kept a lighter version of the faux leather pattern that was present on its predecessor. Most importantly, gone is the fake "stitching" element, so the back looks much more normal now. The downside is that it's more slippery than the
Note 3
's finish, though. Additionally, it's still made of a paper-thin piece of plastic, so overall build quality can't really be seen as impressive.
We'd guess that dimensions aren't really so critical for phablet users, since pretty much all of the devices of this type are quite chubby. It's a good thing that the Note 4 isn't outrageously big for a phablet (6.04 x 3.09 x 0.33 inches (153.5 x 78.6 x 8.5 mm)) – it has barely gotten bigger than the Note 3 (5.95 x 3.12 x 0.33 inches (151.2 x 79.2 x 8.3 mm)). Still, it's unpleasantly surprising that Samsung's new device has gotten heavier than its predecessor – from 5.93 oz (168 g), to 6.21 oz (176 g). It's not a major difference, but it's noticeable.
If we have to compare the Galaxy Note 4 with another contemporary and quite popular phablet right now, the
iPhone 6 Plus
, we can think of both good and bad things to say about its dimensions. On one hand, Samsung's phone is not as high, but on the other, it's significantly thicker, which makes it feel a bit less sophisticated and classy.
Naturally, the front is dominated by the massive, 5.7" display, with the speaker, ambient light sensor, proximity sensor, and front-facing camera situated above it. That leaves the fingerprint scanner-enabled home button, as well as touch-sensitive multitasking and back buttons to occupy the bezel below the screen. A volume rocker resides on the left hand side, while the right is dedicated solely to the power key. The top edge is where you'll find the 3.5mm headset jack and the IR blaster, and the bottom is reserved for the microUSB port, as well as the slot for the S Pen stylus. The physical keys, which includes the home, volume and power buttons, are very well executed – they aren't phenomenal, but have a satisfying response with a reassuring clicky feel. They certainly work better than those of the Galaxy Note 3, and hopefully, they will remain like this in the long term.
After the water- and dust-resistant
Galaxy S5
, it's rather unfortunate that the Galaxy Note 4 doesn't feature those same capabilities. Indeed, spilling water or other liquids over your shiny Note 4 may cause irreversible damage, so you'll be better off exercising some special care when handling the device.
Now, let's say a few words about the execution of the new S Pen and its slot. The stylus isn't too hard to remove from the slot, but nor is it very easy and seamless. On one hand, that's good, because it won't accidentally fall off, but on the other, you do have to apply a bit of force in order to take it out, plus it might be a bit of a hassle in case your nails are too short. The pen itself isn't uncomfortably small, but it would have been better if it was a bit bigger – closer to the size of a real pen. Of course, there isn't nearly enough space inside the Note 4 for that kind of a pen, so Samsung has had to do with what's possible at this time.
Overall, the design of the Samsung Galaxy Note 4 seems to be more than adequate in the modern phablet world. It maintains good balance between form and function, with that new metal frame it has, as well as the relatively decent dimensions and great screen size. We would have preferred it if it was a bit thinner and lighter, not to mention water-resistant, but oh well, maybe next time.
Display
Incredibly vibrant, or incredibly accurate – it's your call!
The polarizing AMOLED screen technology is back with the Samsung Galaxy Note 4 (what a surprise!), and guess what – it's way better than before.
Now that we've teased you about the exciting part, let's start from the very beginning... The Note 4 sports a "larger-than-life" 5.7" display, which is, naturally, way bigger than the average smartphone screen out there. This is the main asset of this device, and although the diagonal has remained the same since the previous generation, the resolution has been increased substantially – from 1080 x 1920 pixels, to 1440 x 2560 pixels. This has increased the pixel density from the superb 386 ppi, to the breath-taking 515 ppi. Well, actually, if you've had the pleasure of using a 1080p phone, you'll hardly be amazed by the appearance of this 1440p screen – mostly because the difference in clarity isn't that big. You'll really have to try hard to notice those slightly cleaner details, but those are still there, and they can quietly improve your viewing experience - in a very subtle, yet welcome way.
We've always been honest that one of our biggest gripes with Samsung's Super AMOLED screen technology is how inaccurate and pumped-up its color-reproduction tends to be. As undeniably eye-catchy as those ultra-vibrant visuals are, we've always imagined there to be a special screen mode that would allow Samsung's AMOLED-powered devices to exhibit more realistic screen tones. Sure, phones like the Galaxy S4, S5, and Note 3 came equipped with display modes designed to make things look more 'natural', but truth be told, in reality, those modes never did much in order to fix the issue of AMOLED's overly cold and greenish color character.
When the Samsung Galaxy Tab S tablets arrived earlier this year, we were actually pleasantly surprised to find that they were armed with a new screen mode called 'Basic', which actually did a great job tweaking the display colors so that they look very true-to-life. That made us optimistic about the future of Samsung's AMOLEDs, and it also made us very excited, because we felt that this new, improved AMOLED technology is to eventually make its way to the company's smartphones.
Well, it seems like that time has finally come, as our scientific measurements of the Galaxy Note 4's screen indicate that its 'Basic' mode successfully adjusts the 5.7" screen's color reproduction to be impressively close to the reference sRGB standard - meaning that we finally have an AMOLED smartphone, whose color tones can get very realistic! Impressively, in this mode, the Galaxy Note 4's measured color temperature is almost ideal, at about 6650 K (Kelvin). That's extremely close to the reference value of 6500 K. This means that the balance between the primary blue and red colors is great. Thankfully, the third primary, green, isn't present in excessive amounts (as on Samsung's previous AMOLED screens), so things aren't looking decidedly greenish on the Galaxy Note 4's display.
With Delta E greyscale and Delta E rgbcmy values of 3.1 and 2.61, respectively, the Note 4's display proves that its various hues and nuances won't deviate much from their target values. In the realm of Delta E, which is a metric used to indicate amount of 'color error', figures around 5 are generally considered passable, while figures below 3 mean the display is very accurate (Delta E of 1 is considered to be the smallest amount of color difference a human eye can distinguish). This means the display of the Note 4 is doing a great job at delivering true-to-life colors when set to the Basic screen mode.
If you take a look at the color gamut chart in our display benchmarks found below, you'll see that the measured color points are very close to almost all of their reference values (the squares) - that's a good way to visualize the level of color accuracy exchibited by a display. Of course, should you wish to feast your eyes on the traditionally oversaturated and vibrant AMOLED looks, you can always switch to some of the other available modes ('AMOLED cinema' and 'AMOLED photo'), as those will present you with the familiar, punchy AMOLED outlook. There's also the Adaptive display mode which will try to optimize the screen's behavriour based on the content that's displayed.
When it comes to outdoor visibility, the Samsung Galaxy Note 4 tends to be an excellent performer. Even though it can't quite measure up to the best of its rivals out there in terms of maximum nits when displaying pure white (that's our standard way of measuring screen brightness), the screen is quite comfortable to view under bright daylight, due to its low reflectance, and ability to crank the brightness up, when display content that features areas of varying colors – i.e. not pure white. Because of this inconsistent character of the screen's brightness output, the exact brightness you'll be able to squeeze from it will depend on the content you're viewing, but more often than not – everything will be easy to read on the Note 4's screen.
Viewing angles are traditionally good on AMOLED screen, and the Note 4 isn't an exception. Contrast and brightness remain high when you view the screen from an angle, but unfortunately, there's an unpleasant shift in colors which make them much colder than they otherwise are.
Display measurements and quality
Recommended Stories