Case Scenario's Pantone Universe Bookcase for iPad mini hands-on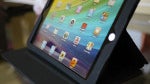 Having been
available for the iPhone 5
for a bit of time now, Case Scenario's two-toned
Pantone Universe Bookcase
is finally coming to the
iPad mini
– bringing along a
smart cover function and adjustable stand
. In fact, this specific version is nearly identical to its cousin's design style, seeing that it's available right now in either "
Tap Shoe
" or "
Scarlet Sage
."
We'll admit, the Pantone Bookcase for iPad mini really has a modern look to its design, as the Tap Shoe colored version we're checking out has an
attractive contrasting scheme
. Specifically, the small white strip on the front helps to break up the balance with this
mostly black satin finished case
. On one hand, we appreciate the soft touch fabric feel of the case, but if you have people with greasy hands constantly touching it, there's no arguing that it'll get dirty very quickly.
In terms of features, it's great to find the Pantone Universe Bookcase packing a smart cover – where it's able to automatically turn on/off the display as the lid is opened/closed. At the same time, we have the convenience of getting a hands-free video watching experience courtesy of its landscape stand option. However, it's not something sturdy considering that it's propped up only by the grooves put in place on the case. Although some might not be annoyed by it, but we're not fans of how the iPad mini is positioned into place. Yes, it's a tight and firm fit in there, but we would've preferred a snap-on option as opposed to this sleeve one with its Velcro strap.
Looking at the entire case, it's always the two-toned look of the Pantone Universe Bookcase that really stands out. Still, you're paying a premium picking up this thing, seeing that it's priced at
$49.99
.
More iPad mini cases to check out!
source:
Case Scenario