Cygnett Enigma Flexible-folding iPad mini Case hands-on
1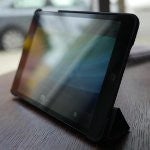 Cases are just there to protect and hopefully sprinkle some style to our devices, right? At their core, they do just that obviously, but there are some that pack in more functionality to reduce the need for consumers to spend money on other additional accessories. Well, if you're looking for something like that for the
iPad mini
, then you ought to check out
Cygenett's Enigma Case
for the iPad mini.
First of all, the Enigma is a convenient and
clever folding case
that protects and props up the tablet in an assortment of configurations. Donning a snap-on design that snuggly accommodates the tablet, it's nice that the entire thing has a
soft touch matte finish
, which essentially enables it to maintain a mostly clean appearance that does a decent job of repelling smudges and debris. Even better, the inner portion of the front cover is
lined with microfiber
to clean and protect the iPad mini's display
Rather than buying one of those smart covers from Apple for the iPad mini, the Cygnett Enigma Case has something similar integrated with it. Again, it's the front cover that can be rolled up to allow users to prop it up in both landscape and portrait. On top of that, you can also folks it into a triangular pattern for even more configurations – though, the magnets in the case
don't seem to be as strong
as we'd like, since the connection is rather
weak
and easily broken apart.
Regardless, the
$39.99
price for the case might be justifiable enough for people considering that it doubles as both a protective case and stand. However, it's worth mentioning that it's not a smart cover, seeing that the iPad mini doesn't turn on/off when the lid is opened/closed.
More iPad mini cases to check out