Griffin IntelliCase for iPad mini hands-on
0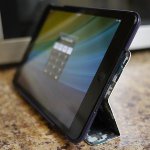 Yesterday, we were checking out the
Cygnett Enigma Flexible-folding case for the iPad mini
, and for the most part, it seemed like a fitting candidate that combines the protection of a case and the usefulness of a stand. Although it's able to prop up the tablet, it wasn't necessarily packing a smart cover – something that can turn on/off the iPad mini as the cover is lifted/closed. Fortunately, it looks like
Griffin's offering in the IntelliCase for the iPad mini
is just what we're looking for in an all-in-one solution case.
For starters, we definitely like that there's a
variety of cool and stylish designs
with the Griffin IntelliCase. In our case specifically, the plasticy feeling front smart cover has a retro 8-bitty army colored design to it. Constructed out of
polycarbonate
plastic, which has a very slick feel, it does provide some level of protection – though, its size is a tiny bit thicker than Cygnett's offering.
With the front cover, there are magnets that are strategically placed to enable the iPad mini to turn on/off when it's lifted/closed. As much as we appreciate this "
smart
" gesture, the magnets' connection feel a bit weak, with barely any resistance when opening the front cover. Checking out the rear, there's a slit that accommodates the flexible front cover – so that the tablet can be propped up in landscape and portrait. However, we're not necessarily wowed by this feature as much as we'd like, mainly the configuration feels
wobbly
. In fact, we're worried at times whenever we have it placed in landscape.
Regardless of that, the Griffin IntelliCase does offer quite a lot for its
$39.99
cost, which is the same price point as Cygnett's Enigma Flexible-folding case. Throw in the smart aspect of its front cover and the cooler looking designs available with the IntelliCase, some will no doubt relish in all of its value.