Griffin Slim Folio Case for iPad mini hands-on
1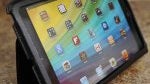 Looking for a nice folio case for that sleek iPad mini of yours? Well, if you're looking for something bare bones that'll protect your prized possession and incorporates a stand of some kind, then the
Griffin Slim Folio case
for the iPad mini might be what you're looking for.
Donning a price tag of
$40
, we can't say that it's a flashy looking case versus others out there, since it's sticking firmly to a very conventional look. With its slick feel, we like how it's able to maintain a
very clean look
at all times, which is great in repelling debris and smudges. We have to say, though, it's nice that the Griffin Slim Folio case doesn't bulk up the size of the already sleek tablet too, but it's just a bit on the
bland
side of things with its design.
Regardless of that, some will appreciate that the folio case
doubles as a stand
too, seeing that it can be propped for the video watching and typing experience. In addition, the inner portion of the front cover features
microsuede
to clean and protect the display – albeit, it's not a smart cover, so it won't automatically turn on/off the display.
At $40, we've seen a few iPad mini cases that feature smart covers and integrate stands of some kind, so it's going to be a hard sell for some people that know what's out there.
More iPad mini cases to check out