Spigen Apple iPad mini accessories hands-on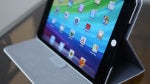 Always on its feet at a moment's notice, premium accessory maker
Spigen
is one to never back down in
delivering some quality stuff
. Knowing that, we're getting a clear look at some of their latest accessories for none other than Apple's latest tablet on the scene – the
iPad mini
. At this point, it doesn't surprise us that there's a
premium price point
attached to these accessories, but as we've been accustomed to finding out quite often, there's plenty of reason why they're attached with the "
premium
" notoriety. So without any delay, let's take a quick look at what they have to offer for the lovely looking iPad mini.
Spigen iPad mini Leather Case Leinwand

– Whoa! There's no arguing that the

$72.99

price point of the Spigen iPad mini Leather Case Leinwand sticks out so strongly right from the start, so that's the biggest concern for anyone looking to pick it up. So why the high cost? Well, it's strictly due to the fact that this folio case stand is comprised out of

vintage full grain leather

– giving it that premium quality. On top of that, it's nice to find that the iPad mini will automatically turn on/off whenever the front cover is opened/closed. However, we're not fans of the flimsiness with the stand, since it lacks the sturdiness to confidently show us it'll stay firmly intact.
Spigen iPad mini Hardbook Case

(black & white) – A lot easier on the pockets, the

$39.99

Spigen Hardbook Case has that perfect balance to make it a great case solution. Indeed, it's not a premium as the genuine leather material used by the Leinwand Case, but nevertheless, the

synthetic leather

material gives off a slick feel and cleaner finish. As its name implies, the case actually looks like a hard covered book. Yes, it features a smart cover too, but even better, we prefer the sturdier feel when it's propped up as a stand for watching videos – though, we're not given an option to prop it up for a better typing experience. Just like the tablet itself, the Hardbook Case is available in white and black.
Spigen iPad Mini GLAS Protector Tempered Glass Series

– Yet again, we're faced with another pricey accessory for the iPad mini. Donning a price point of

$57.99

, most people would easily be scared away for something that's none other than a screen protector. However, this isn't your ordinary screen protector, because it's actually a solid piece of

tempered glass

. Not only is it super tough and easily applied onto the iPad mini's screen, but touch responsiveness and viewing angles aren't compromised. Always looking clean, the Spigen iPad Mini GLAS Protector Tempered Glass Series features an

oleophobic coating

that easily removes unwanted smudges and fingerprints with a quick swipe from its included microfiber cloth. Oh yeah, did we mention is also comes included with a variety of color jelly bean buttons for the iPad mini's physical home button?
More Apple iPad mini accessories
Recommended Stories