Apple iPad mini Review
44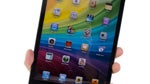 Update:

You can now read our Apple iPad 4 review!
Introduction:
Broadening its depth, it surely took Apple a long time to steer into new territory with its much-vaunted
iPhone
, but nevertheless, they introduced the world an unfamiliar iPhone with a larger 4-inch display. Strangely enough, they're doing the same thing now with the
iPad
, as the aptly named
iPad mini
is set to appease those who have a flare for compact tablets that are easier to travel around with. And to tell you the truth, the timing couldn't have come any sooner, seeing that we've been witnessing such fierce competition in the sub 8-inch category.
By now, we're fairly familiar with what entails the iPad mini, but upon looking at its $330 starting price point, it's still somewhat rather difficult to swallow after quickly peeking at its specs sheet. Still, beauty as we all know is more than simply skin deep – so let's explore everything and see if there's something more grand beneath it all.
The package contains:
Lightning cable
Wall charger
Start Guide
Apple decals
Design:
One quick look at its name justifies what you can expect with the design of the iPad mini. See that word attached to iPad? You guessed it folks, this baby is merely a shrunken down or "mini" version of Apple's popular 9.7-inch tablet. Although there's nothing fresh with the design of the iPad mini, there are a couple of noticeable differences – like how it employs the same chamfered beveled edge of the iPhone 5 around its trim. Above all, though, it stands out primarily for its impeccable construction, something that's notably unmatched! In fact, not only does it instill a sense of durability and strength thanks to its aluminum chassis, but it's incredible to see how skinny this thing is at 0.27-inches thin – making it skinnier than even the iPhone 5!
Of course, it's wider to hold in the hand over other 7-inch tablets on the market, which is attributed to its larger screen size and its choice of employing a 4:3 aspect ratio. Regardless of that, we're still able to grasp it with a single hand – albeit, we're stretching it to the limit. Having its weight (11.01 oz) evenly distributed, we find it to complement the overall sturdiness of the tablet. The more we think about it, there's nothing else out there within the same size category that comes close to the premium nature of the iPad mini.

Distinctively an Apple device, it sports a recessed
physical home button
beneath its display. Naturally, accidental presses are non-existent with it, since it requires a firm push to activate. Meanwhile, on the opposite edge above the display, there's a 1.2-megapixel iSight camera for all your self-portrait and video chatting need, which also has the ability to shoot videos in 720p.
Along the trim of the iPad mini, there's nothing out of the ordinary, since it employs all the same set of buttons, ports, and switches found with its bigger sibling. Yet again, there are no problems activating its power button and separated volume control, seeing that they're both pronounced in feel and springy in response. Next to the volume control, there's the mute switch that places the tablet into silent mode.
On the
top trim
of the tablet, we find its 3.5mm headset jack and microphone – so there's nothing different here. However, there's a major shakeup found along the
bottom edge
of the tablet! Specifically, gone is the typical Apple 30-pin port from yesterday, and instead, it's now flaunting Apple's new and proprietary Lightning docking port. Also, the iPad mini has chosen to sport two speakers, as opposed to the single one from before, as they're surrounding both sides of the tablet's Lightning port.
Lastly, Apple is nice enough to bless this with a
5-megapixel auto-focus camera
, which features an F2.4 lens and 1080p video recording – but there's no flash. For a moment there, we thought Apple would merely outfit it with some paltry offering, since it was expected to be compete against some of the cheaper Android tablets on the market. So yeah, we're glad they decided to give it some love in this category.
Display:
In this day and age, high definition displays are surprisingly abundant in super-affordable tablet category as well! Knowing that, we're disappointed the most to find out that the iPad mini isn't following suit, but rather, it decides on sporting a low resolution of
1024 x 768
with its
7.9-inch IPS LCD display
. When Apple has been talking a lot of talk about its various Retina Displays (iPhone and iPad), they really would've made a statement by following suit with the iPad mini, but that's sadly not the case here.
Indeed, it's not as sharp looking when compared to other tablet HD displays, even more when its 162 ppi pixel density is a far outcry from the 264 ppi figure attached to the third and fourth generation iPads.
Beyond that, however, it's still one pleasant looking display thanks to its neutral
color production
, wide
viewing angles
, and high brightness output – making it the ideal candidate for outdoor usage. However, we do notice that it's not as vibrant looking as the iPhone 5's display. No doubt, we would've love to see this sporting something higher in resolution, but it's still tolerable to use with most things.
Recommended Stories