STM Bags Apple iPad mini cases hands-on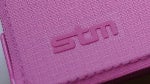 Did you just snag any one of the new versions of the
Apple iPad mini
? Well, if you're in the market to protect that small bundle of joy of yours, then you might be interested in some cool cases for it from accessory maker
STM Bags
. With their latest line of cases for the beloved mini tablet, they offer a wide range of cases that combine protection and style to the mix – while also
doubling as useful stands
as well. Ranging in price from $35 to $80, you're bound to find the right one!
If there's one thing that all of these have in common, in addition to being able to prop up the tablet with their own unique stands, it's that they're all
smart covers
too. Therefore, if you open the front lid, your iPad mini will automatically turn on. And of course, if it's closed, it'll turn off without having the need for you to press on the power button itself. Furthermore, the inside portion of the front lids are all covered with soft lining to not only add additional protection to the screen, but it also helps to keep it clean looking too. So without further wait, let's take a quick look at what makes these STM cases different from one another.
First on the list is the

STM Skinny

iPad mini case, which retails for a modest

$35

through various retailers and online. Although the pink colored material feels a bit plastic to the touch, we're pleased to know that it's the sturdy variety – so it adds enough protection without feeling or looking too bulky. However, the material tends to make the case feel a bit slick in the hand.
Next on the chopping block is the

STM Grip

iPad mini case. Out of the three cases, we have to admit that this one is by far the sturdiest one of them all. With its tough plastic casing, it's sporting a black matte finish to keep its rigid surface clean looking for the most part – though, greasy fingers can dirty its looks a bit. Propping up the tablet with its stand, it's nothing too complex, but it's nice having flexibility in adjusting the angle. Pricing for this one is reasonable at

$40

.
And finally, there's the

STM Marquee

iPad mini case – the most expensive one at

$80

. So why is there such a huge price difference between it and the rest? For starters, the Marquee is a premium soft leather case that gives the iPad mini a sense of elegance, especially with this royal blue colored version. Keeping the case closed, it employs a foldable front cover and loop to keep things secured – plus, the loop also doubles as a place to store a stylus.
source:
STM Bags
More iPad mini cases worth checking out
Recommended Stories