The best new phone features to go mainstream in 2019
19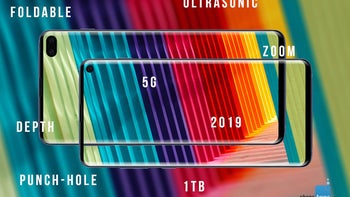 After a few relatively calm years in mobile tech, 2019 is shaping up to bring some real innovation in the form of next-gen form factors, camera prowess, and connectivity standards. This is why, following our roundup of the
best phones to expect
this year, we touched our crystal ball to tell us which will be the best new features and technologies that those handsets will attack our poor wallets with.
Foldable form factors
Not to rain on the "all-screen" parade but it's been a hard pregnancy to
conceive
the best screen-to-body ratio possible, starting with wide notches then waterdrop ones, and culminating with dual-screen phones. How about we complicate things even further, and introduce a device that can fold in two when you need it for smartphone functions and unfurl into a tablet screen size for media consumption or browsing?
You got it, said Samsung, eight years after the first bendy screen prototypes emerged in its labs in 2011. Not only that, but LG,
Huawei
,
Xiaomi
and even
Apple
are now said to explore the new horizons that the foldable form factor might bring. Google is on board with
full Android support
as well, so we can't wait to see if 2019 will turn into the "
year of the foldable phone
" before anything else.
5G connectivity
Punch-hole fronts
Galaxy S10
series is expected to bring punch-hole display mainstream, as just the next installment in the "all-screen" saga.
Given that the S10 is expected to sell in the tens of millions, the punch-hole design is likely to become ubiquitous for those makers that want to brag with their screen-to-body ratio without resorting to a slider, dual-screen, or motorized camera designs, let alone those pesky notches of yesteryear.
Multi-lens cameras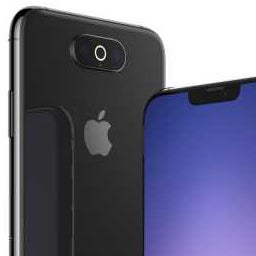 Apple won't be leaving its camera cred in the dust, either, as it is heavily rumored to introduce a
triple-camera iPhone in 2019
. Now, whether those three cameras will be arranged in the infamous square as the
first leaked prototype
, or
horizontally like in the second
you see here, is a matter of design preferences, but the first tri-camera iPhone may very well become a reality this year.
Given that Samsung is expected to enter the
computational photography
game with the S10 as well, we can chalk 2019 off as the best year for mobile photography yet, and that's without knowing what Google's next
Pixel
will bring to the table, either.


Ultrasonic in-display fingerprint readers
Arguably, that has been the reason behind Samsung's wait to adopt the in-screen finger reader solution so far. Moreover, these are expected to become even better by allowing you to tap anywhere on the screen with your thumb instead of a tiny predetermined space, as you can see in Xiaomi's demo below.


First 1TB phone, first with 12GB RAM, and fast UFS 3.0 storage
The new
UFS 3.0
(Univeral Flash Storage) standard promised to double the memory bandwidth of UFS
2.1
, which is the current go-to standard for flash storage in the mobile space. Samsung's head of mobile memory product planning Jay Oh revealed that the company will launch its next wave of UFS 3.0-enabled devices in the first half of 2019. Though the Galaxy S10 itself wasn't mentioned by name, it is a very likely candidate for the tech to debut on.
In addition, phones like the
top-shelf S10X model
with 5G connectivity are expected to sport models that have 12GB RAM and 1TB of storage. If anyone can pull this off, it's the memory kingdom of Samsung, and yet the first phone with 12GB RAM will be
released very soon
, way before the S10, which, however, may carry the title "the world's first 1TB phone," if that's what rocks your boat.
Zoom and depth