Best gold-colored smartphones
46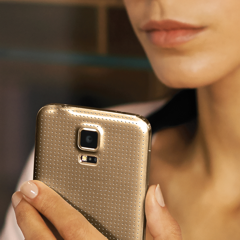 Like it or not
, gold smartphones are here to stay. We're not talking about devices that are actually
made out of gold
, but about those that just have gold among their standard color options.
The trend seems to have started after Apple released the iPhone 5s last year, offering it in grey, white, and gold. Sure enough, gold-colored phones existed before, but they weren't as popular and diversified as now.
As of this year, almost every notable flagship smartphone has a gold version - in addition to classic colors like black, white, or grey. Thus, this is a perfect time for us to gather the best golden smartphones in a single article. Check them all out below, and let us know if you have any favorites.
In alphabetical order:
Apple iPhone 6 and iPhone 6 Plus
Although it represents a major upgrade (and, in some ways, a new beginning for Apple), the brand new iPhone has the same color variants as the iPhone 5s, obviously including gold. Only its back and sides are golden, though, with most of its front panel (minus the circle around the home button) being white. The 4.7-inch
iPhone 6
and 5.5-inch
iPhone 6 Plus
look pretty much similar in gold, and are available to buy in select markets as of September 19.
HTC One (M8)
Launched back in March, the all-metal
HTC One (M8)
is this year's first flagship smartphone to have a gold version. Since the release of the One (M8), HTC introduced two similar devices: the One (E8) and the One (M8) for Windows, though neither of them come in gold.
Huawei Ascend Mate 7
The
Ascend Mate 7
was perhaps the biggest surprise of IFA 2014. Not because it's literally a big handset (sporting a 6-inch screen), but because it's very well designed - just look at those ultra-thin bezels - and offers plenty of high-end features (including an 8+1-core processor, and a 4100 mAh battery). What's more, the Ascend Mate 7 is made out of metal.
LG G3
The G3 is the world's first widely available smartphone to offer a display with 1440 x 2560 pixels (Quad HD). This is one of the reasons why many customers were, and still are interested in it. Besides having a gold version, the
LG G3
also comes in black, white, red and purple (thought the latest two colors may be hard to find).
LG G3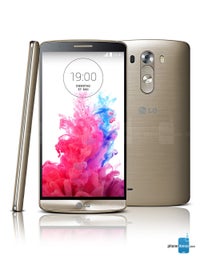 Samsung Galaxy Alpha
At 6.7mm, the
Galaxy Alpha
is Samsung's thinnest smartphone ever, and also the first in the Galaxy series to sport a metal frame around its edges. The Alpha is smaller than the Galaxy S5 (having a 4.7-inch 720p display instead of a 5.1-inch 1080p one), and is not water-resistant. Already released in some European markets, the Galaxy Alpha has yet to be launched in North America.
Samsung Galaxy S5
The S5 is undoubtedly Samsung's best-selling handset of 2014. It's the company's first flagship smartphone released this year, and can be bought in more than 100 markets around the world. Apart from being available in gold, the
Galaxy S5
can be purchased in black, blue, and white.
Samsung Galaxy Note 4
The
Galaxy Note 4
seems to be Samsung's most advanced handset ever. Just like the Galaxy S5 and Galaxy Alpha, it has a gold version (alongside black, white, and pink variants). The gold hue covers not just the back, front and metal sides of the Galaxy Note 4, but also a large portion of the S Pen stylus that the device comes with. The new Note can be pre-ordered as of last week, but it won't be properly available before October.
Sony Xperia Z3
Expected to be released later this month, the Z3 is thinner and slightly faster than the Xperia Z2, but it doesn't represent a major upgrade. In any case, this is Sony's first flagship smartphone to have a gold color version (previously, the company had a thing for purple). The
Xperia Z3
and Samsung's Galaxy S5 are the only water-resistant flagships to come in gold.