Best Quick Charge 2.0 USB smartphone chargers
11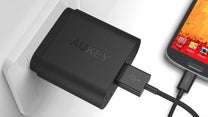 For the longest time, battery life has been one of the top complaints you'd hear from the average smartphone owner. It isn't cool when your otherwise top-of-the-line handset needs a daily recharge, is it? Thankfully, the majority of smartphone makers did the wise thing by focusing on using more energy-efficient hardware. They also started putting larger and larger batteries in their products. In fact,
phones with 5000mAh batteries
are already a thing.
But while bigger batteries do last longer between charges, they also take longer to charge. This is where Qualcomm's Quick Charge 2.0 technology comes into play. By blasting more energy into your phone's battery, this cool new tech can charge a battery cell much faster, especially when it is totally drained. How do you take advantage of Quick Charge 2.0? Well, many recent smartphones and tablets powered by a Qualcomm Snapdragon SoC have the technology built into them. But you'll also need a compatible Quick Charge 2.0 charger, like one of the wall and car chargers we've picked for you.
Before you dive in, however, keep in mind that some phones come bundled with a Quick Charge 2.0 charger. The
Google Nexus 6
, for example, has one in the box. That's why you might not really need another Quick Charge 2.0 charger, unless you're buying a spare for the car or the office. With this disclaimer out of the way, feel free to check out the bunch of Quick Charge 2.0 chargers in the slideshows below.