Best Chinese 2015 MediaTek Android smartphones
18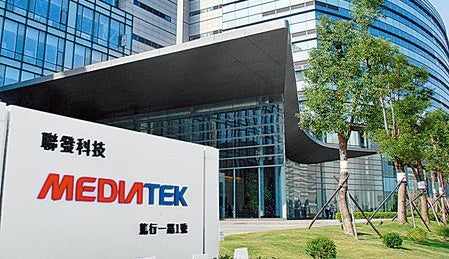 MediaTek is a fabless chip maker from China that has quickly grown to become one of the largest providers of silicon for the booming Asian phone industry, but with a confusing naming scheme, it's hard to make sense of the countless chips that MediaTek is offering. With more and more first-tier smartphone makers like HTC and Sony adopting MediaTek chips in their phones, it's worth keeping tabs on this company that makes extremely affordable and competitive SoCs.
Before we dive into MediaTek's roadmap, here is a quick overview of the scale of MediaTek's business so far:
the company has $6.76 billion of revenue (NT$213 billion) for 2014
it achieved a gross margin of 47.9%
its Q4 after-tax profit stood at $329.72 million (NT$10.4 billion), up 20.8 percent on the year
Q4 revenue amounted to $1.76 billion (NT$55.4 billion), up 39.3% year-on-year
Currently, MediaTek uses TSMC for the production of its chips, and with production of 16nm FinFETs in Q3 2015, we expect no less than a full-blown top-end Snapdragon competitor from China in 2016, but even this year, MediaTek is looking very competitive with its portfolio. With no further ado, let's make some sense of the obscure four-digit names of MediaTek chips.
Past chips (still available on some phones): MT6589 (high-end) | MT6589T (high-end) | MT6577 (low-end) | MT6592 (mid-range) | MT6517 (low-end)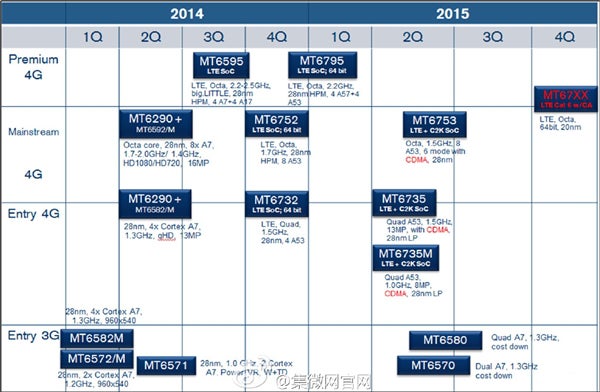 Disclaimer:

Note that we have included a link to one particular store, where you can buy these devices internationally. We have no relation to that particular site, but we have positive experience ordering from them, we have found that it offers some of the best prices online, and has a price matching program.
Specs: 4x Cortex A17 (2.2GHz) + 4x Cortex A7 (1.7GHz) in big.LITTLE
Price range of smartphones using the chip: $230-$450
GPU: PowerVR 6200 @ 600 MHz
Cache: 32KB L1, 2MB L2
Memory: 32-bit dual-channel 933 MHz LPDDR3 (14.9 GB/sec)
Announced: Feb 2014
The MediaTek MT6595 is the company's most powerful offer available on smartphones right now. An octa-core chip with 4 performance-driven A17 cores humming at up to 2.2GHz and 4 energy-efficient A7s running at up to 1.7GHz in a big.LITTLE configuration, the MT6595 is has scored wins among some very popular devices like the Meizu MX4 and the Lenovo Vibe X2, and that's quite the breakthrough for MediaTek.
Meizu MX4
Powered by: MT6595
Powered by: MT6752
Jiayu S3
Powered by: MT6752
Powered by: MT6752
Powered by: MT6752
Powered by: MT6732
Doogee Turbo Mini F1
Powered by: MT6732
Powered by: MT6732