Another Apple Watch pop-up shop shuts down as the wearable is no longer pushed as a fashion item
49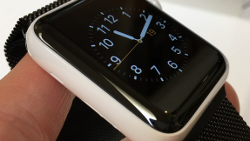 If Apple has learned anything about the Apple Watch as we
move closer to the wearable's two-year anniversary in April
, it's that the smartwatch should never be marketed as a fashion item. For the second time this month, a luxury themed pop-up Apple Watch shop has closed. The latest to shutter its store is the Galeries Lafayette in Paris. The store is no longer included in a list of retail locations where the watch can be purchased. Earlier this month, the pop-up store at London's Selfridges department store also closed. The only pop-up store still standing is the Apple Watch pop-up store at Tokyo's Isetan Shinjuku.



Apple's recent advertising has moved away from the concept of Apple Watch as a luxury piece of jewelry. Months before pre-orders were started for the Apple Watch, the tech titan displayed the higher end models during Fashion Week in Paris. It also had Liu Wen, a Chinese fashion model, promote the phone in magazines and in social media. And while Apple still has a range of high priced intelligent timepieces, the most recent television ad in the U.S. to promote the product shows how it can be used as fitness band.



More precisely, the commercial shows women running, jumping and moving around so that they close the rings that measure such activity on the watch's display. Fitness band manufacturer Fitbit's recent purchase of Pebble could have Apple alarmed about the future of the smartwatch. While most data indicates that Apple is the top selling smartwatch on the planet

,

the whole category has not taken off the way that most analytical firms thought that it would when rumors of an Apple built smartwatch first surfaced.

Part of the reason that Apple is moving away from promoting the fashion jewelry aspect of the Apple Watch is because the company has stopped producing the luxury gold Edition models that sold for as much as $17,000. With the Series 2 introduction last year, the gold Edition time pieces were replaced by Apple Watches sporting a ceramic build. This model peaks at a price of $1,300.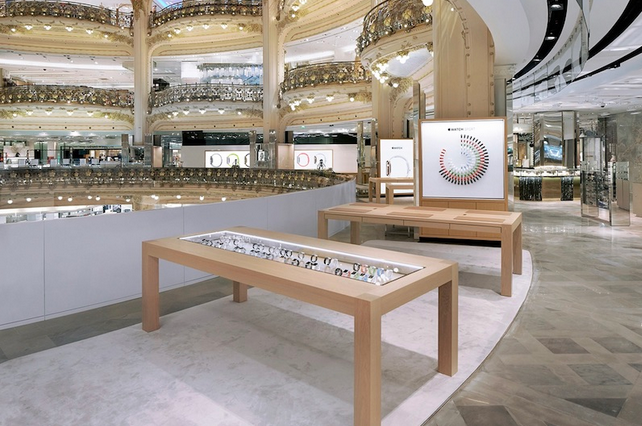 The Apple Watch pop up store at Galeries Lafayette in Paris is closing


source: MacRumors