Apple displays the Watch today for the Fashion Week in Paris
14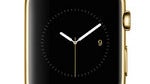 Apple's yet unreleased Watch has made an interesting public appearance – it is currently being held on display at a boutique fashion clothing and accessory retailer in Paris, France, for the Autumn Fashion Week.
The shop's name is Colette and it will show 3 of Apple's timepieces – one for each tier (Sport, Collection, and Edition) for today only. Apple's Senior Vice President of Design Jony Ive and one of his designer colleagues – Marc Newson – can also be spotted at the event, alongside some fashion bigwigs, like Karl Lagerfeld.
It seems that Apple has decided to market their wearable in an entirely different way. While other companies show them off as gadgets, and in turn – gain only the interest of tech-geeks – Apple seems to be trying to push the Watch as a classy fashion accesory, which just so happens to have apps and notifications. That would explain the
seemingly last-minute decision
to
not
call it the iWatch, but rather go with a name that doesn't connect the device with gadgets like the iPad and iPod.
source:
Sarah Andelman
(
Colette
) via
MacRumors