6 great leather cases for the Samsung Galaxy S7 edge
4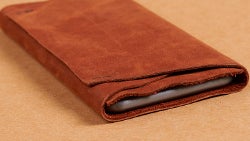 Placing some kind of protection on your smartphone has become a non-negotiable decision for most users nowadays. Maintaining the device scuff- and tear-free will keep its resale value up, provide eye candy for its owner for longer, and, most importantly, ensure that it's working properly. Small drops may have not been an issue with the good old, plasticky Galaxy S5, but the glass-and-metal sandwich Galaxy S7 and especially its curved compatriot, the S7 edge, just scream "protect me" with their shiny, smooth build materials.
But no one said that a protective case needs to be a lifeless, ugly piece of plastic that sucks all the class away from your phone. No, in fact, there are those that add to it. When it comes to classy — you can't beat a leather texture on top of a gold Galaxy S7 edge, now can you? Well, the answer to that is probably taste-dependent. But, if you happen to love leather accessories, and you own Samsung's curvy flagship, you may want to check the following cases out:
TS Case Ultra Slim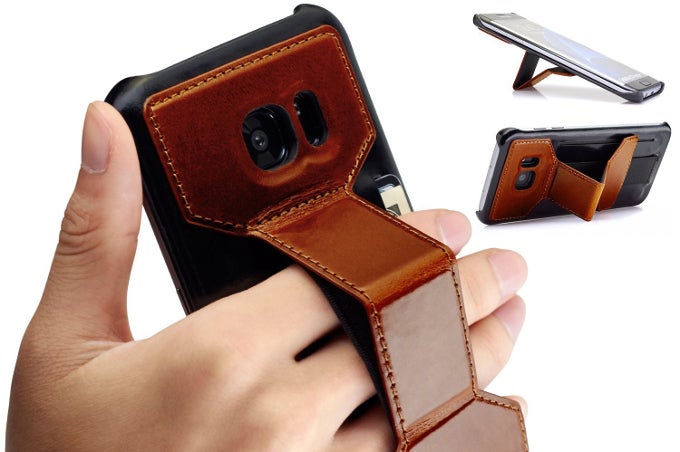 This is mostly a back cover case, which will keep the glass panel on your phone's behind well protected, but not much else. However, it does have a nice leather handle that wraps around your fingers for a more secure grip when using the phone, and which can be used as a kickstand when your phone is on a desk. Additionally, there's some wallet-like functionality, thanks to a card slot on the back.
X-Level Vintage
A beautiful backshell, wrapped in leather on the outside, and a bright red fabric on the inside. It has some more protective qualities thanks to covering the phone's sides. Access to the phone's hardware power and volume buttons is a bit more limited, as they are marked on the case as lumps of the same color, so they are harder to spot. Reports suggest that some molds might be of lower quality, though.
Icarercase Leather Book Case
This flap-cover case looks good for not much cash, and offers a nice magnetic lock on its front, instead of having to deal with annoying traps.
Saracleather Flora
A handmade leather case with a unique, kind of scruffy, look, thanks to its large stitches and unrefined corners. You get 3 card pockets and a cash pouch in what is a relatively slim-ish wallet case.
Nostitch leather cases
Company Nostitch offers a number of unique-looking, handmade leather pouches for various smartphones, the Galaxy S7 edge being among them. We didn't pick an exact model to present here, as most of them are similar, but wrapped in a different manner to give it a different twist. Others have a flap, if the simple poach functionality isn't your favorite. You can check them out and pick a favorite from the link above.
Jaccet leather cases
Another set of beautiful leather pouches for your Galaxy S7 edge. The different models offer varying combinations between main and accent colors. As a gift, bundled with a rather pricey pouch, you get an earphone clip to keep that cable from tangling itself.