20 of the best cases for the iPhone 7
2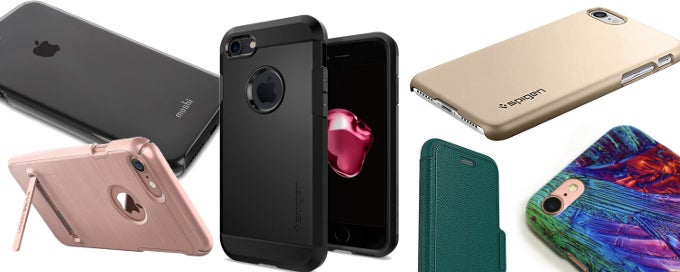 The
iPhone 7
is out and selling like hotcakes. Plenty of happy users are already enjoying it or are about to get one pretty soon, with the sales offers and holidays coming about. Still, it's not a cheap phone, and you will probably want to pick up a case or two to protect it from accidents and retain its resale value.
Of course, being such a hot model, there are tons of cases and covers already available for the iPhone 7. So many, in fact, that the amount of choice may be a bit overwhelming. But we combed through the marketplaces looking for some of the best cases we could find across all categories. If you are looking for a specific type of case, you might want to check out some of the following articles on specialized cases. If not, scroll down for the cherry-pickings!
Spigen Air Skin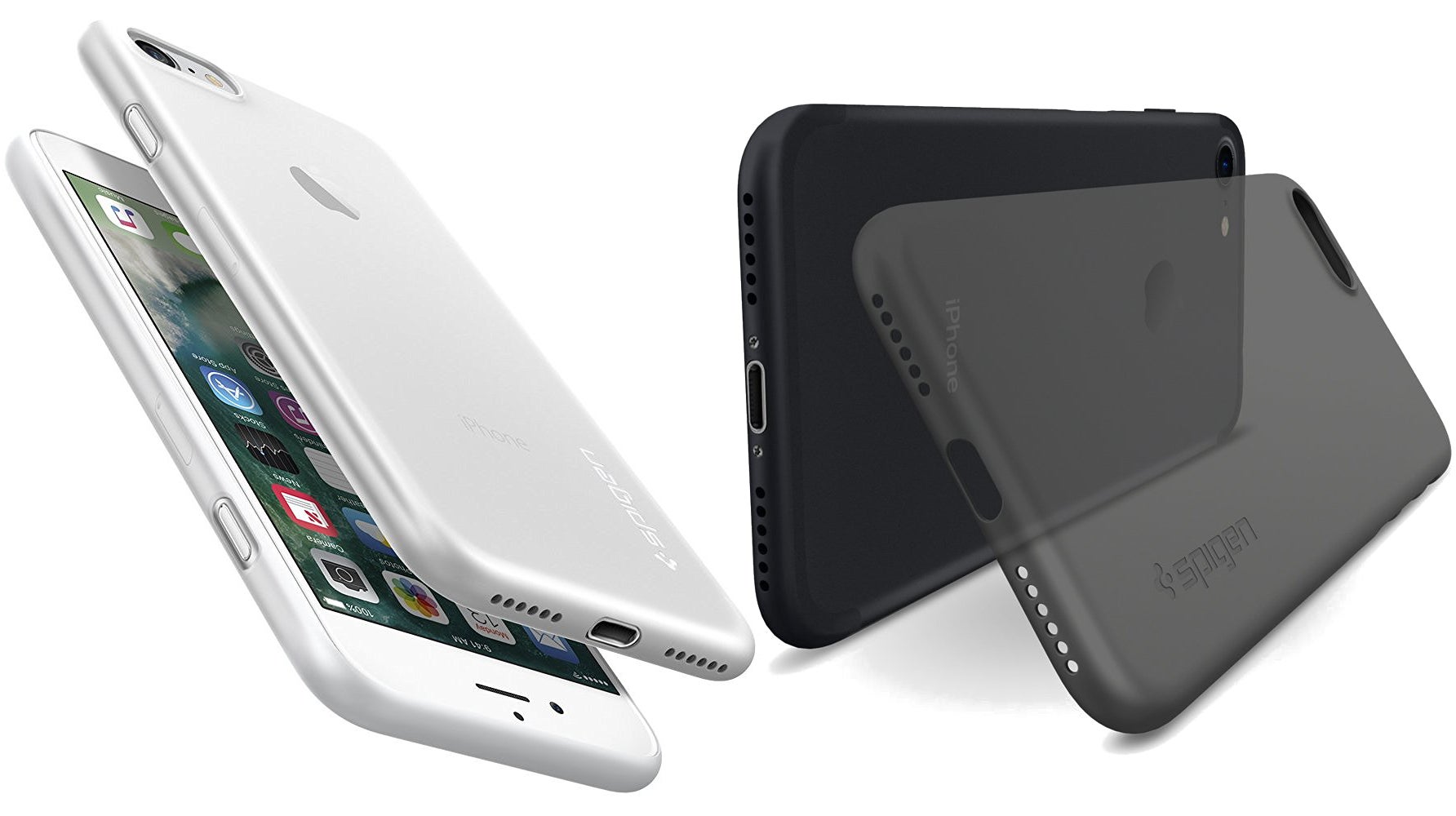 It's no secret that we like the Spigen Air Skin series, and the manufacturer has reiterated it for the iPhone 7 design. It's a very thin, plastic case with a matte finish to it that feels good in the hand and fits perfectly around the iPhone's curves. It's also slightly transparent, so you almost get to enjoy the phone's original design, all the while adding a bit of protection on top.
Moshi XT Clear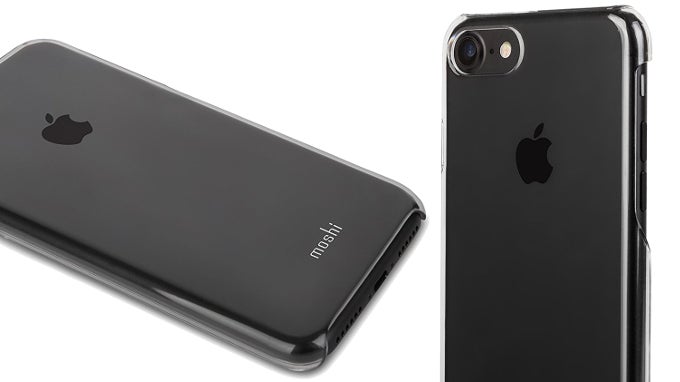 The Mosi XT Clear lets your iPhone 7 shine through with all its bling, as it's a fully transparent case. It's also very thin with walls slimmer than 1 mm. The case has openings that allow you to operate the iPhone's satisfyingly clicky buttons directly, too. Of course, you can't expect robust protection here, so high drops are still going to make your heart skip a beat.
Apple Leather case
Apple released its own battery case last year and, despite criticism over its design choices, the gizmo has remained as is for the iPhone 7 model. Sure, the hump style is not really a beautiful thing to behold, but on the flip side — the case still manages to remain low profile, despite being an actual battery case. Its power pack is slighly below 1,900 mAh in capacity, which means it doesn't even hold a full 100% charge for your iPhone 7 (which has a 1,960 mAh battery), but it still has enough to extend your battery life considerably. Unfortunately, with the iPhone 7's Lightning port acting as a headphone jack as well, be warned that slapping any sort of battery case on your handset means you will be closing your only output port on the device.
Silk Grip Case
The Silk Grip case is slim-ish and has a grainy matte surface to improve your grip on the phone. To sweeten the deal, Silk throw in a free screen protector, too. The case itself provides medium amount of protection.
Mujjo leather wallet sleeve
Mujjo has a good amount of leather cases on stock, but to keep things interesting, we decided to include the more unique-looking sleeve case. It's very classy-lookin and can be used as a wallet if you like the idea of having your credit cards stick out in the open.
Spigen Thin Fit
The Spigen Thin Fit does what it says on the box — it's rather slim and fits the form of your iPhone 7. It has openings to give you direct access to the handset's buttons. However, it's not the most protective case out there and it can get slippery due to its smooth finish.
Nodus Shell case
The Nodus Shell case looks great, but comes with the price to fit. Covered with a vegetable-tanned Italian leather with a magnet hidden underneath, this case allows you to stick your iPhone to any magnetic mount. It also comes with a mini mount of its own that you can stick in your favorite place where you miss an iPhone hanger.
VRS Simpli lite
With a beautiful and minimalistic design, the VRS Simpli lite looks great on your phone and gives you access to its physical buttnos. It's made of polycarbonate, but has a faux brushed aluminum finish applied to it for extra style, and comes in a variety of colors. There's also a kickstand for propping up your phone anywhere.
Spigen Slickwraps cases
Moshi iGlaze
Moshi's iGlaze strikes a balance between protection and size. Don't get us wrong, this will definitely add some bulk to your iPhone, but will also guard it well, so it's an acceptable trade. Unfortunately, we can only find it in black and pink, at least for now.
UpRosa case
UpRosa has a case that comes with one of 17 unique, vibrant pictures at the back. If you want your case to scream with color, this is a good place to stop by. We're not sure if everybody is going to like their glossy finish, though.
OtterBox Strada folio
The Strada is a flap-style case with a single slot for a card or cash. It's not exactly a wallet case, with 4-5 pockets inside, but it manages to remain relatively slim for what it is. The shell that holds the phone offers OtterBox-style heavy protection, while the oustide is covered in stylish leather.
OtterBox uniVERSE
The uniVERSE is a modular case that allows you to add whatever you need at the moment. Right now, its modules (sold seperately) include an external battery pack, an external speaker module, a storage expanding flash, a card reader, a wallet, a bike mount, an attachable camera lens, and more. Not a bad gadget to improve your iPhone's stack of features, but we do wish it was a bit slimmer.
Mophie base case
This Mophie case sports a strong magnet on its back, which is used to snap on one of three different modules (sold seperately). A Folio case (flip wallet), a wallet case (just a card holder at the back), or a battery pack. The two wallet modules cost $20 each ($10 if you order one together with the Base case), while the battery pack will set you back $60.
Ollo Case
Olloclip's lenses are pretty popular add-ons for iPhone users. They are clip-ons for your camera, which add fisheye, zoom, macro, or telephoto lenses. However, not many cases out there can be fitted on your phone while you have an Olloclip on (or vice-versa), so the company came up with its own case, which is definitely not bad for protecting your device. Keep in mind, the lenses are sold seperately.
Maxboost Vibrance
The Maxboost Vibrance is a slide-in case, which means you need to open its bottom flap and slide your iPhone upwards. This guarantees a snug fit and little to no chance for the case to fly off should it meet the ground at a speed higher than normal. For the amount of protection it offers, it's still a fairly thin case.
Sketch Polo Book Wallet
This is a Wallet case, which can quickly transform into a simple back shell cover, since the inside part, which holds the phone, can be detached and used autonomously. It's a rather slim wallet case and the inside hardshell is pretty minimal in its protection. Great for letting your phone shine through, not so great for drops. The Polo comes in three different colors — brown, pink, and black... but we will act like we haven't seen the pink one.
Spigen Flip Armor
Spigen has been making "Armor" cases for a while now, and you know what to expect — bulky, but very protective. If you happen to be going places where a phone might not survive without an extra layer of thick skin around it, an Armor-type case is your best bet. The new Flip Armor model also has a flap at the bottom, which will accept credit cards or cash, sort of making it a mix between a wallet case and an armor case.
Spigen Tough Armor
If flaps and card slots are too much for you — just go for the classic. The Tough Armor is back for the iPhone 7 and... well, it's as tough as ever. It may be rather bulky, but it's sure to help your phone survive a drop on the concrete floor, maybe even a couple of air flips. Just don't test it on purpose.