Best wood cases for iPhone 7 and iPhone 7 Plus
4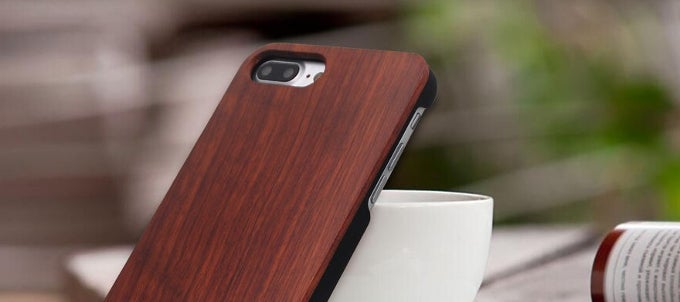 If you're the proud owner of an
iPhone 7
or
iPhone 7 Plus
, and you haven't bought a protective case for it yet, maybe you'll be interested in getting a case made out of wood.
While they can't be as tough as other cases on the market - like the
rugged models
- wooden cases have a charm of their own, and often offer an elegance that's hard to match. With that in mind, allow us to present you a selection of the best wood cases for the iPhone 7 and iPhone 7 Plus, including both cheap, and expensive options. The cases are listed in alphabetical order, and we hope you can find at least a few models that you'll like.
Carved Satellite case for iPhone 7 and iPhone 7 Plus
These Carved Satellite cases are handmade in Indiana, USA, and you won't find two identical models - not only because each piece of wood is different (as it happens with most other wood cases), but also because they're painted differently. The cases include wood backs paired with either clear, or matte hard shells (depending on your preference) for reliable protection against scratches and drops. Interestingly, the wood part of the Satellite cases is made out of "burls, knots and discarded pieces", but, thanks to Carved's skills and dedication, the end products look impressively nice.
Cover-up Woodback Explorer case for iPhone 7
The Cover-up Woodback Explorer case combines a durable polycarbonate body and a rubbery, shock-absorbent outer shell with a handmade wood skin to give your iPhone a new look, while also offering impact protection. The sides of the case are textured in order to provide a better grip. The Woodback Explorer case is available in over 10 wood variants and colors (for both the iPhone 7 and iPhone 7 Plus).
Miniot iWood case for iPhone 7 and iPhone 7 Plus

If you need a very elegant, all-wood case for your iPhone 7 or iPhone 7 Plus, the Miniot iWood might be just what you're looking for. The case is made out of two pieces of wood, it's easy to install, and can be had in no less than seven variants: mahogany, maple, cherry, oak, walnut, padouk, and indian rosewood. The Miniot iWood is very thin, and we're not sure it can fully protect your iPhone 7 against serious drops. The front of the handset is certainly exposed when the case is on, so you may want to buy an extra screen protector.
Slicoo Wood case for iPhone 7 and iPhone 7 Plus
Less than half of this Slicoo case is made out of wood, but the manufacturer has found a way to make it look pretty nice by designing a V-shaped back pattern, even including a cutout that makes the Apple logo visible. Besides wood, the case includes "environmental plastic" and soft TPU rubber, so it should do a good job at protecting your beloved device. The Slicoo case for iPhone and iPhone 7 Plus comes with lifetime warranty, and is available in three variants: Black Walnut, Padauk, and Rose Wood.
ZenNutt Wooden case for iPhone 7 and iPhone 7 Plus
The ZenNutt Wooden is the cheapest case on this list. In fact, it's surprisingly cheap, and yet we're having a hard time finding it any major flaws. To be fair, the design is not outstanding here, and the front of your iPhone isn't really protected, but we think this case is worth its price anyway (if you're not willing to pay more for another model).