Best ultra thin and elegant iPhone 7 cases
2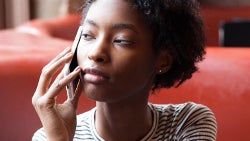 One of the big advantages of the
iPhone 7
is that... it is small. Yep, you might look with bemusement at a 4.7" handset in this day and age, but when carrying it around and using it with one hand, you'll appreciate the footprint.
Moreover, this screen diagonal makes the phone conducive to all kinds of cases, even thick and armor-like, as they still don't add all that much girth to the slim and tiny handset. Ditto for battery cases that
add a whale hump
to your phone.
Apple said it improved on the battery life of the iPhone 7, though, plus every once in a while you are likely to land at a crossroad, wanting to keep most of the thin and measured design of your $600+ phone visible, but at the same time want to have that same expensive handset protected from the daily wear, keeping its value longer.
Enter the ultra thin 'barely there' cases that weave around your iPhone 7 like a plastic wrap, and still offer a piece of mind when you drop your handset to the floor. Here's a fine collection of those for you to consider.