Apple iPhone 7 Review
99+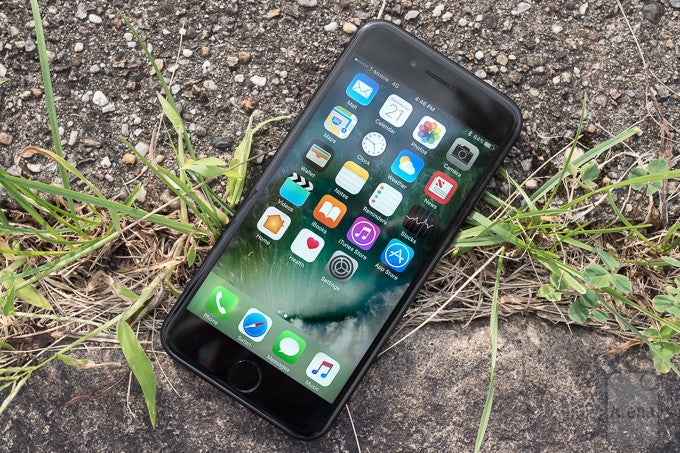 Introduction
Apple's latest smartphones are easily among the most-anticipated launches of the year, with billions of fans eagerly looking forward to what the company comes up with next. Rarely arriving without controversy, a new iPhone will inevitably inspire some of the most impassioned reactions the industry gets to see. Who's Apple taking inspiration from? Are the new features reactionary or forward-thinking – and dare we say, "courageous?"
Once again, Apple's coming through with a pair of models, this year's
iPhone 7
and
iPhone 7 Plus
. As a number-upgrade year (rather than one that brings us some new -s phones), we'd sure expect some major changes. With its dual rear cameras, the iPhone 7 Plus feels like it fits that bill, but what about the smaller iPhone 7? Is this a real improvement over the
6s
, or is Apple just fiddling around a bit, tweaking design here and there while swapping in a few new parts?
We've spent the better part of the past week carrying the iPhone 7 around, really getting to know this phone and all its features. And one-by-one, we're breaking down just what you can expect from every corner of Apple's latest iPhone experience.
In the box:
Apple iPhone 7
EarPods with Lightning plug
Lightning to 3.5mm analog headphone adapter
AC adapter
USB to Lightning cable
Introductory card
Safety notice
Stickers!
Design
Subtle refinements put the cherry on top skilfully executed evolution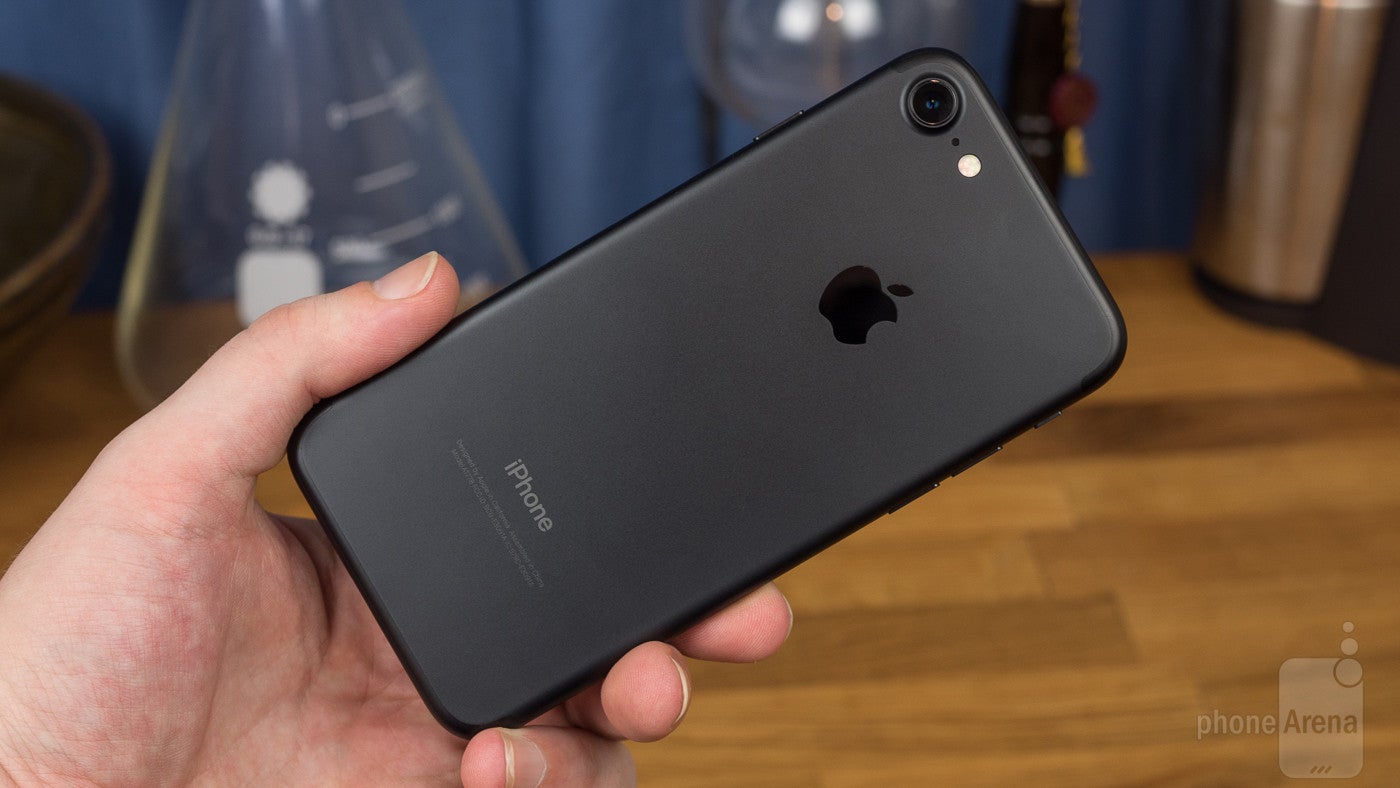 Approaching the design for the next generation of an industry-leading flagship phone seems wrought with the possibility for disaster. Do you take the safe approach and give users more of what they flocked to last year – while risking the characterization of being lazy and failing to innovate? Or do you try something bold, eye-catching, and new – though bringing with it the possibility that a fresh look may not resonate with shoppers?
For the iPhone 7, Apple's executing a delicate balancing act that crosses the boundary into both camps, expanding on a very familiar look in some smart, attractive ways, while also not being afraid to steer the handset in some risky new directions.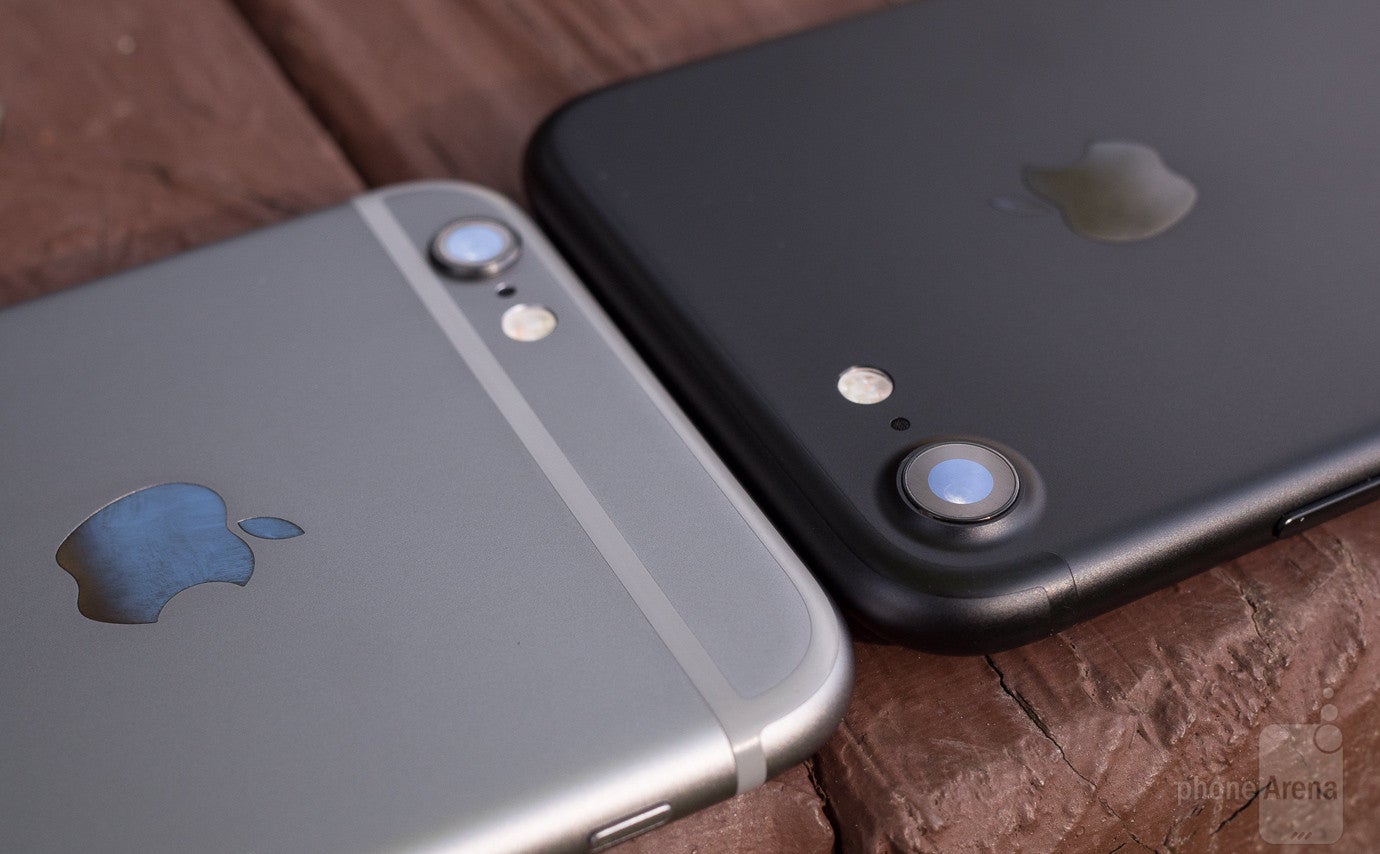 iPhone 6s (left) vs iPhone 7 (right)
At arm's length, the iPhone 7 could pass for an iPhone 6s or
iPhone 6
, but it doesn't take much of a closer look for the changes to start popping out. One of the easiest to spot is a new camera bump, rising from the phone's back as a smoothly curving lip formed out of the back panel itself.
But it's in the area surrounding that camera bump where one of the more significant changes to the iPhone's design reveals itself, as the familiar antenna lines criss-crossing the last couple generations of iPhones seem nowhere to be found. At least, they no longer stretch conspicuously across the phone's back, instead tucked away in a pair of slithering curves hugging the handset's top and bottom edges. Between the new out-of-the-way shape and improved color-matching, they might as well not be there at all.
We've got another upgrade around front, as the familiar clicky physical home button is replaced by a new solid-state component. It looks nearly identical, feels much the same as your finger glides over it, and still houses Apple's Touch ID fingerprint scanner. Except now it doesn't move when you press it.
Instead, Apple relies on a combination of the button's force-measuring sensors and the phone's upgraded Taptic Engine vibration motor to respond to firm presses with an emulated "click," keeping the general feel of the old physical button while moving to some more advanced technology. Even with adjustable haptic feedback levels, it never comes across quite the same as the original, but it's not long before the new response feels just like home (no pun intended).
Button layout remains the same as last year (and the year before), but port placement gets a big change, as Apple drops the phone's analog headphone jack – a change we'll discuss in some depth later.
In terms of exterior dimensions, the iPhone 7 measures in at precisely the same size as the iPhone 6s – anomalies like the new camera-bump shape notwithstanding – though the new phone weighs ever so slightly less, dropping from 143 to 138 grams.
Over the years, Apple's slowly warmed to the idea that not all iPhone users want a phone that looks exactly alike, and the company's been getting better at giving us a variety of options. This year we see new colors take the focus, as the familiar gold, silver, and rose gold are joined by two new black shades: a low-key matte black and a glossy jet black. For this review we're looking at the black iPhone 7, as jet black handsets have proved harder to come across than iOS-powered unicorns. There's a consequence to the arrival of these new colors, though, as the old space gray (aka darker silver) option vanishes.
Finally, Apple's formally christened this year's iPhones as its first water-resistant models, with an IP67 rating for water and dust protection. There's no cumbersome port covers or anything to deal with – Apple pulls off the feat without compromising the iPhone 7's design. But before you go jump in a pool with the iPhone 7 in your pocket, be advised: this may be Apple's first officially water-resistant iPhone, but the company both warns that the protection may decrease over time (as seals degrade and components wear) and absolves itself of any duty to perform warranty service related to water damage.
Display
Instead of fancy curved screens or crazy resolution, Apple focuses on performance: brightness and color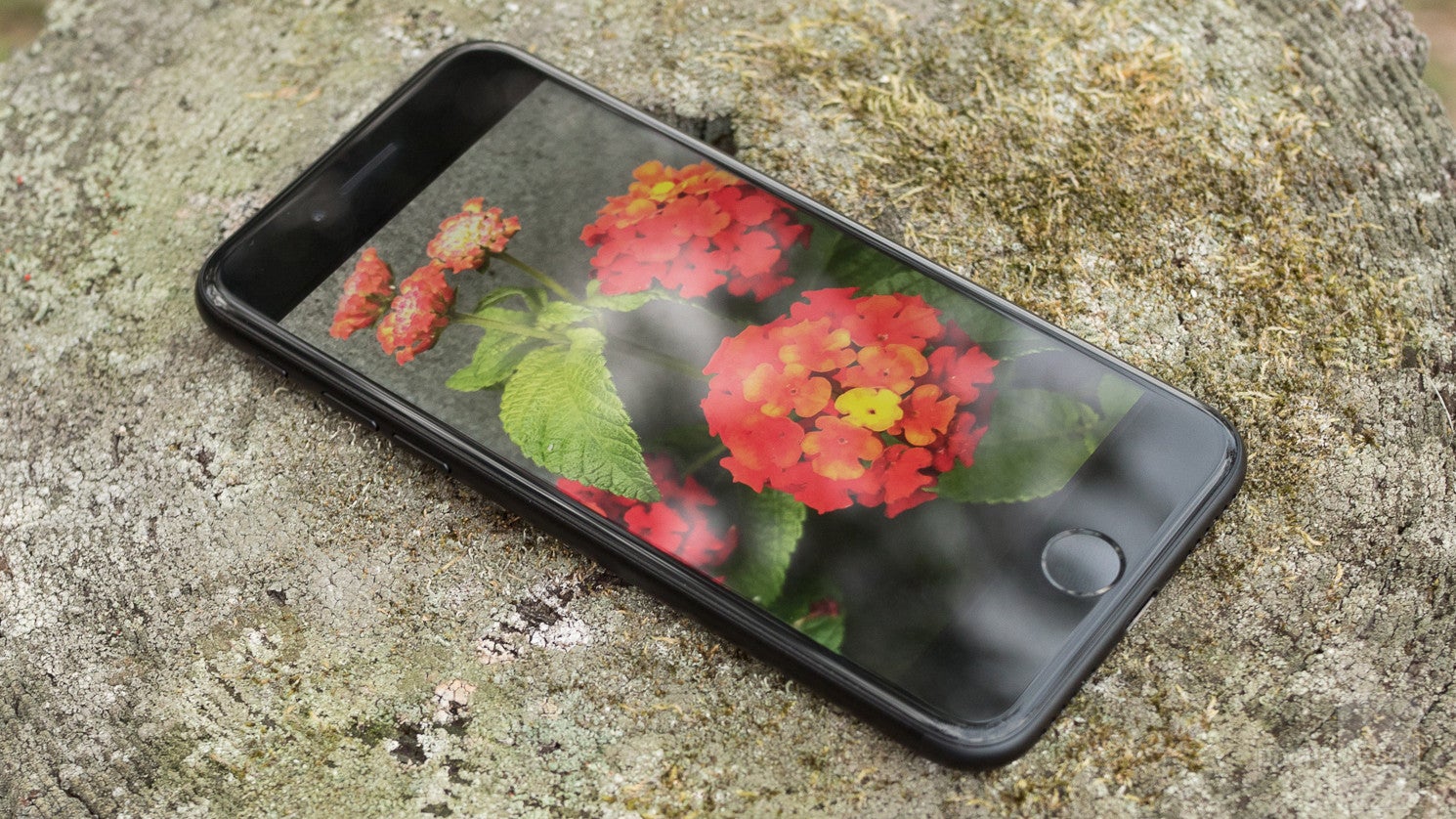 Apple's not a company to make big changes to the displays on its phones without some serious deliberation, so it shouldn't be a surprise to learn that we're back with another 4.7-inch LCD panel in a 750 x 1334 resolution.
But even with those physical details going unchanged, Apple's still able to deliver some tangible improvements with the screen on the new iPhone 7, giving the display a wider color gamut and brighter output.
Officially, Apple quotes a maximum brightness for the iPhone 7's screen of 625 nits, and our testing of the handset confirmed that not only is the iPhone 7 hitting that target, but it's actually doing a little better, coming in slightly over 630. That's great for outdoor visibility, but keep in mind this 600+ nit level is only reachable with the brigthness set to auto, and the phone exposed to really bright lighting conditions. Manually sliding the brightness to 'max' only hits in the 530 range, which is still plenty bright, of course.
Colors look great on the iPhone 7 and our tests suggest that Apple's gamut improvements have indeed blessed the handset with pretty accurate color reproduction. It's the sort of change you're not going to appreciate unless you're doing a side-by-side comparison, and even then the upgrades exist only on the very edges of our perception, but it's a welcome enhancement, all the same.
Had Apple just given us basically the same screen we had last year on the iPhone 6s, we would have been happy enough, and while this year's improvements don't change our use of the phone in anything like the way the introduction of 3D Touch did (which, of course, is back on the 7), they're still solid upgrades.
Display measurements and quality
Interface and Functionality
With evolving 3D Touch support, some attractively redone apps, and an improved lockscreen experience, iOS 10 delivers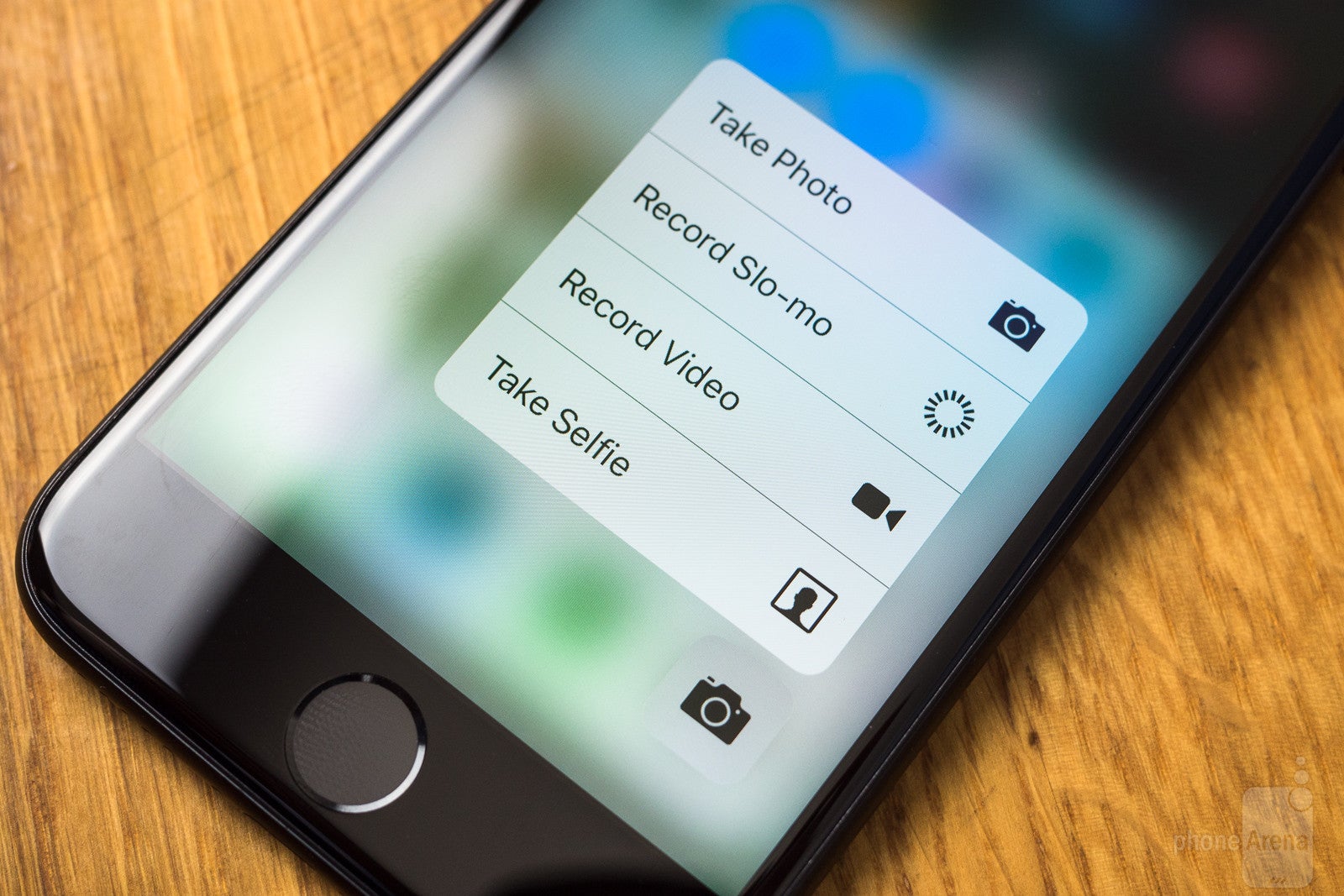 The new iOS 10 landed for existing Apple devices ahead of the iPhone 7's release, giving us a head start at checking out all the new functionality bundled with the company's latest operating system refresh.
As expected, it's utterly feature-packed, and we've already spent some time outlining all the improved ways to interact with your phone that await users within. Upgrades include a drastically overhauled Messages, adding stickers, new text effects, emoji galore, and even a handwriting mode. Some purists will complain that Apple's over-complicating what should be simple text-based communication, but in a world where messaging apps loaded with special effects and gimmicks dominate app charts, Apple appears to find itself forced to evolve to stay relevant.
Other changes include expanded 3D Touch controls, powerful new lockscreen widgets, Siri connectivity for third-party apps, and new versions of familiar apps like Maps, Music, Photos, and News. Apple's not shy about bringing its new iOS features to existing hardware, either, and even new functionality like raise-to-wake is supported on last year's phones. And building off the eyestrain-reducing Night Shift of iOS 9.3, Apple implements a new Bedtime mode in the system clock that keeps trying to gently nudge us towards healthier sleep patterns.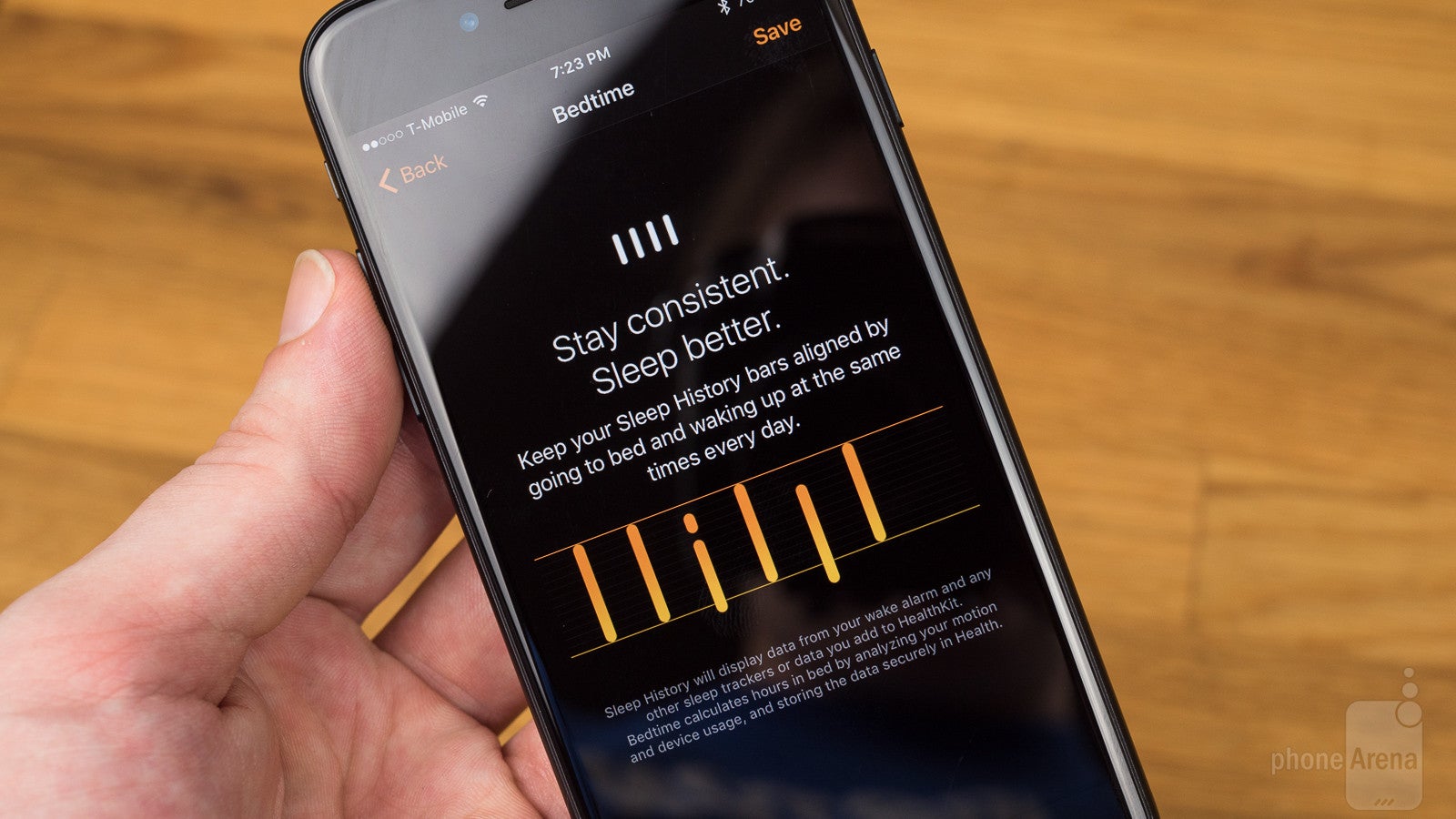 There's not one stand-out feature or new app that really defines iOS 10 – though for a certain Snapchat-loving cadre of users, the tricked-out Messages is probably the coolest thing Apple's ever done – but these smaller enhancements are so numerous, varied, and consistently well executed that it's hard not to love what Apple's come up with.
Processor and Memory
Fast as all get-out, and with storage to spare
Fans might love Apple smartphones for their design, easy-to-use interface, or rich ecosystem of software and media, but some blistering performance doesn't hurt matters any. With the iPhone 7, Apple's introducing its latest processor, the quad-core 64-bit A10. Well, not just the A10, either – Apple's giving its new chip a nickname, as we meet the A10 Fusion.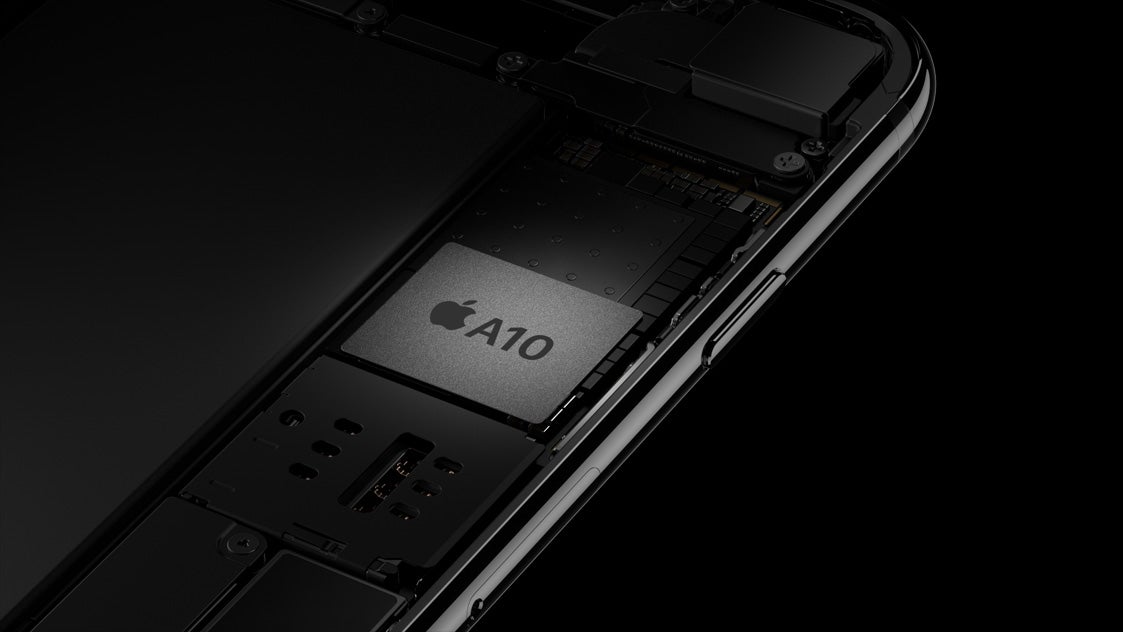 That naming change should hint that we're dealing with something special, and our testing generally seems to support that idea. Various benchmarks show performance improving in the 20 to 40 percent range over the iPhone 6s, and while we didn't measure a huge change in graphics performance, the trend is certainly upwards.
More than just powering the speediest iPhone to date, the A10 pairs high-performance cores with high-efficiency cores, helping the iPhone 7 to squeeze all it can out of the handset's battery. We're going to circle back around to battery life a bit later in this review, but spoiler alert: it's great. And while a higher-capacity battery has something to do with that, the new A10 clearly plays a role, too.
Apple once again gives its smaller iPhone 2GB of RAM (there is an upgrade to 3GB this year, but only for the iPhone 7 Plus), and instead we see the move to higher capacity play out with the handset's flash storage.
The big news here is that 16GB is officially dead, and the starting storage capacity for the iPhone 7 is a healthy 32GB. Even sales of the 6s and 6s Plus are losing their 16GB option, and only the iPhone SE will continue to offer such meager storage.
More than that, though, maximum storage reaches new heights with the introduction of a lofty 256GB option, for $100 more than 128GB (which itself comes in $100 more than the base 32GB level).
This is also the first time we're seeing Apple tie storage choices to another phone hardware option: in this case, color. The shiny new jet black finish isn't just the hardest-to-come-by iPhone 7 color, it's also restricted to models with 128GB or 256GB storage.
That's especially interesting, as it suggests Apple may be using the big markup it charges on flash storage to offset any added expense implementing the snazzy jet black color requires. Right now that's relatively unobjectionable, but will we see future iPhones where new hardware features or actual phone functionality is tied to certain storage tiers?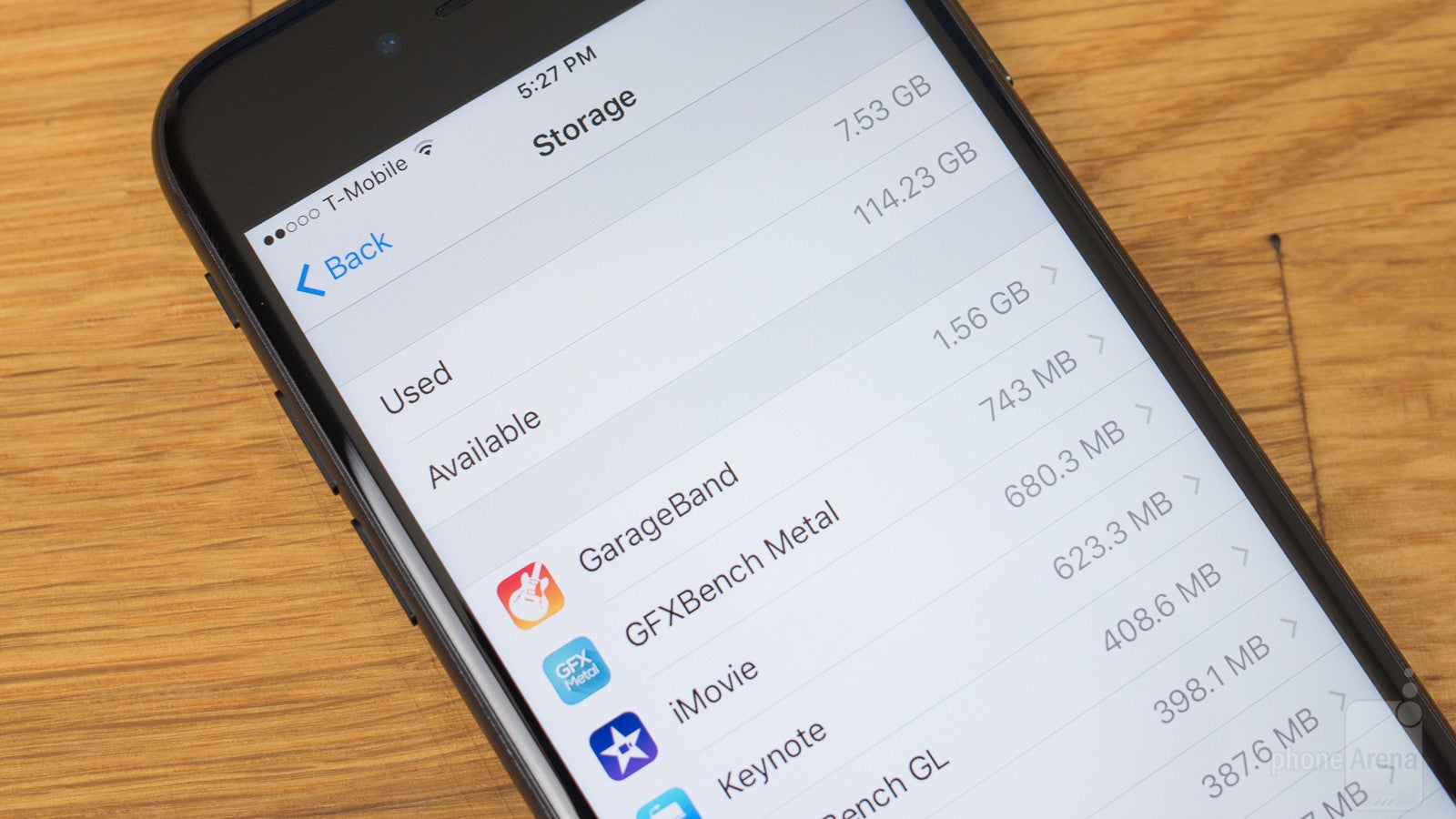 Connectivity
Apple future-proofs the iPhone 7 with support for next-gen LTE speeds
We're at a point now with cellular technologies where it's easy to take a lot for granted. Band support's been getting so good, and LTE data so fast, that we just assume that the latest handsets are going to milk the wireless spectrum for all it's worth.
The iPhone 7 doesn't let us down there, and this year Apple even manages to deliver (what has the potential to be) a respectable upgrade, increasing the phone's theoretical maximum LTE Advanced bandwidth from 300 to 450 megabits per second.
Will you actually see those kinds of speeds? Well, between the need for carriers to build out their networks to support such throughput, to say nothing of the myriad other users all fighting with you for access to that bandwidth, we wouldn't suggest holding your breath. Ultimately, though, it really matters little: the iPhone 7 pulls down some nice, fast data, and the capacity for it to do so even faster is just the icing on the cake.
Camera
Who needs dual cameras when you've got one main camera that performs this well?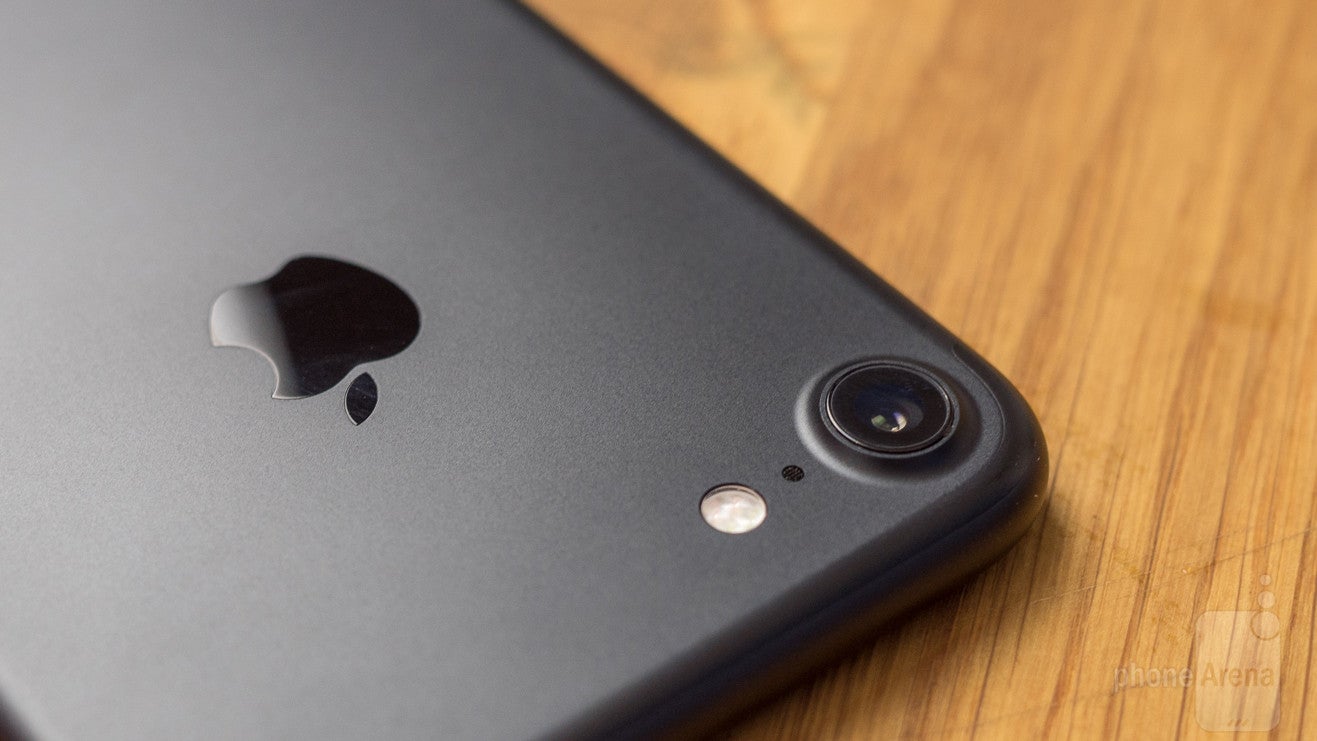 Apple's built up a well-deserved reputation for producing smartphones with some of the best cameras around, and the iPhone 7 doesn't disappoint. Although this year it's overshadowed by the iPhone 7 Plus and its all-new dual-camera arrangement, the iPhone 7 still gets to enjoy its own smattering of camera hardware upgrades, bringing in more light, creating more light of its own, and capturing pics well-equipped for display on the phone's wide-color-gamut screen.
Last year Apple gave the iPhone's main camera a resolution bump, growing from 8MP to 12MP. With the iPhone 7, we don't see resolution change any – there's yet another 12MP sensor in play – but there are ample improvements all around.
One of the most important there is the move to a larger f/1.8 aperture, allowing more light to enter the phone's camera and illuminate its sensor. That spells sharper pics of moving subjects, as well as enhanced low-light performance. And all that light flows into the iPhone 7's camera with the help of an upgraded, more complex six-element lens system.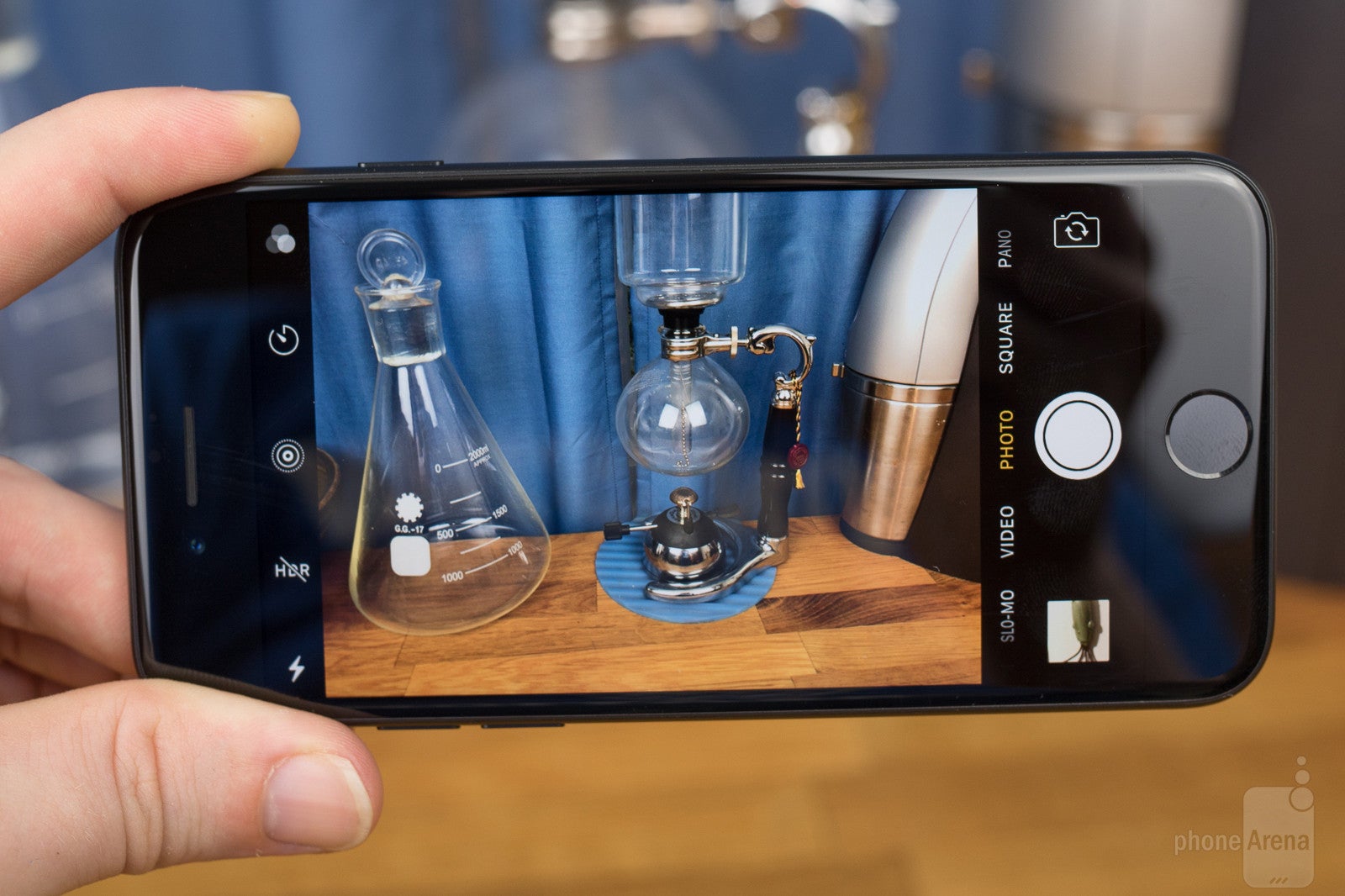 We also see optical image stabilization graduate from being a Plus-only feature with the iPhone 6s to one present on all sizes of iPhone 7. Combined with the faster shutter speeds that f/1.8 aperture affords, it's easier than ever to snap clean, sharp pics that are free of unwanted motion blur.
And if all the extra light the iPhone 7's camera is gathering doesn't prove enough, Apple's come through with a super-charged flash this year, moving from a two-element LED flash on the iPhone 6s to a quad-LED flash here. More than just give you more light when you need it, a flicker-detection system helps compensate for unfavorable lighting conditions, keeping your shots looking evenly lit.
Then there's the front-facer, and this time we actually do get a resolution bump, from 5MP to 7MP. There's the same wider color capture as on the rear camera and the higher-res sensor means that video capture now extends to 1080p.
Image quality
Stable, bright, and colorful is a trifecta of win for the iPhone 7's camera
All this sounds good, but how do the images actually look? Well, not bad at all. Comparing them with the iPhone 6s, you won't see a night-and-day difference, but the little improvements here and there add up. You'll end up deleting fewer blurry shots, see less noise in low-light pics, and enjoy richer saturation in your most colorful snaps. Front-facer upgrades aren't nearly as pronounced as those with the rear camera, and we would have appreciated even better light sensitivity, but they're still not bad.
It would have been easy for Apple to get so caught up in the dual-camera iPhone 7 Plus that it overlooked the iPhone 7's own camera upgrades, but instead it really came through. They may not make for the flashiest feature set we've ever seen, but the enhancement's the phone's camera has received add up to a package that puts the iPhone 7 on our short list of best-performing smartphone cameras on the market.
Video recording
4K plus optical stabilization makes for one heck of a combination
Improvements to video recording tend to exist as a subset of still-image upgrades, and that's very much the case with the iPhone 7. That means enjoying the benefits of that larger aperture and improved color gamut, just like on still pics.
But where iPhone 7 video recording really shines is with stability, and the ability to take advantage of optical stabilization just as readily in video as you can in still pics – all while working with Apple's software-stabilizing algorithms – has the effect of producing some impressively low-shake videos. You may not get Steadicam-like results with the iPhone 7, but minor jitters will no longer threaten to ruin an otherwise perfect shot.
High-res 4K recording looks as beautiful as ever, and even the lower-res recording modes end up generating some sharp-looking clips.
Multimedia
Speakers come through with a nice upgrade, but headphone support pays the ultimate price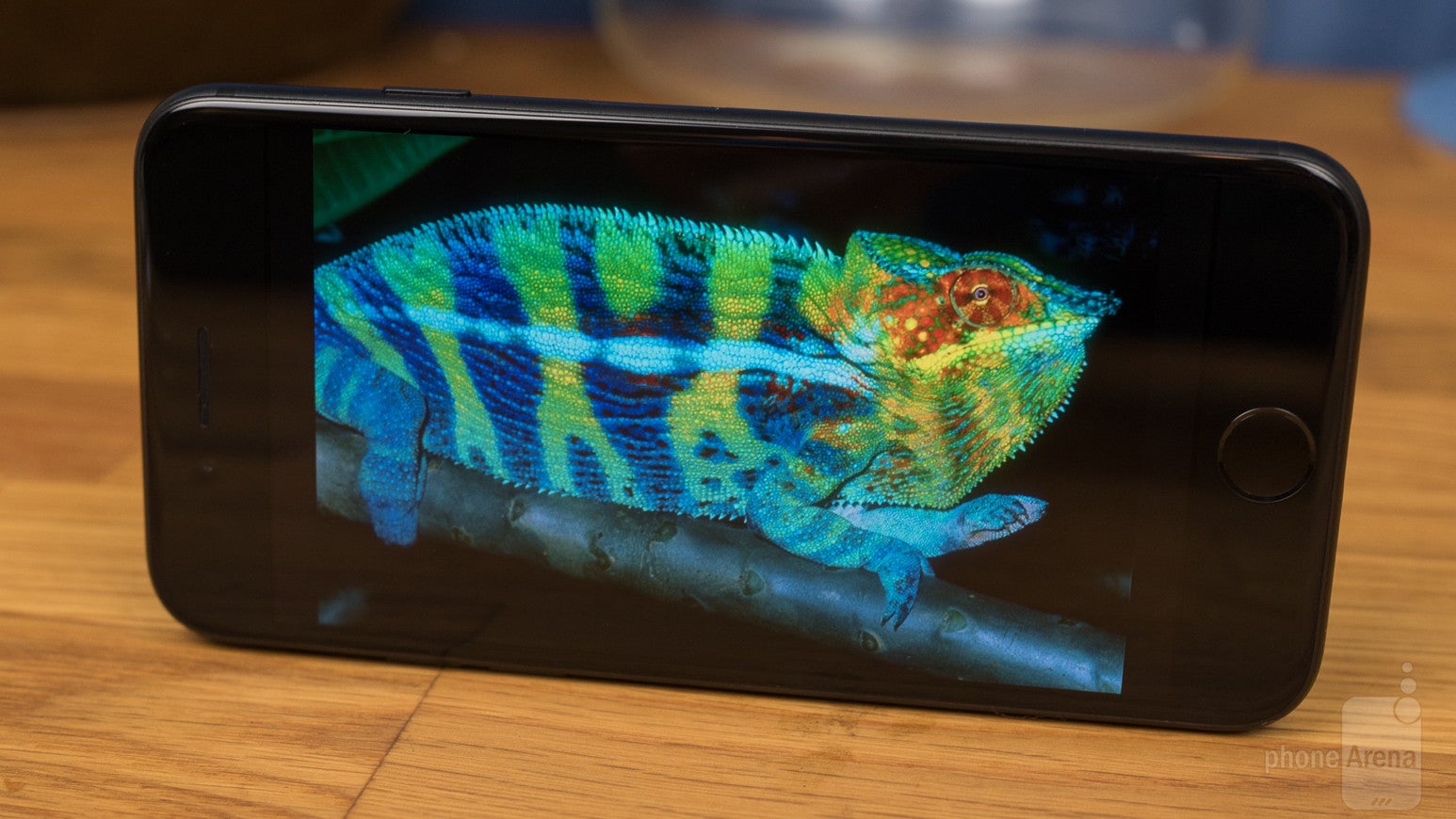 Apple's taken some big steps with the iPhone 7's multimedia package, delivering long-requested features, but also stripping the phone of basic functionality we once took for granted. Does that add up to a win, or will controversy poison any potential improvements?
Let's start with the elephant in the room: the iPhone 7 no longer has an analog headphone jack. Instead, the phone now comes with a pair of Lightning-equipped EarPods.
Apple's not the first phone-maker to take this path, but its position in the market makes the decision to remove the iPhone's headphone jack one with the potential to have industry-shaking consequences.
As we'd only hope, the new Lightning EarPods sound great – though we'd be hard-pressed to call them a big leap forward over the older analog models.
If you do intend to hold on to your old analog headphones, Apple thankfully includes an adapter with the iPhone 7 that still allows them to be used with the Lightning port. The adapter works quite well, and our tests suggest it may even be superior to the iPhone 6's built-in headphone jack. Its one (and admittedly, quite big) problem is that it seems fantastically easy to misplace. Replacements are cheap enough, with Apple selling them for less than $10, but we'd still rather not have one more accessory to carry around and keep track of.
The other big audio news for the iPhone 7 is that the handset's finally picked up stereo speakers – albeit in a bit of an unusual arrangement. Instead of a pair of edge-mounted or pair of front-facing speakers, Apple's splitting the difference: the familiar bottom-edge speaker is joined by one in the phone's earpiece.
The earpiece speaker produces sound that's a lot less bass-heavy than the bottom speaker, but even with different response curves, the two add up to produce some nice audio that, what it lacks in balance, it makes up for with long-overdue stereo separation.
Beyond all that stereo goodness, the new speaker pair is seriously loud – significantly more so than the iPhone 6s. Our one complaint is that the iPhone 7 looks like it should be even louder; one of the two bottom-edge speaker grilles (the one on the left where the headphone jack used to be) now looks like there's another speaker hiding in there, but in reality, there's only a microphone.
Call Quality
Even with all these other big upgrades, calls sound as clean as ever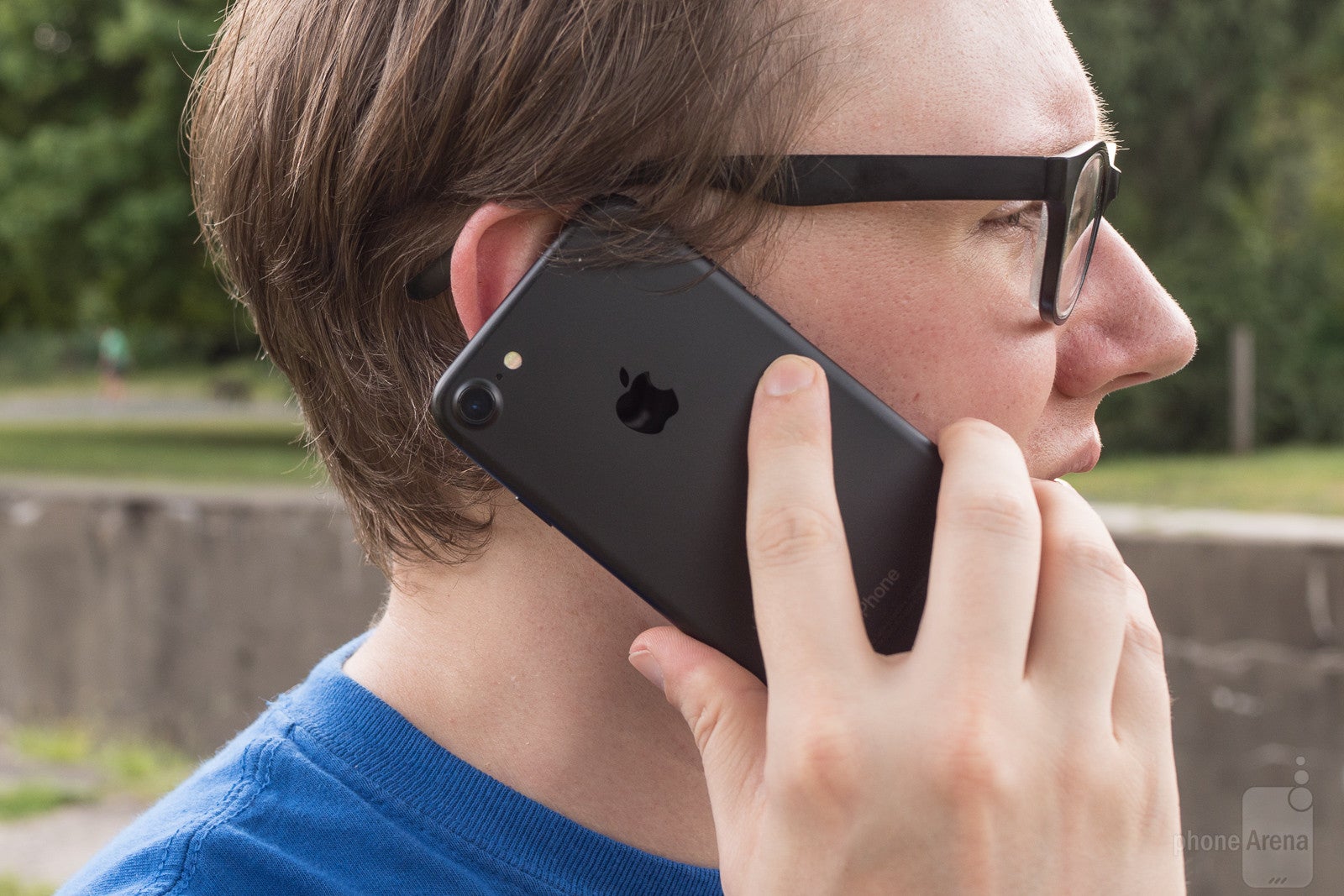 With all the high-end hardware and advanced functionality Apple's throwing at us, we'd hate to be let down by less-than-stellar call quality with the iPhone 7. And for the most part, we weren't.
Generally speaking, calls sounded clean and loud, leaving us with little trouble hearing the party on the other end. Once in a while, a bad connection seemed to sneak through, but as is so often the case, we're inclined to chalk that up to issues with carrier networks rather than a flaw in the phone itself.
Speakerphone performance is also quite satisfying, as we'd only expect after our experience with multimedia testing.
Of course, great-sounding calls aren't much use when you don't want to be getting those calls in the first place, but new iOS 10 call-blocking features allows apps to empower you to control just who's able to reach your phone.
Battery Life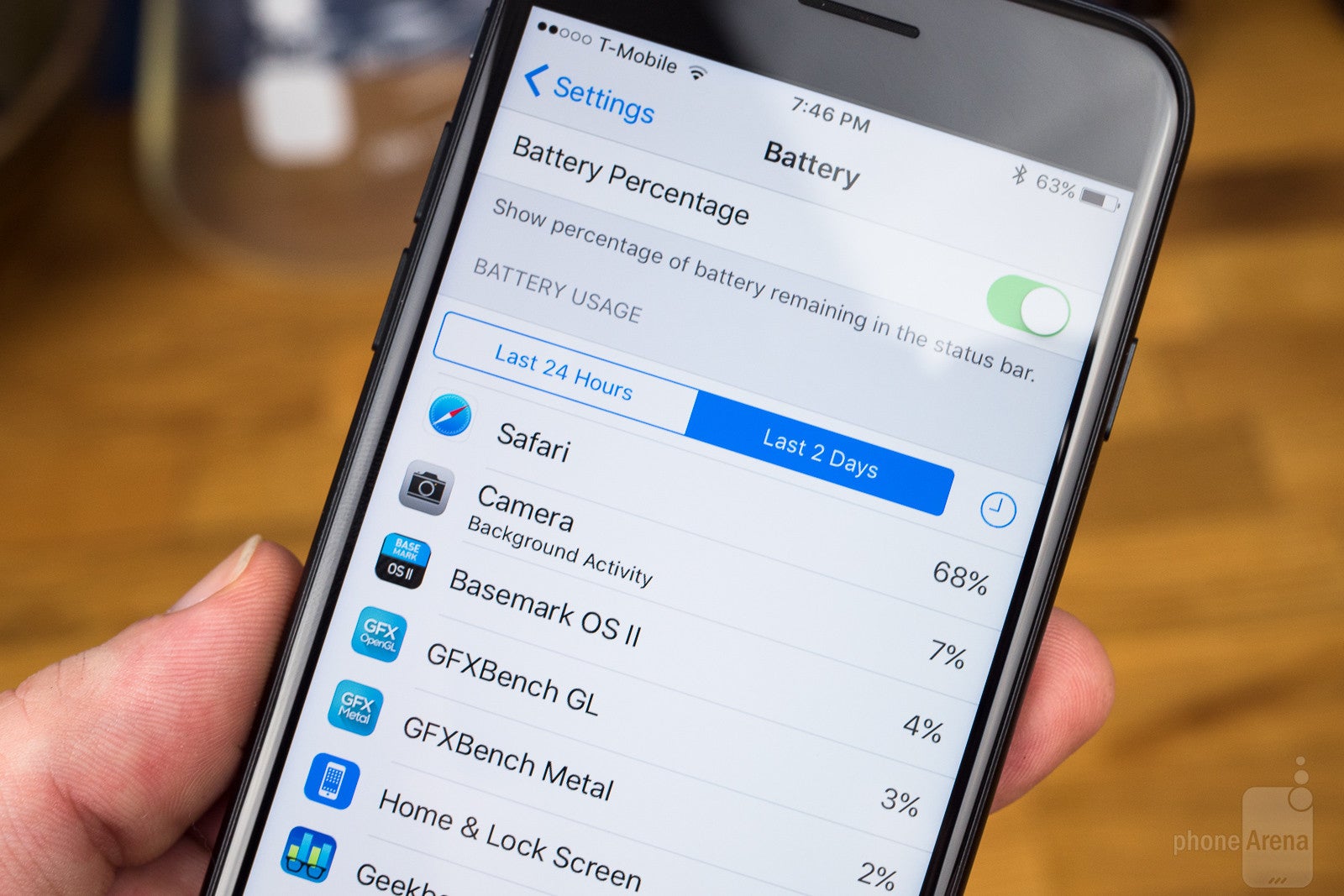 Apple's a bit of a magician when it comes to extracting some seriously impressive battery life out of a battery that, were we over in Android-land, would look positively miniscule.
The iPhone 7 lands with a 1,960 mAh battery, which is a little under 15 percent larger than the 1,715 mAh battery in the iPhone 6s. Apparently, dropping the headphone jack really does free up some space inside.
Between that larger battery and improvements to phone components, like the A10 Fusion chip's low-power cores, we'd definitely hope to see some real battery-life gains with the iPhone 7. However, our custom battery life test suggested the opposite.
Last year, the iPhone 6s managed to pull a little over eight hours of screen-on time while in constant operation. However, the iPhone 7's battery was depleted in 7 hours and 46 minutes – a respectable, though far from impressive result. Depending on how hard you push your phone, that may not be quite all-day endurance, although it's pretty much granted that with moderate usage, you won't have any trouble getting through a day, or a day and a half even.
UPDATE

(Sep 28, 2016)
:
Our original review text suggested an incorrect value for the iPhone 7's battery life test result. After further inspection and testing, we've adjusted the phone's battery life score to 7 hours 46 min. The review text now reflects this new result.
Conclusion
Apple's honed its smartphone-making game to the point where it's easy to see the launch of a new year's model and quickly get cynical about how everything's just business as usual, or how the company's afraid to take big risks with its phones.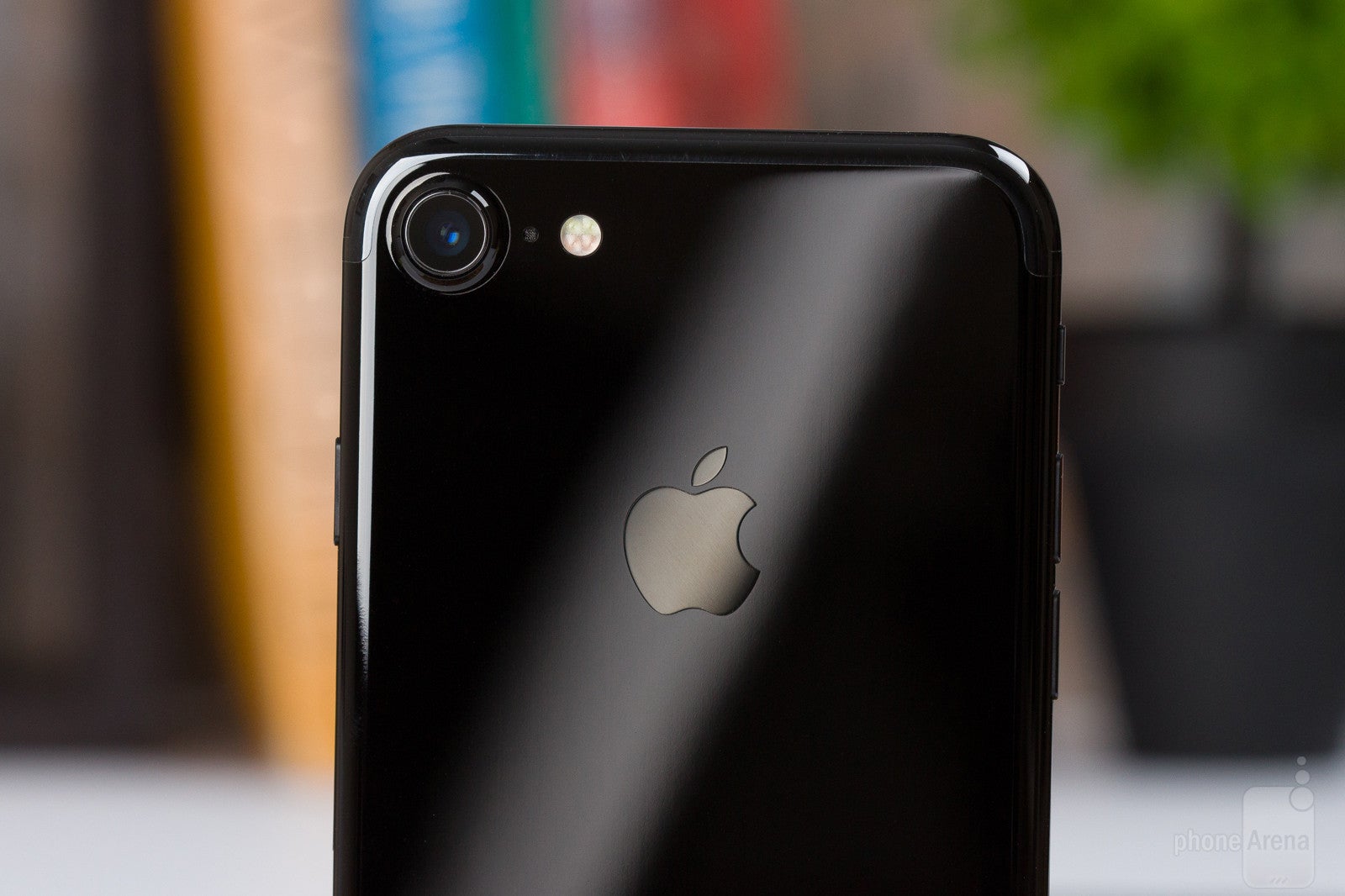 But with the iPhone 7, we see an Apple that's managing to turn that characterization on its head. The iPhone 7 isn't a big, big new step for Apple smartphones – and if you're happy with your iPhone 6s (or even iPhone 6), there's little in the way of must-have new features here twisting your arm to upgrade.
Instead, we see all these really focused improvements that on their own might not seem so hot, but add up to giving us an iPhone that's superior to its predecessors in nearly every way. From the screen, to the speakers, the camera, and even in terms of durability with its dust and water resistance, the iPhone 7 is the best iPhone of its size Apple's ever brought us.
Probably the easiest target to hang on the iPhone 7 is the phone's missing headphone jack, but even that's not the disaster it could be. While we don't quite agree with the way Apple's framing itself as courageous for dropping the port, it's still a big move that – as we mentioned – is going to have far-reaching consequences. Do benefits like the phone's larger battery outweigh the inconvenience of needing that adapter for older headphones? Or the need to buy all-new Lightning-equipped headphones?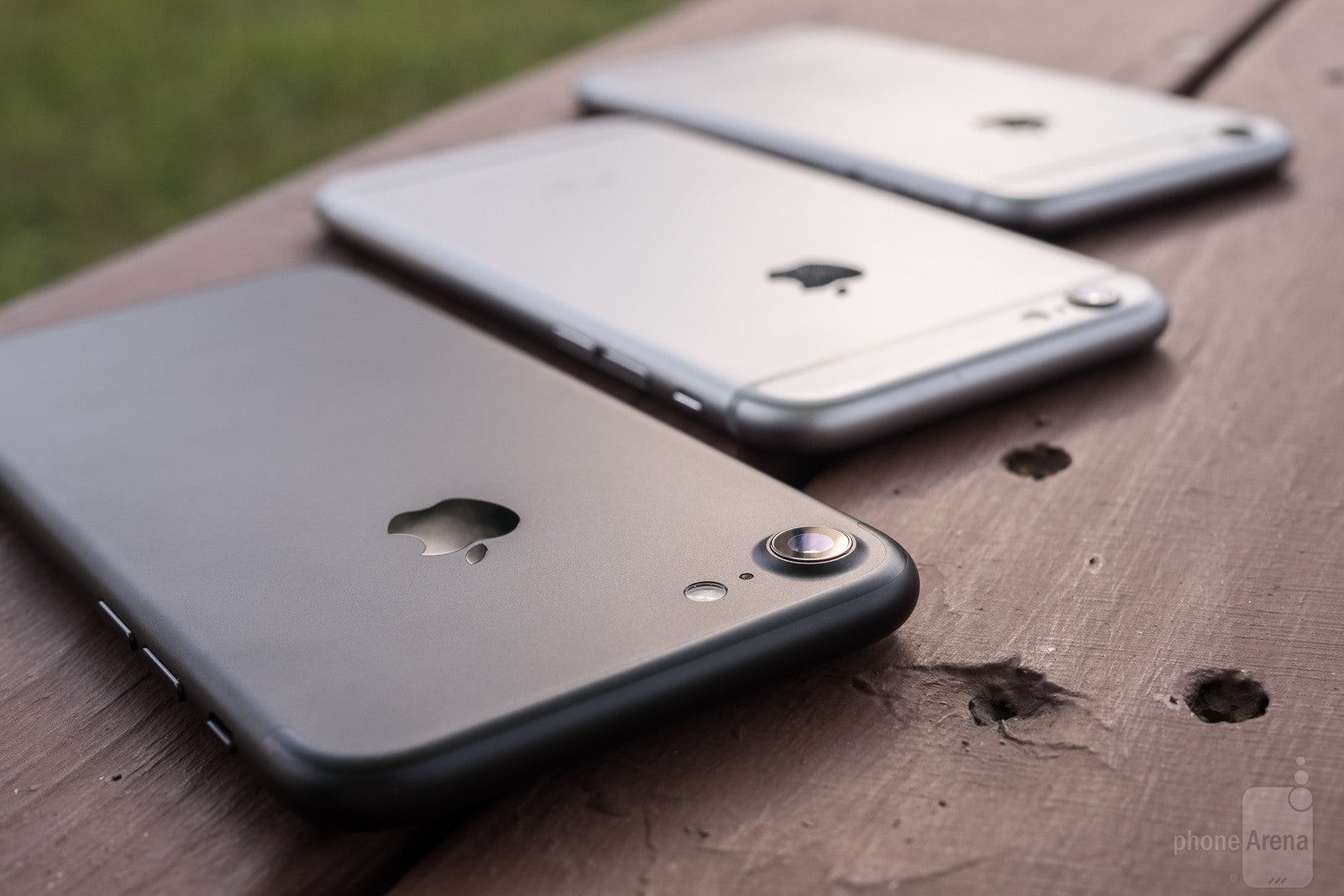 Well, it will probably be some time before we see how users respond, especially as more and more Lightning-supporting headphones come to market, but that's not even the most important point here. What we have is evidence of an Apple that's not afraid to take risks, to keep pushing its users towards its vision of the perfect personal communication/entertainment/fitness – heck, just the perfect device for everything. And while nobody – not even Apple – is there quite yet, handsets like the iPhone 7 remind us that there's always room for smartphones to grow, to improve, and to expand our perceptions of what a phone can do for us.
Software version of the review unit:
iOS 10.0 (14A346)