Apple iPhone 7 Review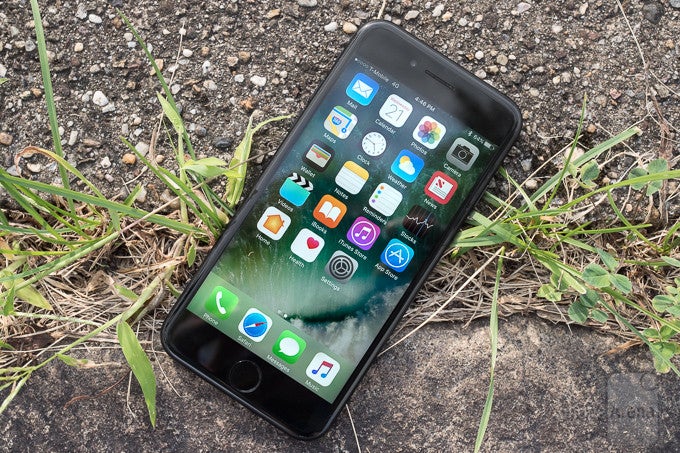 Introduction
Apple's latest smartphones are easily among the most-anticipated launches of the year, with billions of fans eagerly looking forward to what the company comes up with next. Rarely arriving without controversy, a new iPhone will inevitably inspire some of the most impassioned reactions the industry gets to see. Who's Apple taking inspiration from? Are the new features reactionary or forward-thinking – and dare we say, "courageous?"
iPhone 7
and
iPhone 7 Plus
. As a number-upgrade year (rather than one that brings us some new -s phones), we'd sure expect some major changes. With its dual rear cameras, the
iPhone 7 Plus
feels like it fits that bill, but what about the smaller
iPhone 7
? Is this a real improvement over the
6s
, or is Apple just fiddling around a bit, tweaking design here and there while swapping in a few new parts?
We've spent the better part of the past week carrying the iPhone 7 around, really getting to know this phone and all its features. And one-by-one, we're breaking down just what you can expect from every corner of Apple's latest iPhone experience.
In the box:
Apple iPhone 7
EarPods with Lightning plug
Lightning to 3.5mm analog headphone adapter
AC adapter
USB to Lightning cable
Introductory card
Safety notice
Stickers!
Design
Subtle refinements put the cherry on top skilfully executed evolution
Approaching the design for the next generation of an industry-leading flagship phone seems wrought with the possibility for disaster. Do you take the safe approach and give users more of what they flocked to last year – while risking the characterization of being lazy and failing to innovate? Or do you try something bold, eye-catching, and new – though bringing with it the possibility that a fresh look may not resonate with shoppers?
For the iPhone 7, Apple's executing a delicate balancing act that crosses the boundary into both camps, expanding on a very familiar look in some smart, attractive ways, while also not being afraid to steer the handset in some risky new directions.
At arm's length, the iPhone 7 could pass for an
iPhone 6s
or
iPhone 6
, but it doesn't take much of a closer look for the changes to start popping out. One of the easiest to spot is a new camera bump, rising from the phone's back as a smoothly curving lip formed out of the back panel itself.
But it's in the area surrounding that camera bump where one of the more significant changes to the iPhone's design reveals itself, as the familiar antenna lines criss-crossing the last couple generations of iPhones seem nowhere to be found. At least, they no longer stretch conspicuously across the phone's back, instead tucked away in a pair of slithering curves hugging the handset's top and bottom edges. Between the new out-of-the-way shape and improved color-matching, they might as well not be there at all.
Instead, Apple relies on a combination of the button's force-measuring sensors and the phone's upgraded Taptic Engine vibration motor to respond to firm presses with an emulated "click," keeping the general feel of the old physical button while moving to some more advanced technology. Even with adjustable haptic feedback levels, it never comes across quite the same as the original, but it's not long before the new response feels just like home (no pun intended).
Button layout remains the same as last year (and the year before), but port placement gets a big change, as Apple drops the phone's analog headphone jack – a change we'll discuss in some depth later.
In terms of exterior dimensions, the iPhone 7 measures in at precisely the same size as the iPhone 6s – anomalies like the new camera-bump shape notwithstanding – though the new phone weighs ever so slightly less, dropping from 143 to 138 grams.
Over the years, Apple's slowly warmed to the idea that not all iPhone users want a phone that looks exactly alike, and the company's been getting better at giving us a variety of options. This year we see new colors take the focus, as the familiar gold, silver, and rose gold are joined by two new black shades: a low-key matte black and a glossy jet black. For this review we're looking at the black iPhone 7, as jet black handsets have proved harder to come across than iOS-powered unicorns. There's a consequence to the arrival of these new colors, though, as the old space gray (aka darker silver) option vanishes.
Finally, Apple's formally christened this year's iPhones as its first water-resistant models, with an IP67 rating for water and dust protection. There's no cumbersome port covers or anything to deal with – Apple pulls off the feat without compromising the iPhone 7's design. But before you go jump in a pool with the iPhone 7 in your pocket, be advised: this may be Apple's first officially water-resistant iPhone, but the company both warns that the protection may decrease over time (as seals degrade and components wear) and absolves itself of any duty to perform warranty service related to water damage.
Display
Instead of fancy curved screens or crazy resolution, Apple focuses on performance: brightness and color
Apple's not a company to make big changes to the displays on its phones without some serious deliberation, so it shouldn't be a surprise to learn that we're back with another 4.7-inch LCD panel in a 750 x 1334 resolution.
But even with those physical details going unchanged, Apple's still able to deliver some tangible improvements with the screen on the new iPhone 7, giving the display a wider color gamut and brighter output.
Officially, Apple quotes a maximum brightness for the iPhone 7's screen of 625 nits, and our testing of the handset confirmed that not only is the iPhone 7 hitting that target, but it's actually doing a little better, coming in slightly over 630. That's great for outdoor visibility, but keep in mind this 600+ nit level is only reachable with the brigthness set to auto, and the phone exposed to really bright lighting conditions. Manually sliding the brightness to 'max' only hits in the 530 range, which is still plenty bright, of course.
Colors look great on the iPhone 7 and our tests suggest that Apple's gamut improvements have indeed blessed the handset with pretty accurate color reproduction. It's the sort of change you're not going to appreciate unless you're doing a side-by-side comparison, and even then the upgrades exist only on the very edges of our perception, but it's a welcome enhancement, all the same.
Had Apple just given us basically the same screen we had last year on the iPhone 6s, we would have been happy enough, and while this year's improvements don't change our use of the phone in anything like the way the introduction of 3D Touch did (which, of course, is back on the 7), they're still solid upgrades.
Display measurements and quality