Samsung Galaxy Z Flip 3 vs Z Flip 5G: key differences
We may earn a commission if you make a purchase from the links on this page.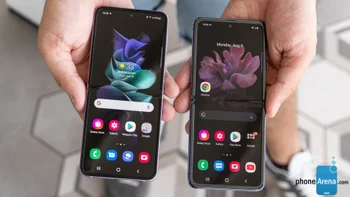 Disclaimer: the Z Flip 5G is represented here by OG Z Flip images.
Samsung
has now announced its third-gen clamshell foldable phone, the Galaxy Z Flip 3. It brings improvements over its predecessor in several categories, and here, in this comparison, we will be looking at the difference between these two models, and how they fare against each other.
Samsung seems to have big plans for its foldable phones this year, with their innovative form-factor and big displays, so we can't help but think a great future lies ahead of these devices. So, if you've been wondering which clamshell foldable by Samsung you want to go for, read on, as we compare these two phones in several key categories: design, display, performance, and battery life.
Keep in mind that this comparison is a theoretical one for now, and we will be updating it with real-life tests of the new Galaxy Z Flip 3 as soon as possible, so stay tuned!
Pre-orders for the Z Flip 3 are now open:
Galaxy Z Flip 3 vs Galaxy Z Flip 5G design and colors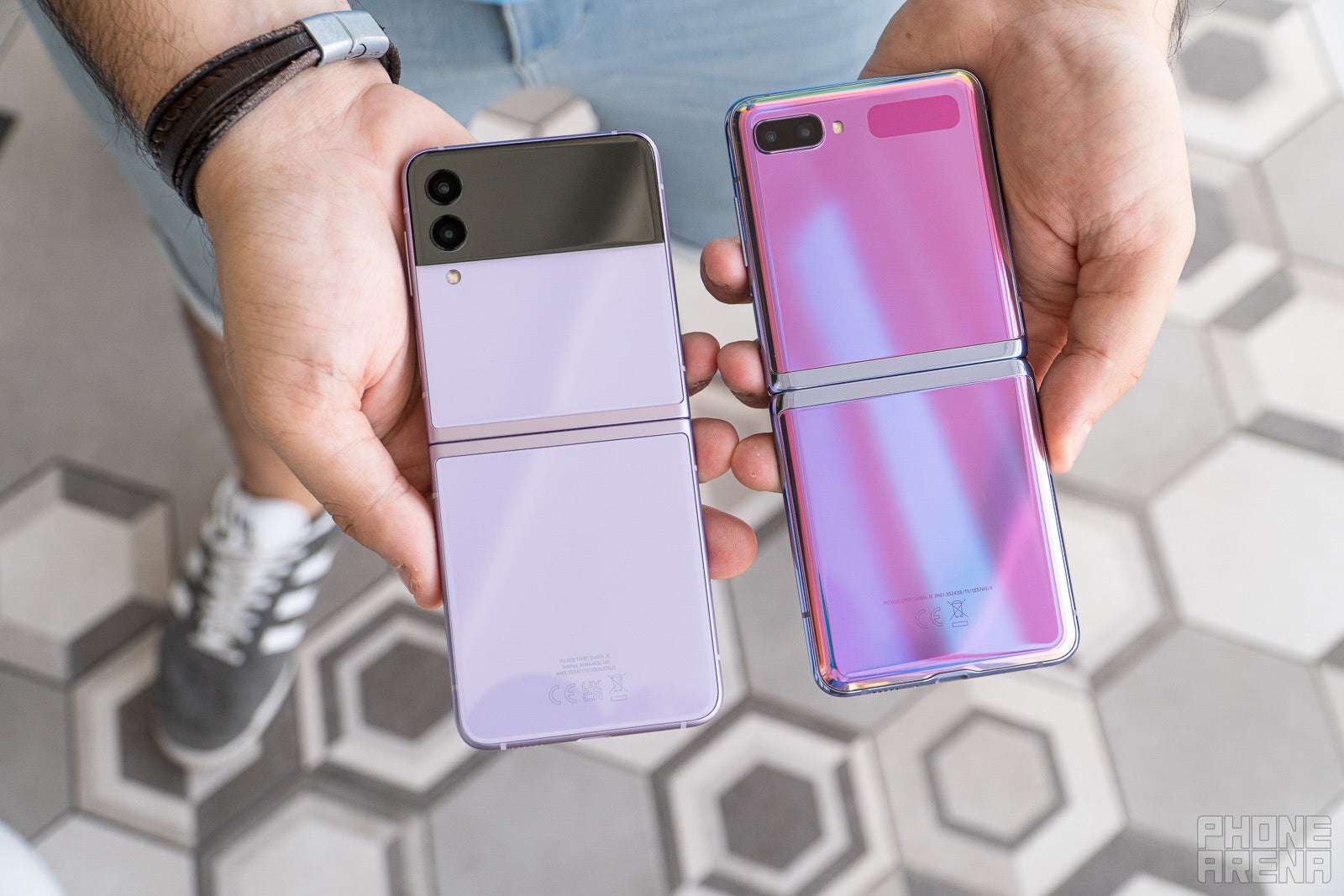 One of the key differences we observe between the Z Flip 3 and the Z Flip 5G's design is the water resistance. Samsung has prepared a nice surprise as the Z Flip 3 has a solid IPX8 water resistance rating, making it capable of withstanding some water submersion, while its predecessor lacked in this department.
Not only that, but the Galaxy Z Flip 3 is also more durable than its predecessor, with a new Armor Aluminum frame that's tougher and withstands more folding and unfolding and a Gorilla Glass Victus back.

Apart from the durability and water resistance, the Z Flip 3 also sports more color options than the Z Flip 5G. The Z Flip 5G is available in two colorways: Mystic Bronze and Mystic Black, while the Z Flip 3 comes in Cream, Green, Lavender, Phantom Black, Gray, White, Pink (Gray, White, Pink are Samsung.com exclusive colors).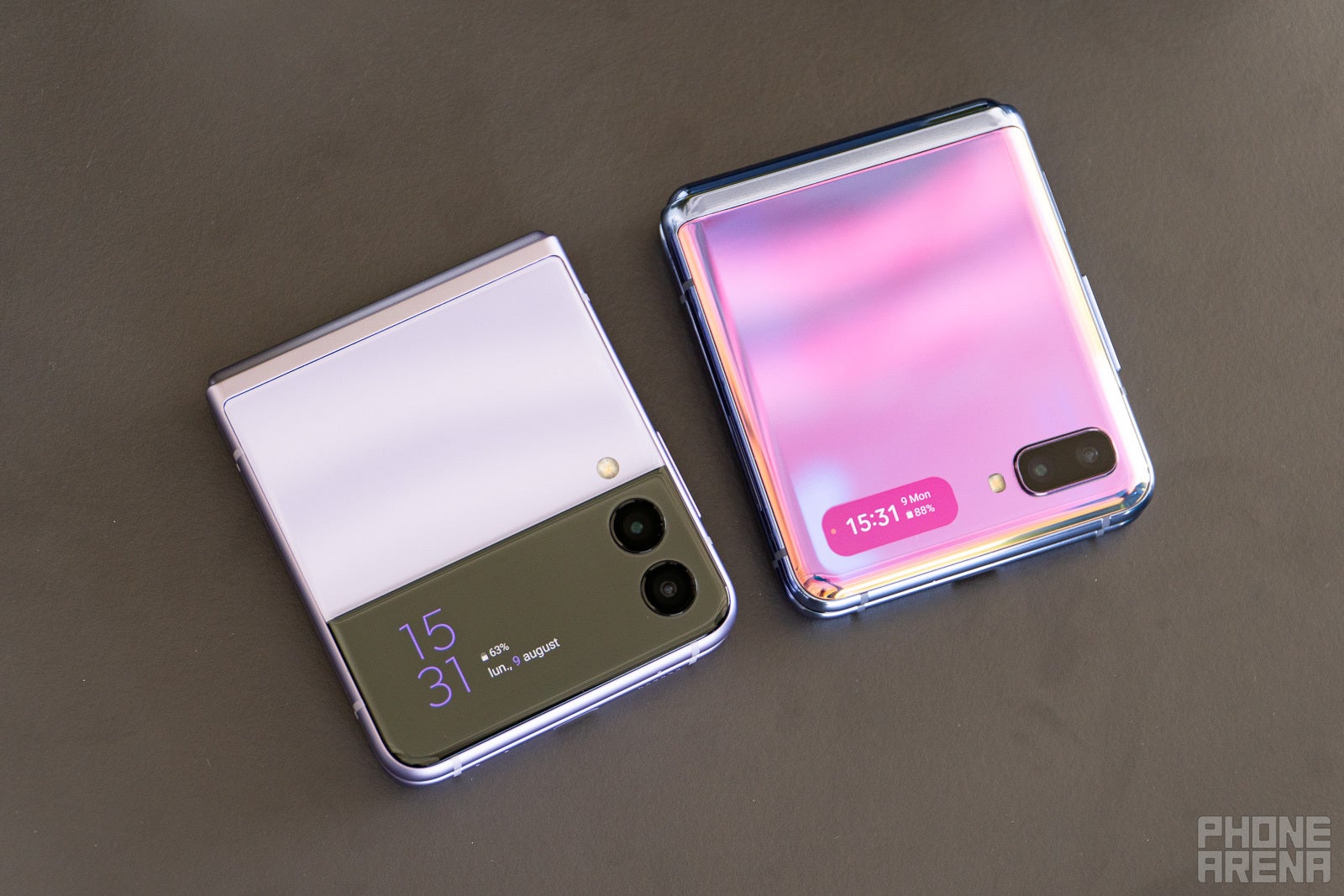 Another major difference we observe here is the cover display. The Z Flip 5G sports a 1.1-inch cover display that's basically only good for checking a notification or looking at the time. Samsung has worked on improving in this aspect, stretching the Z Flip 3's display to 1.9-inch. The difference isn't enormous, but it is definitely there as the Z Flip 3's cover screen is way more usable than the one of its predecessor.
Keep in mind in our images the Z Flip 5G is represented by the OG Z Flip, which has identical design, size, dimensions, cameras, and bezels, but only different colors.
The Z Flip 3 is also slightly smaller in dimensions than its predecessor, in folded and unfolded variants. The Z Flip 3's dimensions are as follows: folded 2.2x86.4x17.1mm and unfolded 72.2x166.0x6.9mm, while the Z Flip 5G - 73.6 x 87.4 x 17.3mm and unfolded 73.6 x 167.3 x 7.2 mm. Although the change may seem small, it is quite a substantial shrinking of the Z Flip 3, making it likely more comfortable to carry and to hold. However, the weight of both is the same: 183g.

In terms of sound, the Z Flip has mono speakers, while the Z Flip 3 sports stereo speakers, which is also a welcome improvement for music and video streaming on the phone.
Galaxy Z Flip 3 vs Galaxy Z Flip 5G display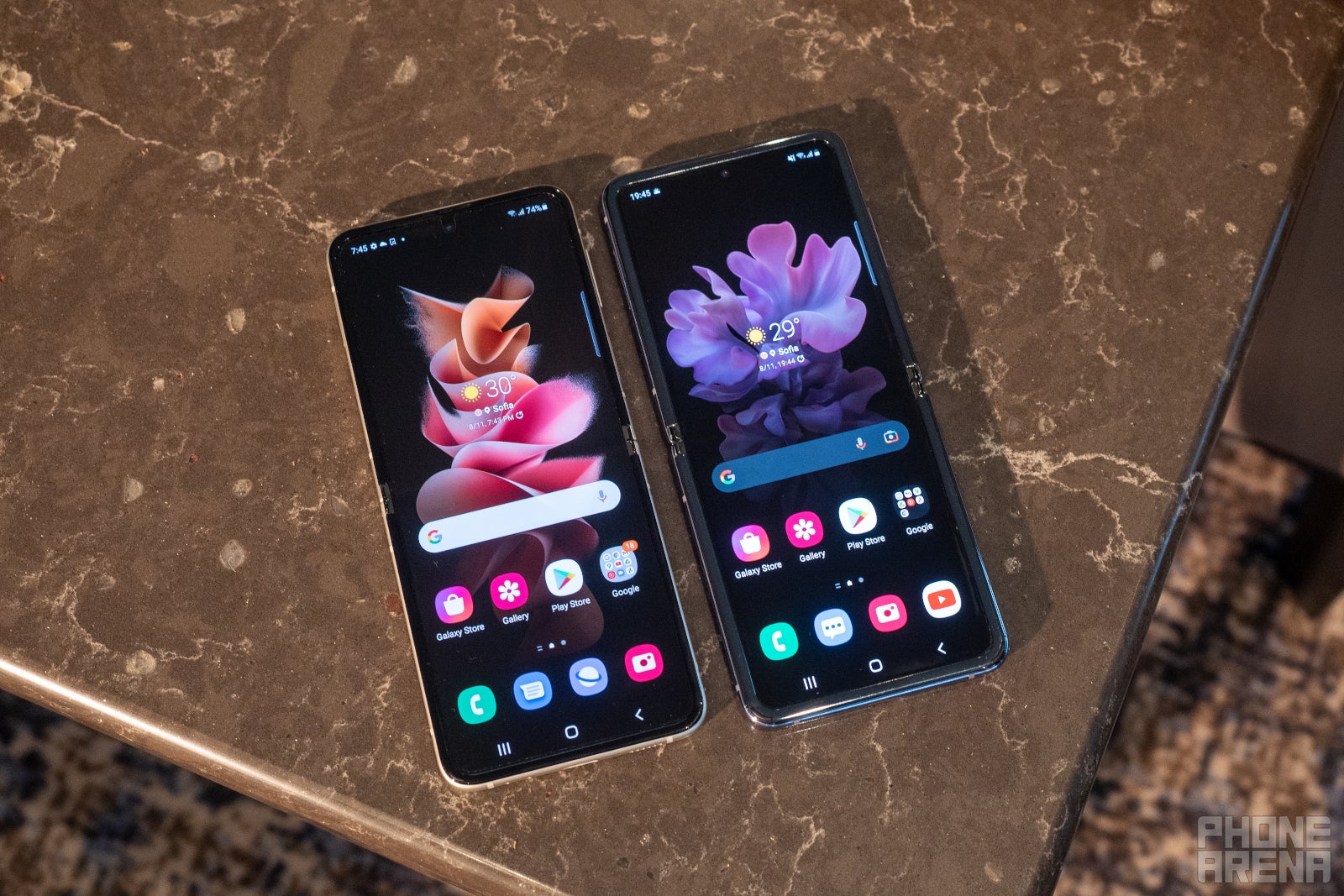 The size of the display of both phones is the same: 6.7-inch. However, Samsung has brought a big upgrade this year with the Z Flip 3, and it now sports a fast 120Hz refresh rate, adaptive on top of everything, that ensures a pleasant viewing experience and smooth animations.
Both phones sport the same resultion 2640 x 1080 pixels, the same ratio of 22:9, and a nice pixel density of 425 PPI. This means, the images on the display of both phones should appear crisp, clear, and detailed. The biggest difference that will indeed be observable even with the naked eye is that fast 120Hz display refresh rate, which does change things when compared to the 60Hz of the Z Flip 5G.

Here's how the Galaxy Z Flip fared in our display benchmarks against the Z Flip 3:
Display measurements and quality
Galaxy Z Flip 3 vs Galaxy Z Flip 5G hardware and performance
There is a jump in performance as well. Although the Snapdragon 865+ in the Z Flip 5G does perform on a flagship level in 2021, the newer and more power-efficient Snadragon 888 in the Z Flip 3 ensures a better overall performance.

We have noticed the Z Flip 3 tends to get hot while doing even simple tasks, something we did not see with its predecessor. The top of the Z Flip 3 will get hot to the touch, for example from watching a YouTube video. This seems to be linked with the Snapdragon 888 processor, as we have noticed this behavior in other phones as well, but keep it in mind. Otherwise, the phone feels snappy and responsive, as quick as you would expect from a flagship device.
Check out the benchmarks we have here:
Apart from the processor, the Z Flip 5G and the Z Flip 3 sport the same amount of RAM - 8GB, and the same fast UFS 3.1 storage. The Z Flip comes with 256GB of storage, and the Z Flip 3 comes in two variants: a 128GB one and a 256GB one. Both phones perform equally well in every day scenarios and also in more demanding use case scenarios such as gaming or heavy multitasking.
Galaxy Z Flip 3 vs Galaxy Z Flip 5G cameras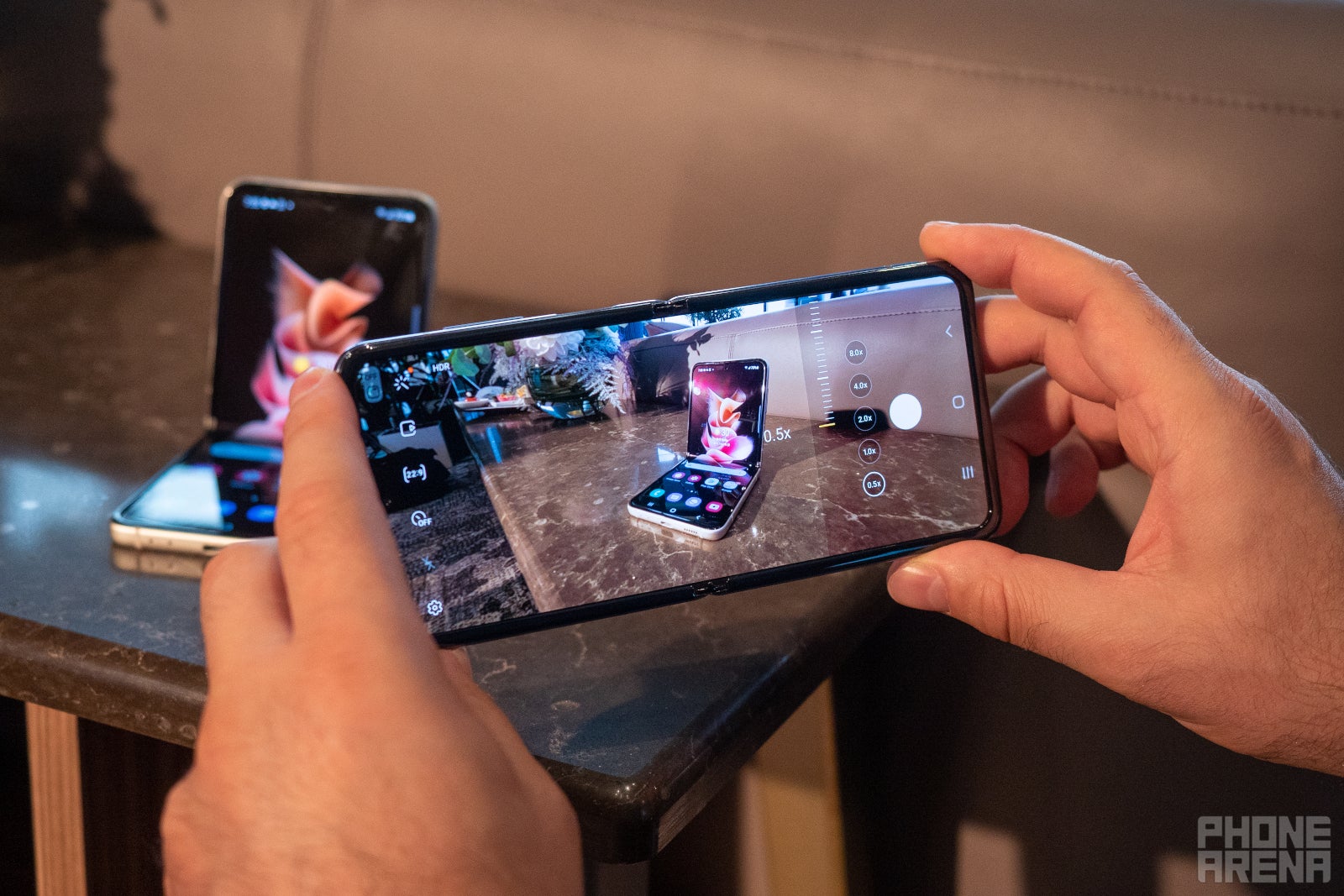 In terms of cameras, both phones' are identical on paper. The Galaxy Z Flip 5G sports a dual camera system with a 12MP main sensor and a 12MP ultra-wide camera, and so does the Z Flip 3. The aperture is also identical : F/1.8 for the main camera and F/2.2 for the ultra-wide angle one on both clamshell foldables. Both main cameras have Optical Image Stabilization (OIS) in order to deliver better quality of photos in challenging lighting situations.
The Z Flip 3 performs better in terms of photo quality, as you will see from the images below, the difference is mainly in terms of software processing. The images from the Z Flip 3 turn out brighter overall:
The ultra-wide camera of the Z Flip 3 produces more toned down colors in terms of saturation in the green gamut, but the skies have a deeper and more inky blue hue.
We can say the dynamic range on the Z Flip 2 is more accurate, but the bright and vibrant social-media-ready photos the Z Flip 3 produces are also quite accurate.

Galaxy Z Flip 3 vs Galaxy Z Flip 5G battery life
Here again we see no spec upgrades. Both phones sport a 3,300mAh battery cell, which can ensure at least a comfortable day of moderate to heavy usage. We can expect some improvements in battery life with the Z Flip 3's new more power-efficient processor, but we doubt it will be an enormous difference.


The Z Flip 3 keeps the 15W fast charging from its predecessor, so we won't be seeing improvements in charging speeds.
Here's the battery results from our extensive battery tests:
*Keep in mind here for this test we have tested the OG Z Flip; the Z Flip 2 has a bit more powerful and power-efficient Snadragon 865+, but the difference is minimal.

Recommended Stories