Samsung Galaxy Z Fold 3 vs Galaxy Z Flip 3
2
We may earn a commission if you make a purchase from the links on this page.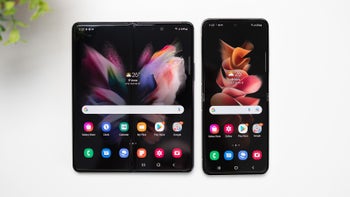 Now that
Samsung
's foldable phone lines are finally entering the mature stage where we only expect major redesigns every two years or so, it's time for a fight between
the best foldables of 2021
- or a direct
Galaxy Z Fold 3
vs
Z Flip 3
comparison.
Granted, the Z Fold 3 is a still-expensive giant, while the Z Flip 3 an elegant affair whose base price can make you sing, and still these are the most powerful and refined foldable phones you can get in 2021, so a lot of Samsung fans will be mulling which should be their first (or next) foldable phone.
Samsung Galaxy Z Fold 3 vs Galaxy Z Flip 3 foldable displays and design
Vertical or horizontal, the plight of the in-folders
There is a reason Samsung placed the Galaxy Z Fold 3 and Z Flip 3 on completely separate paths within its foldable phone department. One is a captain of the industry, spec'd-out workhorse with a vertical display crease that provides the most canvas to use the S Pen on that Samsung has ever graced us with.
The Z Flip 3, on the other hand, is targeting compact phone lovers that long for the glory clamshell days when men were real men, women were real women and small furry creatures from Alpha Centauri... well, you get the Hitchhiker reference.
It's no wonder then that the Flip 3 easily wins the pocketability and ergonomics round, closing with a satisfying snap to indicate the abrupt end of a conversation with your ex. Plus, it is available in much candy-er colors - cream, green, lavender, black, and the
Samsung.com exclusive gray, white, and pink
- than the somber green, black and silver of the Z Fold 3.
When opened, the Galaxy Z Flip 3 is actually a bit taller and narrower than the Z Fold 3, but when closed, it is one of the most compact phones available on a short notice. Both are rather thick and cumbersome to carry when closed, with the Z Fold 3 easily outscoring in terms of weight that only the strongest of shirt pockets can survive, unlike the Flip that is perfect for the ancient carry ways.
Samsung is so proud of the Z Flip's form factor, that it provides a bunch of funky cases with hooks and rings to attach the Flip to whichever belt or backpack loop your heart desires, that's how retro it is without adding significant bulk. The same can't be said for the Fold, though, whose
Note Pack that carries the S Pen Fold case edition
alone is the size of the Flip.
Of course, a tall 6.7" display is no match for a nearly square 7.6" one in terms of surface area, either. Even if you say that most of the time you will be using the phones closed and open only when you need a larger panel - uh huh, the puny external 1.9-incher of the Flip 3 will make you open it every time you need to interact with the phone, and that's tens to hundred times a day, whereas you can do 80% of the work on the Fold's 6.3" external panel.
Who's the usability king now, eh? Well, at least the Z Flip 3's display is slightly better calibrated than the Z Fold 3 one, though both screens demonstrated excellent display quality benchmark scores in our tests.
Display measurements and quality
Samsung Galaxy Z Fold 3 vs Galaxy Z Flip 3 specs and performance
The good shepherds
The mighty Snapdragon 888, Qualcomm's most powerful chipset at the moment, is no joke when it comes to processing, imaging, and 5G connectivity, perhaps the best system-on-chip combo on the market when all is taken into account.
The fact that it powers both the Galaxy Z Fold 3 and Z Flip 3 should pause anyone who'd think them unable to run Samsung's One UI with aplomb. If there are hiccups along the way, they are certainly not due to the octa-core 2GHz+ processor, or the 8GB/12GB RAM packs, and the foldables' benchmarks prove it.
As you can see, the "lahaina" powerhouse which is none other than the Snapdragon 888, is capable of some impressive benchmark scores with a slight graphics scores advantage of the Flip, which, even though having less RAM, has to power through a much smaller display, too.

Samsung Galaxy Z Fold 3 vs Galaxy Z Flip 3 camera and selfie samples
A Pyrrhic camera victory for the Z Fold 3
Birds of a feather, that's what the Z Fold 3 and Flip 3 are when it comes to their cameras - a triple and a double 12MP affair, respectively. Granted, the Z Fold 3 adds a third telephoto camera, but that one seems borrowed straight from the Z Fold 2 with a puny 2x zoom.
So is the rest of the kit, admittedly, and the Z Fold 2 couldn't wow us in the camera department, so expect nothing impressive from Samsung's foldable phone camera this year, either - that's not your
Huawei Mate X2 and its powerful camera hardware
.
Granted, that one is more expensive, too, so Samsung had to compromise somewhere if it wanted its foldables to become more mainstream, and the camera area is one of those hard-fought compromises, as you can see in the camera samples below.
The Z Fold 3, however, does have shooting trick up its sleeve, and, surprise, surprise, it's hidden. Yes, we are talking about Samsung's first under-panel (UPC) camera that allowed it to achieve the best screen-to-body ratio on a foldable phone when the all-important internal display usable area is concerned.
To top it all off, Samsung used a 4MP sensor there to ensure there will be giant 2 micron large pixels to collect all of the admittedly restricted amount of light that'd pass through the display layers on top of the sensor. Are the Z Fold 3 vs Z Flip 3 selfies good? You be the judge.
Given that you'll most likely be using the Z Fold 3's UPC unit for video chats, rather than for selfies, the quality should be perfectly fine. When the phone is closed, you'd have Samsung's tried-and-tested 10MP selfie camera peeping through a punch hole in the external display, something you only have when the Z Flip 3 is open, so the Fold scores a camera point again.
Samsung Galaxy Z Fold 3 vs Galaxy Z Flip 3 battery life and charging speeds
Raging mediocrity
Expect no wonders in the battery longevity section from a phone with a giant 7.6" foldable display paired with a 4380mAh unit, or one with a puny 3300mAh battery, for that matter, even though it has to power a smaller panel.
Our earlier Galaxy Z Fold vs Z Flip battery life test should tell you all you need to know here, as the latest entrants in both lines have very similar displays and battery packs, with only a processing power update.
Unfortunately, the Z Flip 3 and Z Fold 3 don't hold a candle to the Galaxy S21 Ultra endurance with its 5000mAh battery, as you can see in our test, even though they are likely to last you through the day with normal usage (in the case of the Z Fold 3 that is mainly using the external 6.2-incher). Open the internal screen of the newest Fold for gaming, doodling or browsing, and all battery life forecasts are off.
As for charging speeds, the 25W charger of the Z Fold 3 don't help it beat the Z Flip 3 top-ups by a significant margin, even though the clamshell comes with Samsung's older 15W brick system, as the battery size difference would compensate for the slower charging.
Samsung Galaxy Z Fold 3 vs Galaxy Z Flip 3 price, which one to buy
Samsung's gateway drug to foldables
$1799 (256GB) vs $999 (128GB)
With the Galaxy Z Flip 3 pricing, Samsung managed the unthinkable - slipping a brand-name foldable phone tag below the $1000 mark - but the same can't be said for its sibling the Z Fold 3 here.
While it's a Benjamin and change cheaper than the Z Fold 2 at launch, and offering much more in the package, it is still a hefty $1799 sum that could make many of you pause before they pull the trigger.
Thankfully, those two target very different markets, and a lot of casual users would be swayed by the $999 price of the Z Flip 3 to make it their first foldable phone. Tired of opening it a hundred times a day, though?
Well, then the Flip 3 may very well serve as Samsung's gateway drug to its more sophisticated foldables like the Z Fold 3 with its unsurpassed potential as a productivity machine while the S Pen and giant, irresistible for reading or media consumption screen do their thing.
To aid your choice, Samsung is also introducing a smorgasbord of preorder incentives and trade-in bonuses:
Recommended Stories