Seidio Ledger case for Samsung Galaxy S5 Review
1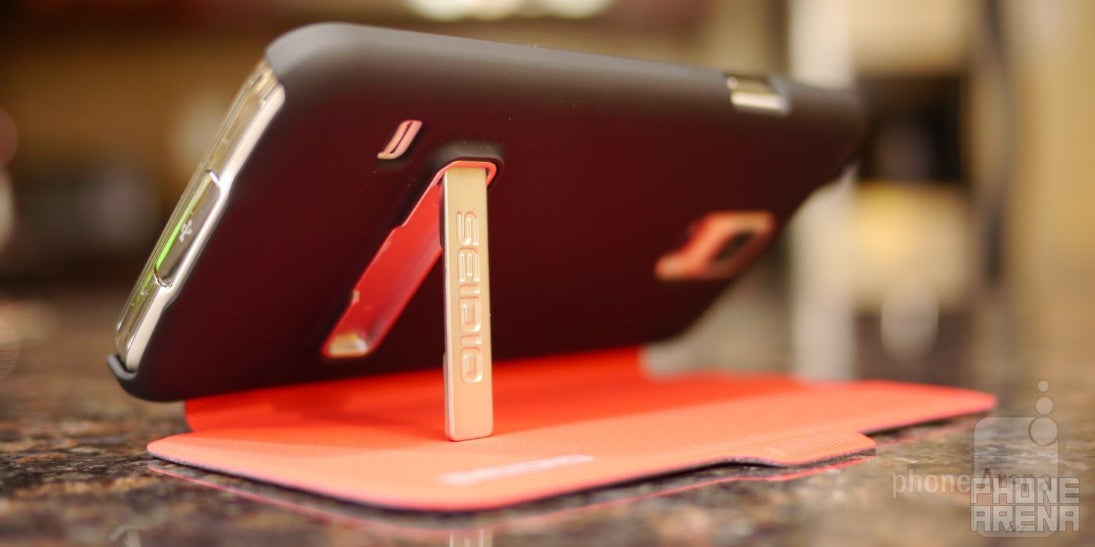 Very recently, we got acquainted with the Seidio Ledger case for the
HTC One M8
, which brought on additional features other than the usual protective ones we tend to get from most cases. This time around, we're checking out the same exact case for another flagship smartphone – the
Samsung Galaxy S5
. The Seidio Ledger case for this prized phone, bears several similarities of course, but there is surely something different about it.
First, let's jump right in and talk about its design – one that bears the distinct cues we've seen time-after-time with Seidio's various line of cases. Sporting a tri-colored scheme, a red fabric textured front cover, a grey soft microfiber interior lining, and a black Italian polyurethane rear, it definitely doesn't try to hide its affiliation to Seidio. Fortunately, the integrated magnet in the flip cover allows the front to stay firmly closed – albeit, it's not a "
smart
" one that automatically turns on/off the display. On the inside, we appreciate that there's a slit to accommodate a single ID or credit card, but it's not something meant to replace our wallet.
Unlike the Seidio Ledger case for the HTC One M8, the one here for the Samsung Galaxy S5 offers us easy access to all of its ports and buttons. Furthermore, the case manages to raise the camera away from a flat surface – protecting the lens from coming into contact with surfaces and possibly scratching. And finally, there's a metal kickstand in the rear that provides us with that perfect hands-free video-watching experience. When it comes to protecting the handset, the Seidio Ledger case does a decent job, as all parts of the phone are covered. Sure, it'll survive minor falls to the ground, but it's not something meant to protect the phone from higher heights.
Well, if you're planning to pick this case up, as opposed to any of the ones from Sammy's personal stable, you won't be burdened too much by its $39.95 retail cost. It's not the cheapest thing, nor is it the most expensive either, but there's enough of a good balance here seen with the Seidio Ledger case to be a consideration.
Recommended Stories