OnePlus 10 Pro vs Google Pixel 6 Pro
9
We may earn a commission if you make a purchase from the links on this page.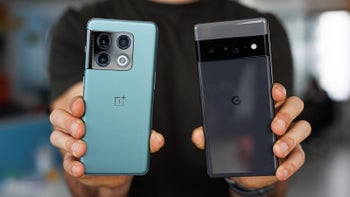 The Google Pixel 6 Pro made a splash with its brand new design, Google-made processor and great camera with surprisingly good zoom quality, but there is a new kid on the block that wants a piece of its pie: the OnePlus 10 Pro.
Both companies are similar in their approach to phones: they make flagships that are slightly cheaper than what you have to pay for a Galaxy or an iPhone. At the same time, these phones are no less flagships than your Galaxies and iPhones.
Despite these similarities, the Pixel 6 Pro and the OnePlus 10 Pro are also quite different, and in this comparison we'll go through all of those differences, trying to figure out which one has the better display, camera, faster performance and longer lasting battery.
But first, here are the...
OnePlus 10 Pro vs Google Pixel 6 Pro in a nutshell:
6.7" screens, 120Hz Adaptive refresh rate
Snapdragon 8 Gen 1 chip on OnePlus vs Google Tensor on Pixel 6 Pro

No headphone jack or microSD cards on either one
Pixel has longer zoom range
Both start at $900


Display and Design
Both look modern and trendy in their own way
These might just be two of the most distinct looking phones out there: the OnePlus with that large camera square overflowing into the frame of the phone, and then the Pixel with that Robocop-inspired horizontal camera bar.
Both are definitely big dogs, but the OnePlus is narrower and definitely feels more manageable, while the Pixel feels a bit bigger and less comfortable to grasp in one hand.
Neither phone features a headphone jack or a microSD card slot, a sign of the times surely. However, OnePlus still hasn't adopted the latest malady of the current times: it still features a charger in the box, and it's a fast one!

With large 6.7-inch screens on both, you have plenty of screen real estate. Both are OLED panels with gorgeous colors and HDR support, and both support adaptive 120Hz refresh rate.

Display measurements and quality
Both also feature a punch hole front camera, but interestingly, the Pixel does not support face recognition to unlock your phone, while you have that useful option on the OnePlus. However, the main biometrics on both come in the form of an optical in-screen fingerprint scanner. So far, this is one of the sore points with the Pixel which is quite a bit slower than the super-zippy OnePlus.

Battery and Charging
Pixel battery problems might be its biggest flaw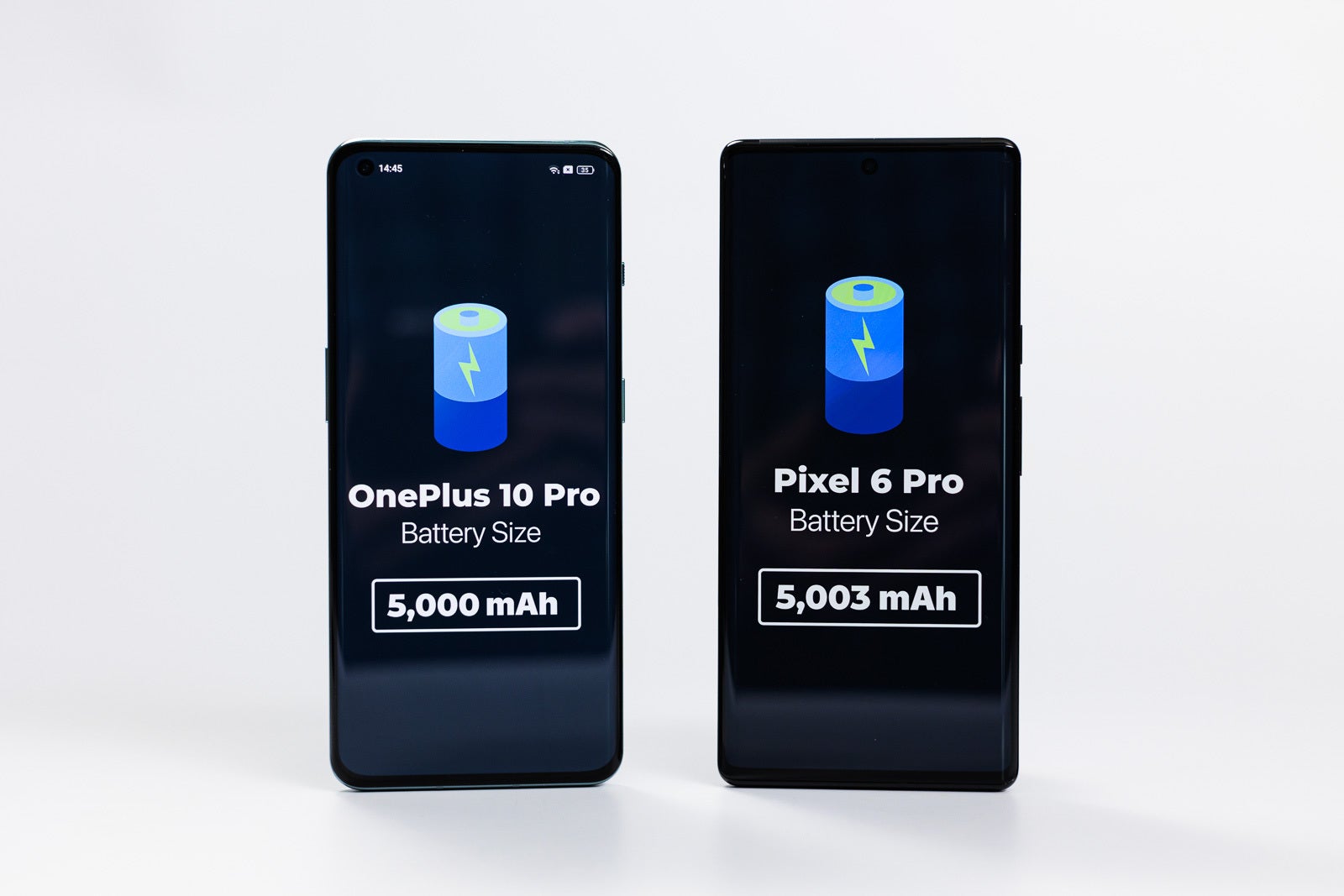 The other key category has got to be battery life, and here there is no difference between the pair as both the Pixel and the OnePlus sport a 5,000mAh battery.
So how's battery life? We have our independent battery tests and the results give OnePlus the edge:
*OnePlus 10 Pro results: YouTube test was performed under default settings. Browsing and 3D Gaming tests were performed under "high performance" mode.
Another area where the OnePlus has a big advantage is charging. The OnePlus 10 Pro supports 80W fast charging but comes with a 65W fast charging brick in the box, while the Pixel only supports up to 30W wired charging and does not have a charging brick included. This is a big deal, as the OnePlus is able to top up in just half an hour, while it takes about 1 hour and 45 minutes on the Pixel.
Both also support wireless charging, but again, OnePlus offers 50W speeds with its own proprietary charger (this one you buy separately), while Google only supports up to 23W charging speeds.
Cameras
One tough battle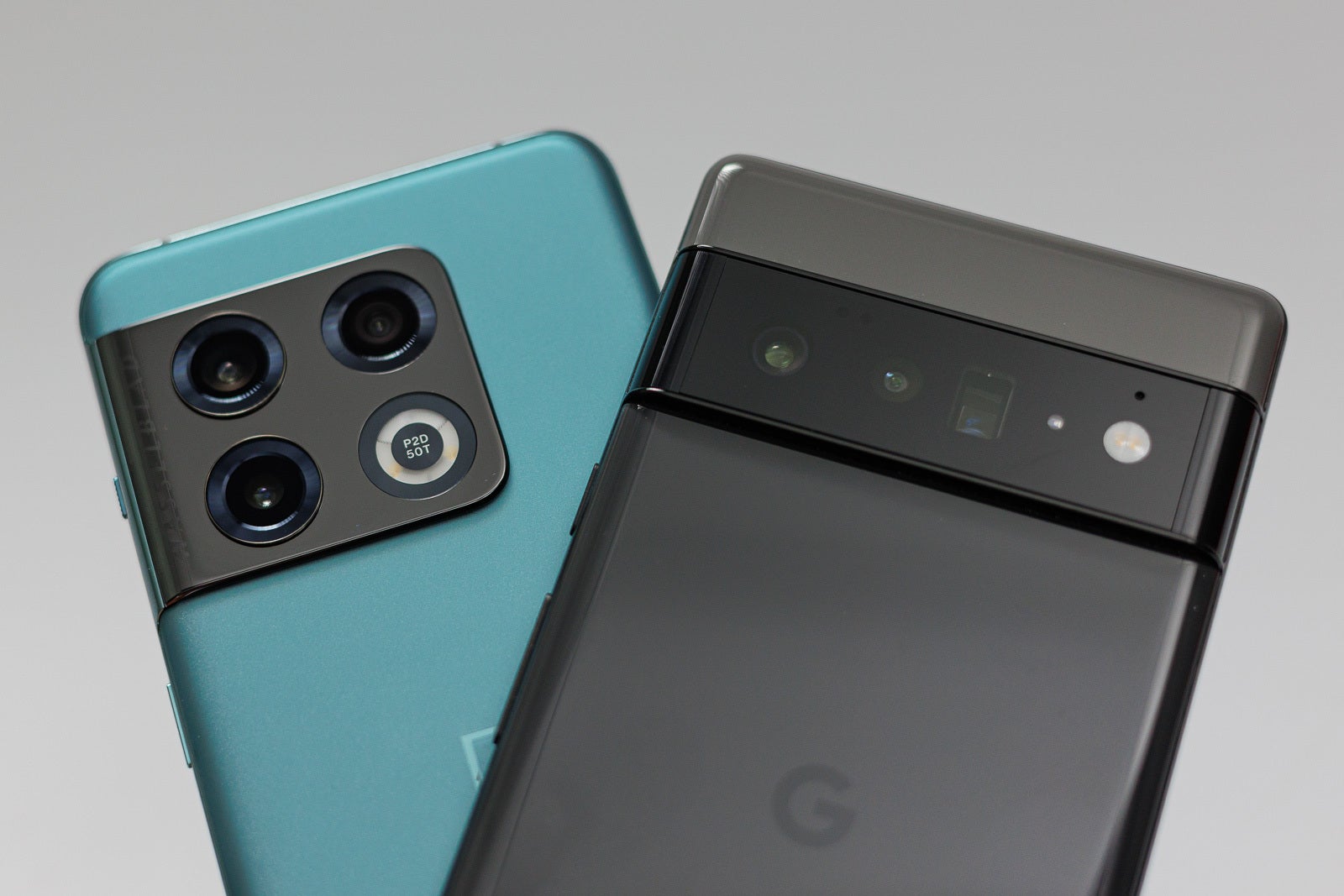 Both phones come with a triple camera setup, with a wide, ultra-wide and a zoom lens. The Pixel actually has the longer zoom range with a 4X periscope style camera compared to a regular-style 3X zoom camera on the OnePlus.
Here is a look at the camera specs:
| Camera Specs | Resolution | Sensor Size | Pixel Size | Lens |
| --- | --- | --- | --- | --- |
| Main OnePlus | 48MP | 1/1.43" | 1.12µm | 23mm, f/1.8 |
| Main Pixel | 50MP | 1/1.31" | 1.12µm | 26mm, f/1.9 |
| Ultra OnePlus | 50MP | 1/2.76" | 0.64µm | 14mm, f/2.2 |
| Ultra Pixel | 12MP | - | - | 18mm, f/2.2 |
| Tele OnePlus | 8MP | - | 1µm | 77mm (3.3X), f/2.4 |
| Tele Pixel | 48MP | 1/2" | 0.8µm | 104mm (4X), f/3.5 |
The Pixel uses the larger sensor, but interestingly its ultra wide camera is actually not as "ultra" as you might expect. It has a narrower perspective (18mm vs 14mm on the OnePlus).
The OnePlus 10 Pro can certainly capture good looking photos, but you would notice how colors are often very bleak and pale, lacking in saturation, and there is a lingering problem with skin tones in the images above. The Pixel captures "juicier" photos that just have a bit more saturation with a distinct moody look that also pack a certain lively punch.
In low light, the OnePlus sometimes burns out highlights and does not seem to have a proper automatic night mode (or at least not a noticeable one), which means that you have to manually switch to night mode to get that longer exposure and extract more light at night. This is not convenient at all, as most modern phones just have some sort of "auto night mode", and you can see that the Pixel has got the higher quality night photos to show.

Also read:
While the OnePlus 10 Pro has tricks like 8K video recording and 4K120, which the Pixel does not have, it does not quite have as good video stabilization and it seems that it never uses the telephoto camera in video, resulting in poor video zoomed-in video recordings.
Front camera footage has nice sharpness and pleasing colors, but seems to have no proper video stabilization. We might sound a bit harsh towards the OnePlus, but those are features a flagship, especially one with such ambitions, should have in 2022.
Performance and Storage differences
The newer OnePlus has the edge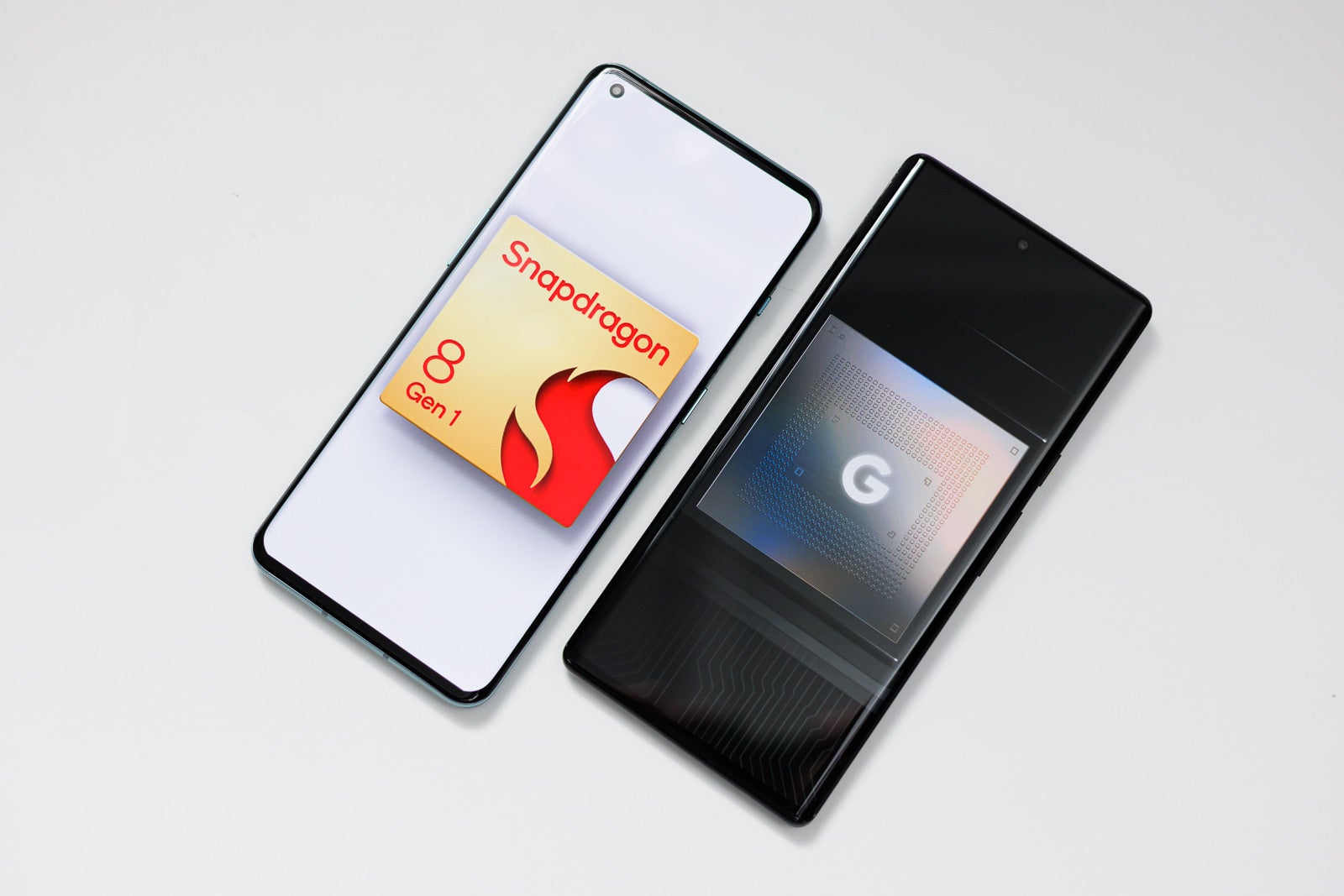 The Pixel 6 Pro was not only a brand new design, it was the vessel for a brand new processor, the first mobile chip made by the company itself that goes by the name Google Tensor. It's a solid first attempt, but not quite on par with the Snapdragon 8 Gen 1 inside the OnePlus 10 Pro that has faster performance in CPU and GPU benchmarks.
All of this gives the OnePlus a bit of an edge in terms of performance.
You get a noticeable jump in single-core performance, and a very slight increase in multi-core performance.
Both of these phones have clean interfaces that run fast, but the OnePlus seems to be a step ahead in perceived zippiness.
On the network side, you have 5G connectivity on both phones.
Interestingly, the Pixel ships with 128GB of storage in the base model, or you can buy a 256GB version for $100 more, while the OnePlus also comes with 8GB of RAM and 128GB of native storage (a 12GB/256GB version should be coming at a later date). There is no microSD card support on either one, hardly a surprise considering the history of these two companies' flagships.
OnePlus 10 Pro vs Google Pixel 6 Pro: Specs Comparison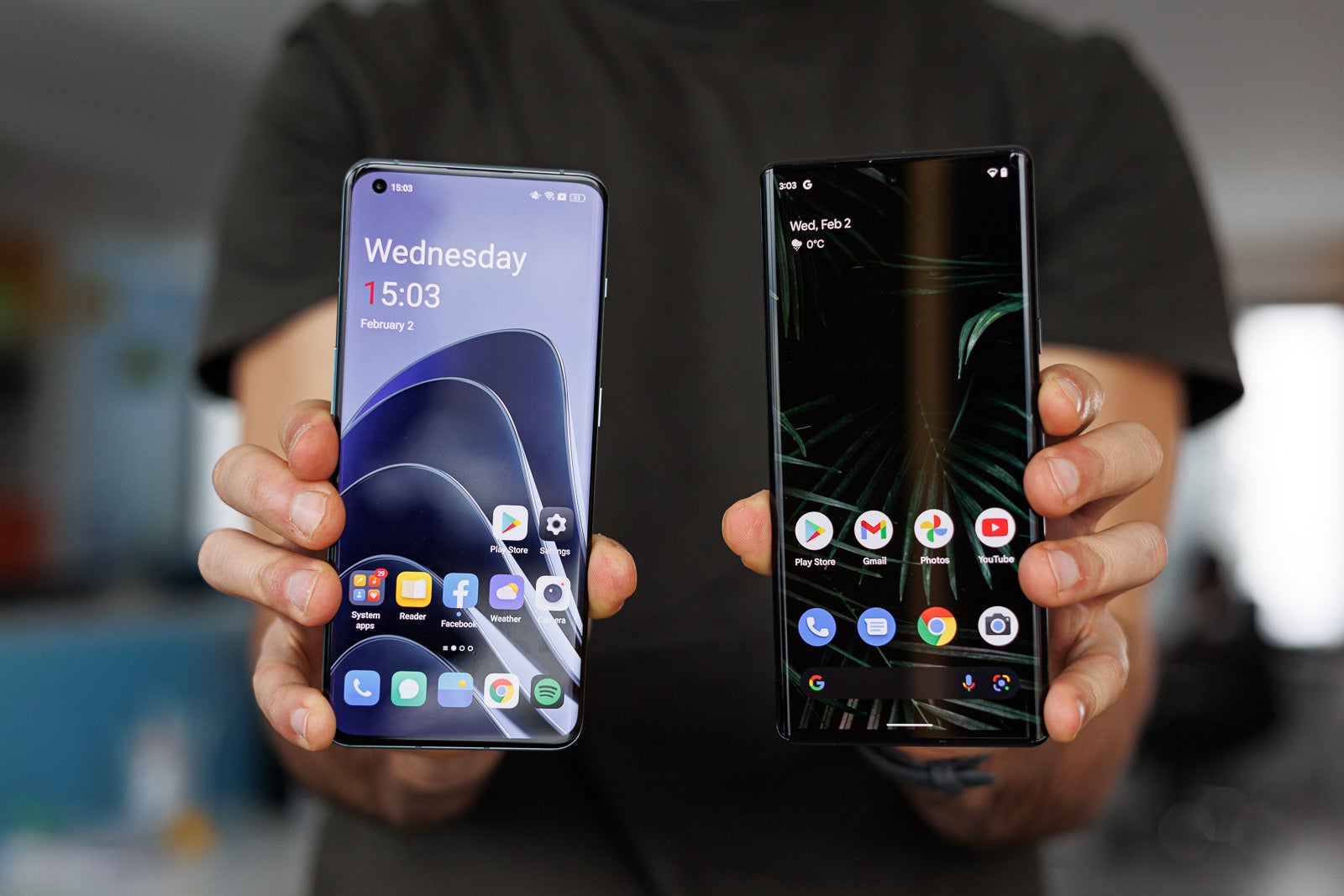 And here is a detailed specs comparison between the OnePlus 10 Pro and the Google Pixel 6 Pro:


OnePlus 10 Pro
Pixel 6 Pro
Size and Weight
163 x 73.9 x 8.55 mm, 200g
163.9 x 75.9 x 8.9 mm, 210g
Display
6.7" OLED, 1-120Hz Adaptive
6.7" OLED, 10-120Hz Adaptive
Processor
Snapdragon 8 Gen 1
Google Tensor
RAM
8GB or 12GB
12GB
Storage
128GB or 256GB, non expandable
128GB or 256GB, non expandable
Cameras
48MP main camera, f/1.8
50MP ultra-wide, f/2.2
8MP 3X zoom camera

50MP main camera, f/1.9
12MP ultra-wide, f/2.2
48MP 4X zoom, f/3.5
Battery size
5,000mAh
5,003mAh
Charging speeds
80W wired, 50W wireless
30W wired, 23W wireless
Prices
starting from $900
starting from $900
In pricing, both start at $900, but you get a fast charger with the OnePlus 10 Pro, along with a not too shabby case in the color of the phone.

If we had to single out the biggest difference between these two, that would have to be the camera performance! The 10 Pro is a step forward from earlier OnePlus phones, but the Pixel still feels like the much better camera.
For all else, the OnePlus looks like a stylish, well-designed phone that has a performance advantage and much faster charging than the Pixel.
Go for the Pixel, if you care about the pure Android experience and fast software updates, but be aware of a problematic fingerprint scanner and inconsistent battery life, not to mention the multitude of issues many early adopters faced.

At least, that's our advice. What is your take on these two? Are you a OnePlus person or would you instead prefer a Pixel, and why?