Apple iPhone 13 Pro Max vs OnePlus 10 Pro
4
We may earn a commission if you make a purchase from the links on this page.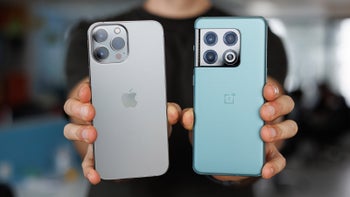 The
OnePlus 10 Pro
is close to being one year old, with its successor expected to arrive some time in early 2023. But hey, that's good news — it means that the flagship that launched at an aggressive price point is now constantly getting discounts and deals.
Speaking of — Apple's older iPhone 13 Pro Max is also an older generation device now and has also gotten a price slash. So, how does the OnePlus 10 Pro measure up against the best iPhone of yesteryear? Are their cameras on par, are their screens different? What about performance and battery life?
iPhone 13 Pro Max vs OnePlus 10 Pro in a nutshell:
iPhone is much wider and bulkier, OnePlus is more one-hand friendly
Equally sized, 6.7" OLED screens with Adaptive 120Hz
Apple A15 chip vs Snapdragon 8 Gen 1 chip on OnePlus
Both have triple camera systems (main, ultra and 3X zoom)
OnePlus has much faster charging
Display and Design
The OnePlus has a unique look and is far easier to hold in one hand
While on paper these two come with the same size 6.7" display, they look quite different. The OnePlus is the narrower phone and with its tapered sides it is comfortable to hold, while the iPhone feels positively gigantic and the flat sides may look good, but they are not quite as ergonomic.
Both feature a frosted glass back that won't catch fingerprints, which is nice. The middle of the phone is made of aluminum on the OnePlus, while the iPhone uses shinier but also heavier stainless steel.
Both also have a mute switch: a 2-way one on the iPhone, and a 3-way one on the OnePlus. No headphone jack, no microSD expandable storage in either one, in case you are wondering. When it comes to craftsmanship, these are as good as it gets, and they are also both water and dust protected with an official IP68 certification.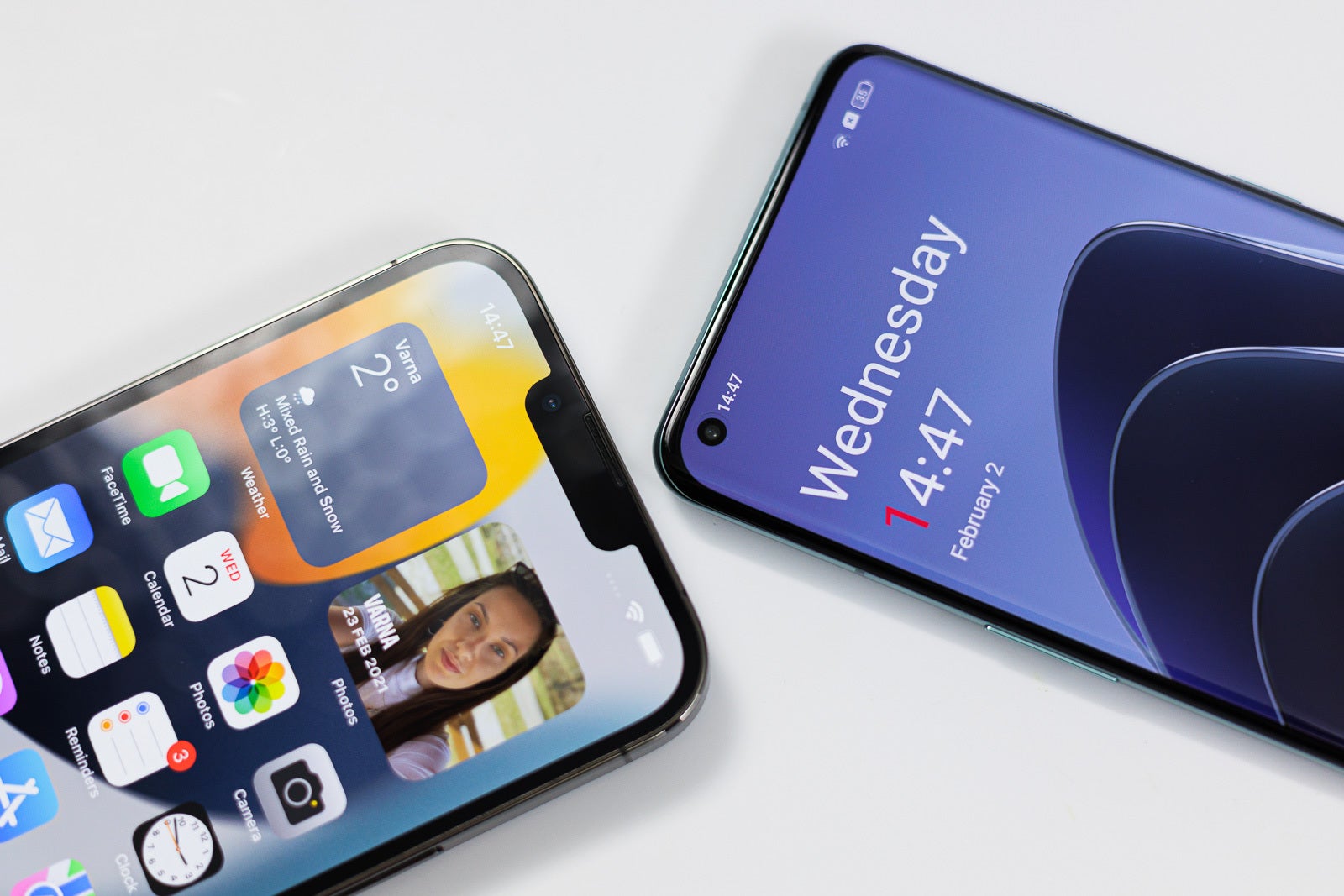 The pair have the same sized 6.7-inch displays using OLED technology with adaptive 120Hz refresh rate for buttery smooth scrolling.
The screen quality is top notch with precise color calibration on these two, and you can find our detailed display benchmarks, brightness measurements and all the rest below.
Display measurements and quality
The other difference is about that notch on the iPhone, which is still very much there, while the OnePlus has a tiny punch hole front camera. Naturally, you have Face ID recognition on the iPhone, while the OnePlus uses an optical fingerprint reader placed inside the screen (it's one of the fastest we have ever tested and accurate too!). OnePlus also traditionally offers face recognition of the less secure image-based type, still a nice option to have.
Battery and Charging
The iPhone 13 Pro Max is the battery champ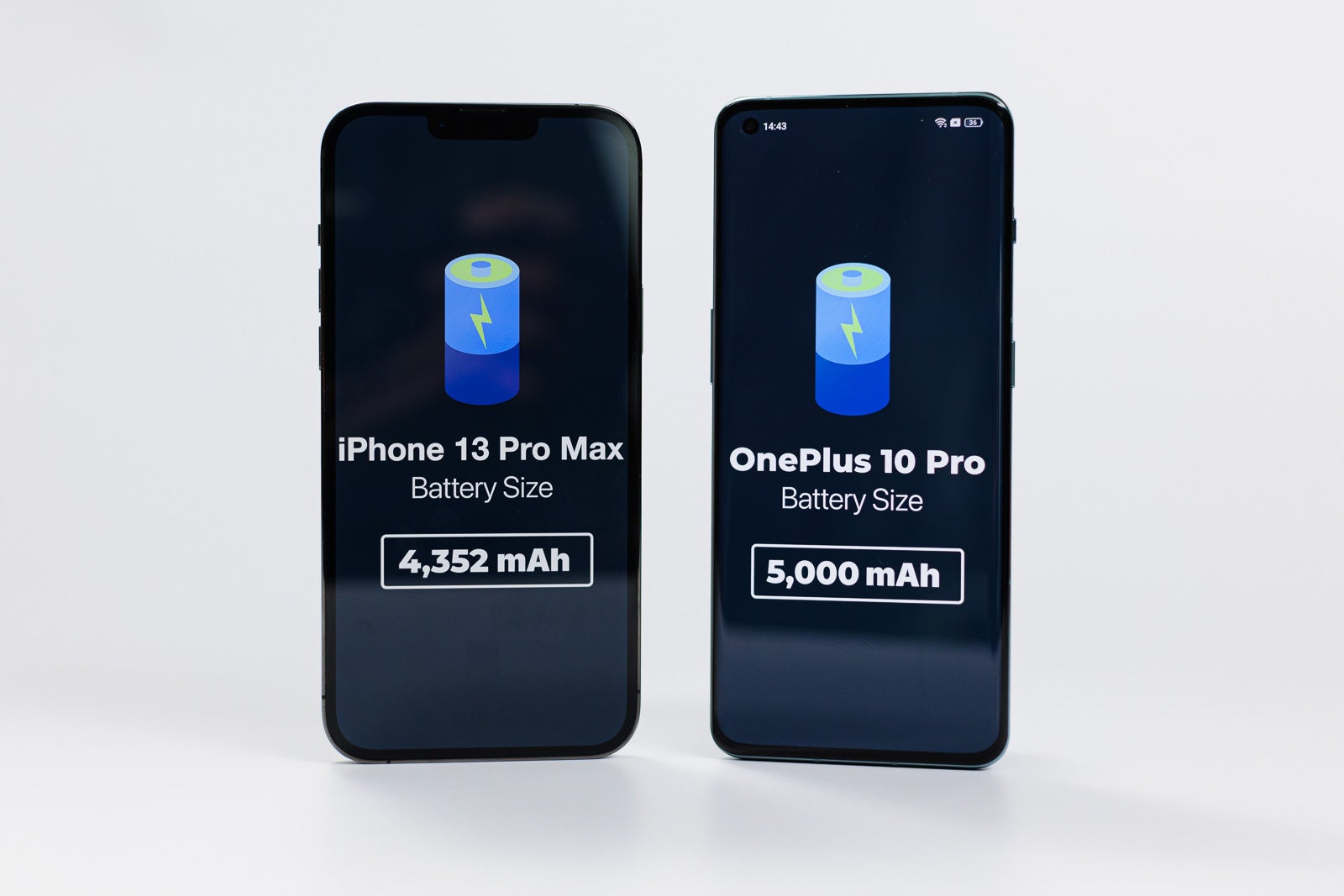 The iPhone 13 Pro Max is all about that incredible battery life, as you can commonly get 2 days or even more out of a single charge with a battery size not even reaching 4,400mAh. The OnePlus 10 Pro, on the other hand, sports a bigger, 5,000mAh battery. That's the biggest upgrade from last year's OnePlus Pro model which had a smaller, 4,500mAh cell.
On our independent battery tests, the OnePlus held its own against the record-shattering battery life of the iPhone and while it was not close in our web browsing test, the OnePlus actually won one round with YouTube video streaming. Take a look at the scores below!
*OnePlus 10 Pro results: YouTube test was performed under default settings. Browsing and 3D Gaming tests were performed under "high performance" mode.
OnePlus is also known for pushing the boundaries with charging speeds, and that's exactly what it has done with the 10 Pro. Expect 80W charging speed on the OnePlus, which translates to a full charg in just 30 minutes, compared to merely 20W on the Pro Max. Okay, unofficially, the iPhone actually charges at up to 27W with a compatible charger but still, that's nearly 2 full hours for a charge!
Same zippy speeds with wireless charging: the OnePlus supports 50W wireless top ups compared to 15W on MagSafe with the iPhone. No fancy magnets on the OnePlus, though.
Cameras
Can the OnePlus 10 Pro match the cameras on the iPhone?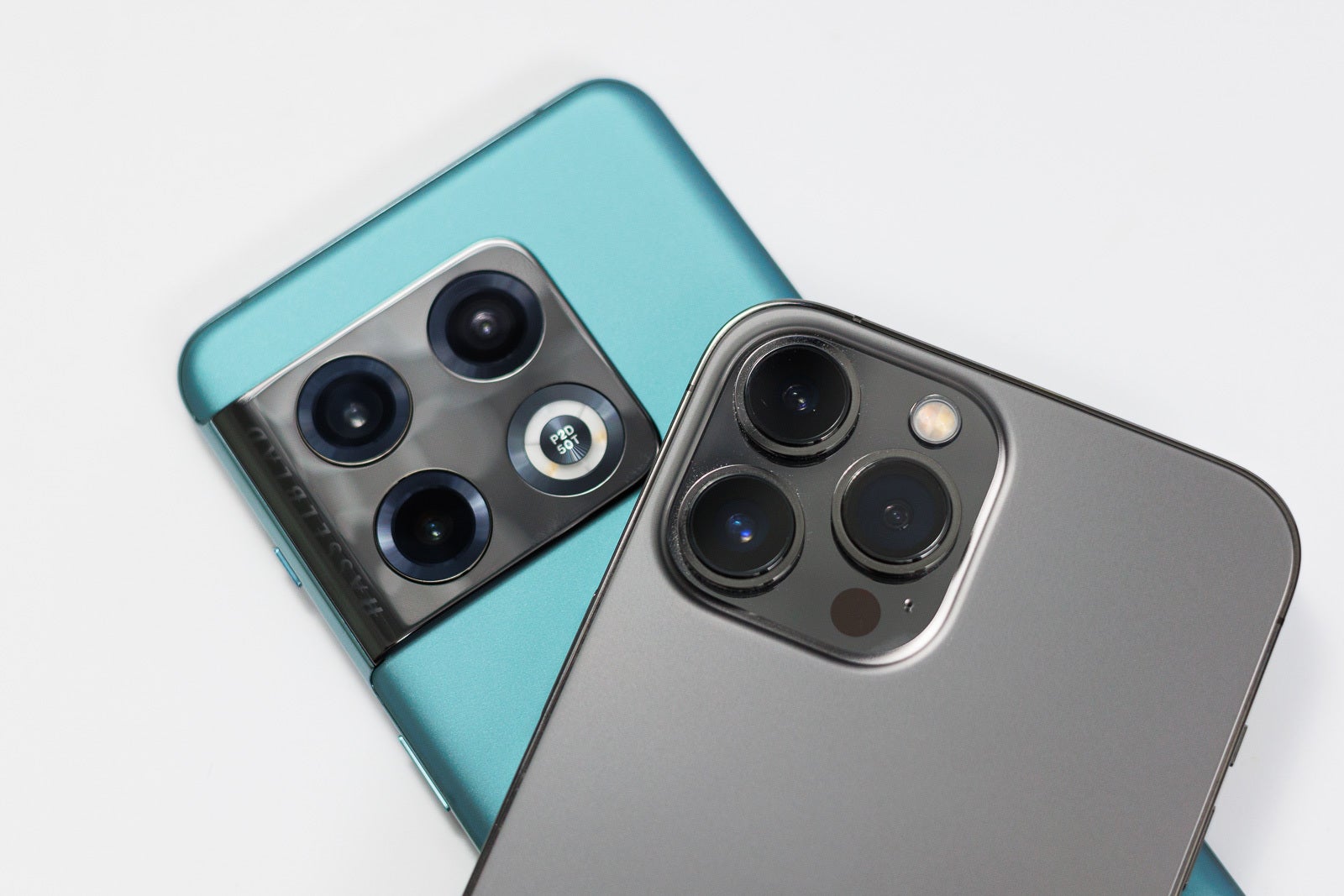 While both have a similar, triple camera system on the back, there are some technical differences, so let's start with a quick look at the camera specs:
| Camera Specs | Resolution | Sensor Size | Pixel Size | Lens |
| --- | --- | --- | --- | --- |
| Main iPhone | 12MP | 1/1.65" | 1.9µm | 26mm, f/1.5 |
| Main OnePlus | 48MP | 1/1.43" | 1.2µm | 23mm, f/1.8 |
| Ultra iPhone | 12MP | 1/3.4" | 1.0µm | 13mm, f/1.8 |
| Ultra OnePlus | 50MP | 1/2.76" | 0.64µm | 14mm, f/2.2 |
| Tele iPhone | 12MP | 1/3.4" | 1.0µm | 77mm (3X), f/2.8 |
| Tele OnePlus | 8MP | - | 1.0µm | 77mm (3.3X), f/2.4 |
What stands out here is that despite the larger sensors on the iPhone 13 Pro Max, these are still smaller compared to what we expect to see on the OnePlus 10 Pro. Take the main camera where the OnePlus is due with a larger sensor, but notice how the iPhone uses a faster aperture. Similar story with the ultra wide camera.
But enough with the technicalities, let's take a look at the actual photos:
In most photos, we can spot how the different phones treat scenes differently — the iPhone favors warm colors with some saturation and a contrasty look. The OnePlus 10 Pro, on the other hand, is a bit colder with a slight magenta cast popping up from time to time. Details look sharp on both, but the OnePlus sometimes drops the oversharpening for a softer look.
However, specifically when it comes to portraits and selfies, OnePlus still makes colors look a bit pale, washed out, and skintone is a bit gray.
Some may argue that the iPhone gives you better than life photos, but with the 13 series you can use Photographic Styles to tweak that look, while with the OnePlus this is the only look you can get without going to RAW.
Both phones have ultrawide cameras, with the iPhone 13 Pro Max sporting a 12 MP sensor and the OnePlus going up to the crazy 50 MP. So, any differences?


And when it comes to zooming, we have a 3.3x telephoto lens on the OnePlus with an 8 MP sensor and a 3x telephoto lens on the iPhone with a 12 MP sensor. The OnePlus 10 Pro can go up to 30x digitally, while the iPhone taps out comfortably at 15x, so here's a comparison up to that level.
And when it comes to night shots, both of these phones have their own version of Night Mode, where the device takes a bunch of shots over time and combines them for a crystal-clear picture. The iPhone 13 Pro Max wins out here, though, with sharper details, more vibrant colors, and more striking contrast. But the OnePlus 10 Pro is definitely holding its own with all three cameras. Even zoom performance at night is pretty close with both devices.
And below, you'd find a video quality comparison using all cameras and shooting both during the day and at night:
The OnePlus introduces some cool new features like 8K video and 4K120 that enthusiasts can use to slow down in post, but in our 4K30 comparison above, we see that the phone struggles with highlights and burns them, plus video stabilization is not quite on par with the iPhone.
It's hard to compete with the best video recording phone on the market, and the OnePlus indeed falls short.
Performance and Storage differences
New Snapdragon is fast, but Apple A15 is faster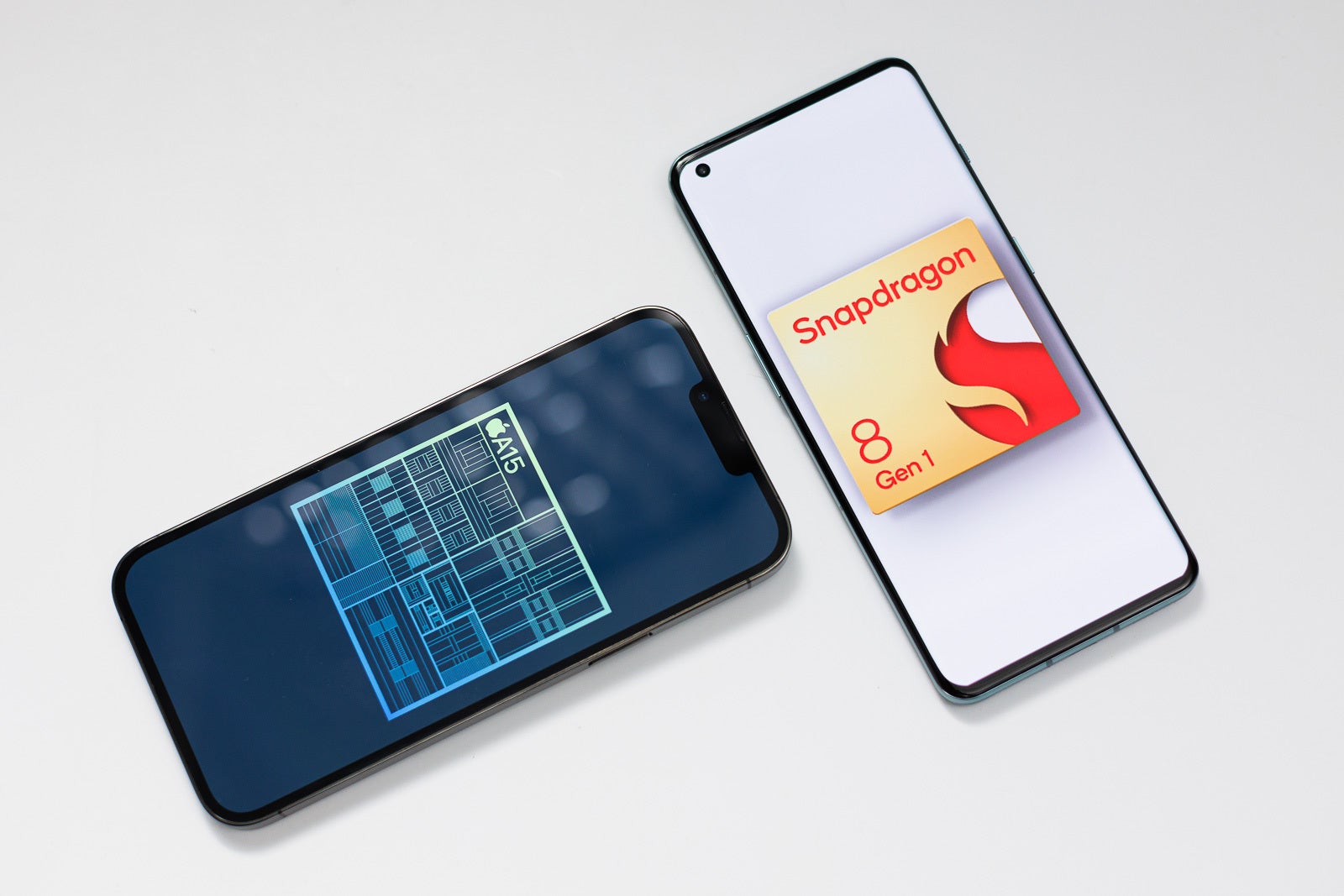 Unlike other Android phones that launch with different processors for different markets, the OnePlus 10 Pro is due with a Snapdragon 8 Gen 1 chip in all markets, but that's where the good news ends because it is facing the industry leading Apple A15 Bionic chip.
Early benchmarks show that Apple still has a sizable advantage, especially when it comes to single-core and GPU performance.
Take a look at the benchmark scores below (on the OnePlus, we had to switch on a special High Performance mode hidden in settings):
While the iPhone has the upper hand, the OnePlus really almost catches up.

We ought to say that in real life, both phones feel incredibly refined, with fast and smooth animations. Apple was the first to introduce a gesture navigation and it has the most refined one in the industry, but OnePlus is very close and we actually appreciate more the added simplicity, like the option to swipe from either side of the screen to go back (on iPhones, you need to swipe from one side only to go back).


On the network side, you have 5G connectivity on both phones, and we expect that OnePlus will team up with T-Mobile for the USA again.
OnePlus offers various configurations of the 10 Pro with 8GB RAM and 128GB storage, and up to 256GB, while the iPhone goes even further with a base 128GB model, but you can also get a 256G/512G, or even a 1TB iPhone. Of course, all of that comes at a price.
iPhone 13 Pro Max vs OnePlus 10 Pro: Specs Comparison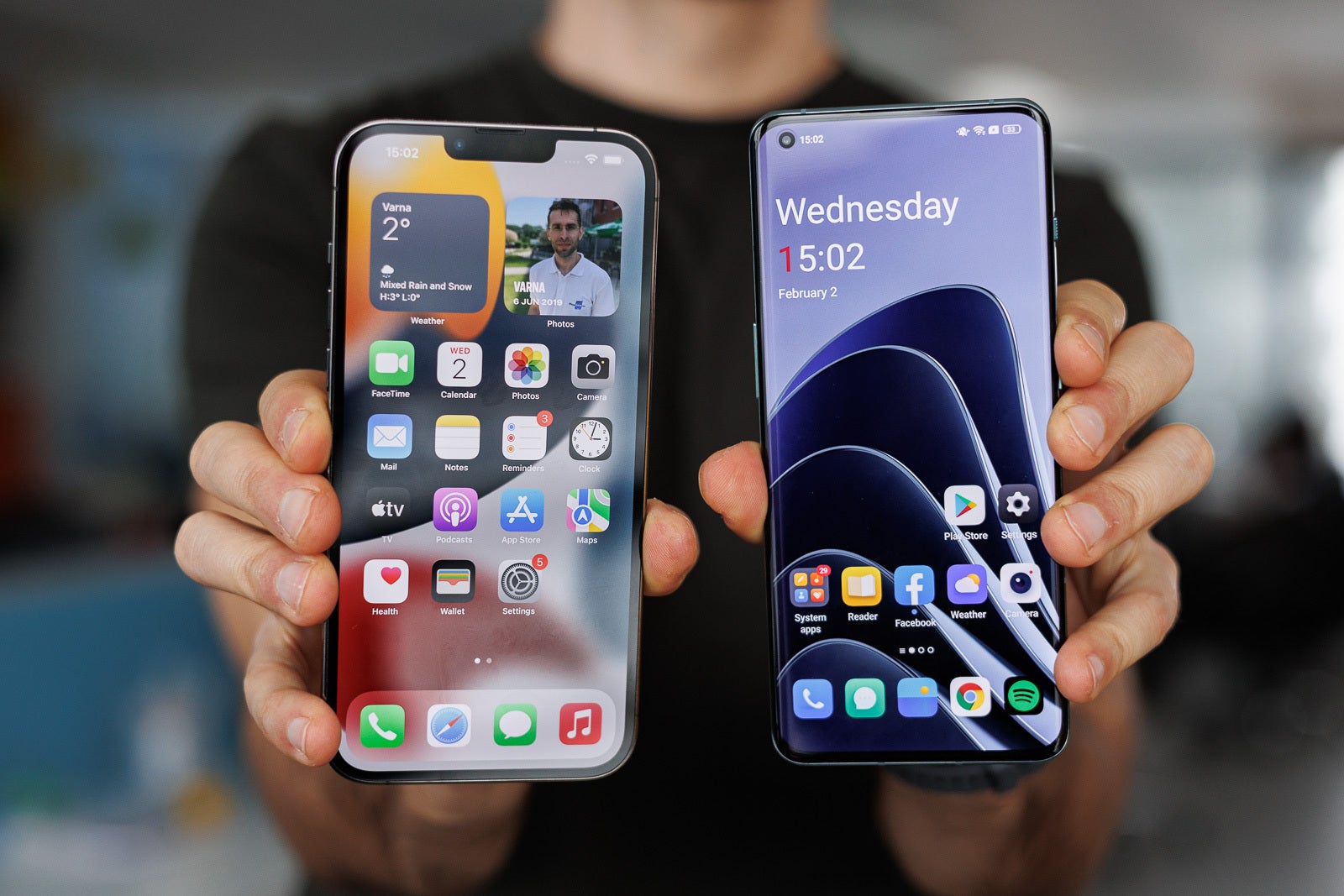 And here is a detailed specs comparison between the iPhone 13 Pro Max vs OnePlus 10 Pro:
iPhone 13 Pro Max
OnePlus 10 Pro
Size and Weight
160.8 x 78.1 x 7.65mm, 240g
163.2 x 73.6 x 8.7mm, 200g
Display
6.7" OLED,

120Hz Pro Motion


1284 x 2778 pixels
6.7" OLED, 1-120Hz Adaptive
1440 x 3200 pixels
Processor
Apple A15 Bionic
Snapdragon 8 Gen 1
RAM
6GB
8GB
Storage
128G / 256G / 512GB / 1TB, non expandable
128G / 256G, non expandable
Cameras
12MP wide camera, f/1.5
12MP ultra-wide camera with faster, f/1.8 aperture
12MP 3X zoom camera
48MP main camera, f/1.8
50MP ultra-wide camera, f/2.2
8MP 3X zoom camera

Battery size
*4,352mAh
5,000mAh
Charging speeds
20W wired, 15W MagSafe wireless
80W wired, 50W wireless
Prices
starting from $1,100
starting from $900
At the end of the day, the OnePlus 10 Pro is a truly different phone with a unique design and a solid battery life and zippy performance you'd expect from a flagship, but not quite the camera revolution you might have hoped for, and certainly not one to rival the powerful iPhone 13 Pro Max.
Where do you stand in this battle of heavyweights? Would you go for the iPhone with that oversized design and impressive battery life, or would you bet on the OnePlus 10 Pro with its fast charging, refined styling and overall improvements? Pick your side and let us know why you prefer one over the other in the comments below!