Samsung Galaxy S22 Ultra vs OnePlus 10 Pro
11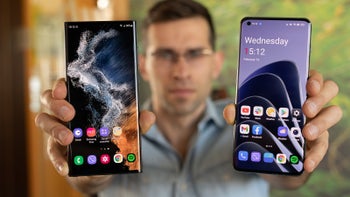 Now that we are well into 2023, we have a bunch of shiny new phones to choose from. But, it's often a good idea to look back and maybe buy a previous generation flagship. Why? Because these were built to last, they still get updates, and you can often get them discounted. Severely discounted.
So, a Samsung
Galaxy S22 Ultra
may not have the 200 MP sensor of the
Galaxy S23 Ultra
... but it still has the excellent S Pen, a pretty good camera, stellar performance, and an awesome screen. The bargain king
OnePlus 10 Pro
was also launched in the first half of 2022 as an aggressively-priced competitor on the high-end market. Today, it's still a pretty good phone that you can find for midrange money!
Now, the Galaxy S22 Ultra has more bells and whistles and will cost you more than a OnePlus 10. But... which features do you need and can you get away with just grabbing the bargain here? Let's shoot them out!
Samsung Galaxy S22 Ultra vs OnePlus 10 Pro in a nutshell:
Both are big phones, but Galaxy is wider and sharper, OnePlus is narrower
Snapdragon 8 Gen 1 processor on both, but only Galaxy uses Exynos chip outside US
Brighter screen on the S22 Ultra
Periscope zoom lens only on Galaxy
Galaxy has S Pen
Both have 5,000mAh battery, no microSD support
OnePlus charges nearly twice as fast
Both run on Android 12
Design and display quality
The S22 Ultra brings those Note vibes, while the OnePlus goes for a bold new camera styling
These are easily two of the most recognizable phones out there. The Galaxy S22 Ultra is sending serious Note vibes with those sharp corners and rectangular look, with only slightly tapered edges. The OnePlus, on the other hand, is not quite as wide and hence, it's easier to grasp with one hand, and in terms of styling it's all about a giant camera island that takes a bit of inspiration from the Galaxy and kind of blends with the aluminum frame of the phone.
You get nothing but top-notch craftsmanship on the design front: the latest Gorilla Glass Victus Plus protects the front and back of the Galaxy, while the OnePlus uses the slightly less fancy non-Plus Victus glass. Both are water and dust protected, carrying an IP68 certification, meaning they will survive a drop in fresh water or a bit of rain easily. But just like most modern flagships, these two don't offer a headphone jack or a microSD card slot, something that some users will miss.
One element that sets the OnePlus apart is the signature mute switch, or "alert slider" as OnePlus calls it, a three-way key that allows you to easily switch your phone into ring, vibrate, and silent modes.
Display measurements and quality
On the display front, both rock OLED screens with 6.7-inch diagonal, but the aspect ratio is wider on the Galaxy, while the OnePlus is a bit narrower. Both support HDR video playback, and both break color accuracy and high brightness records. Also, the two use LTPO technology for adaptive refresh rate that can go up to 120Hz for buttery smooth scrolling, or scale down to preserve power when you don't need those higher frame rates.
Both also feature a discreet punch hole front camera, and both support image-based face recognition using that camera. The main and most secure authentication method, however, remains the fingerprint scanner built inside the screen. The Galaxy S22 Ultra has an ultrasonic fingerprint scanner, while the OnePlus bets on an optical type fingerprint reader.
Performance and software
Snapdragon versus Snapdragon (with some exceptions)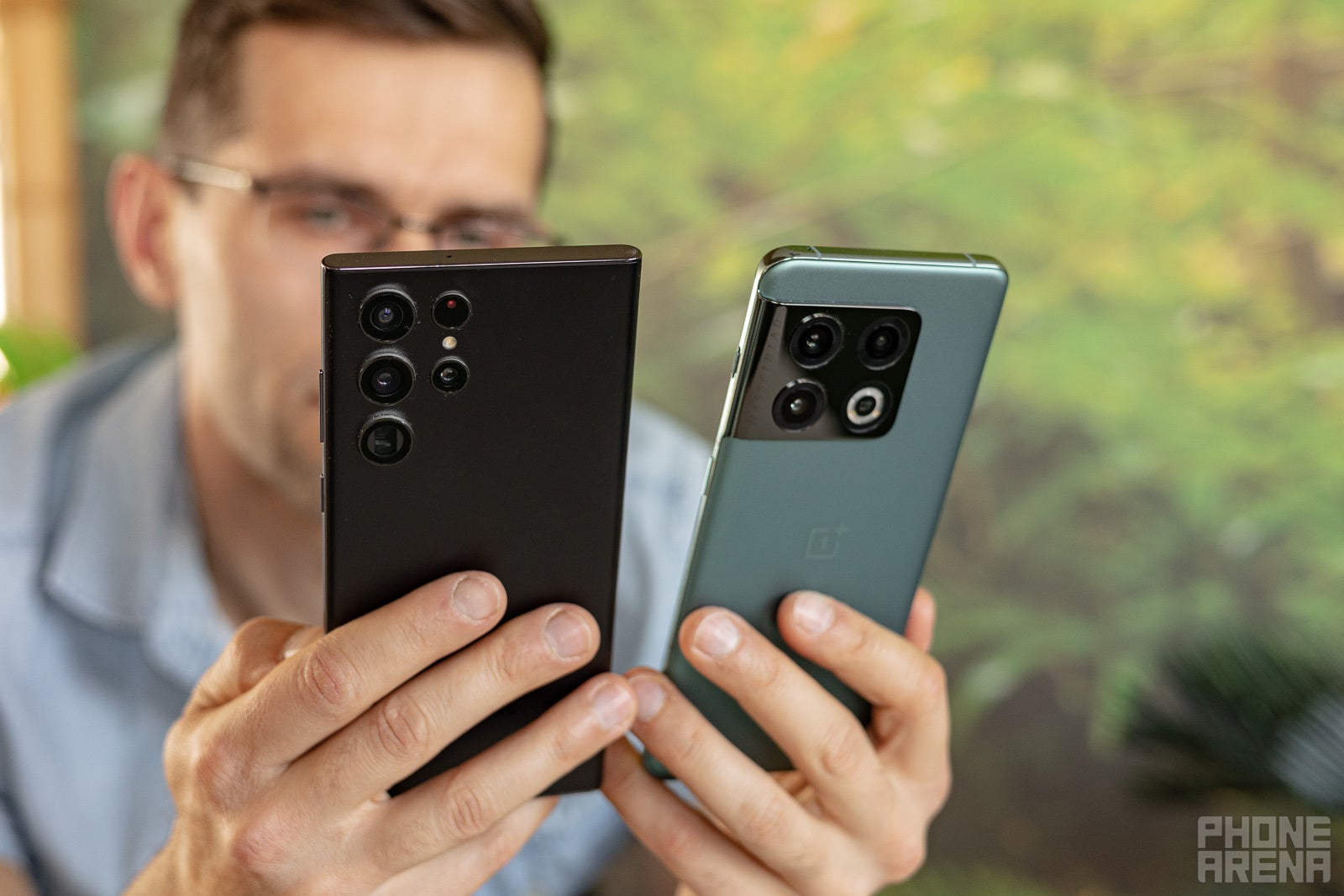 With both phones running the new Snapdragon 8 Gen 1 processor, the base version of the Galaxy actually ships with only 8GB of RAM, and you have to pay for a better-specced version to match 12GB of RAM you get on the base OnePlus. Either way, we're in for a treat when it comes to performance.
There are, however, two factors at play that we have to mention. The first and biggest one is for shoppers outside the United States, who will get the S22 Ultra with a different processor, a Samsung Exynos one. The second thing has a lot to do with software. Samsung's One UI is more feature-rich than OnePlus' take on Android, but it also feels a bit slower to react and a bit more jittery compared to the buttery smooth animations on OnePlus. Typing on the virtual keyboard also feels snappier and more precise on the OnePlus 10 Pro.
Interestingly, we measured higher CPU performance on the OnePlus compared to the Galaxy (we have the Exynos model for this test).
A similar thing plays out with GPU performance where on the 20-minute 3D Mark Wildlife Extreme stress test, the Galaxy started lower and then throttled to again lower values, so that the Snapdragon-powered OnePlus has an advantage for gaming.
On the network side, you have 5G connectivity on both phones.
The Galaxy base model comes at 128GB storage, similar to what you get on the OnePlus 10 Pro. Neither phone, however, supports microSD cards for expandable storage, which means if you are a power user.
Samsung One UI vs OnePlus OxygenOS
If it were a year ago, this would be a battle between Samsung's heavily skinned One UI and a OnePlus OxygenOS that we would call "close to stock Android". However, over the past year, OnePlus has announced that it will be adopting ColorOS from its sister company Oppo. Then, the statement was somewhat walked back in February, as OnePlus announced it will continue to develop its own OxygenOS, but it will share the same codebase.
OK, so what does this mean in reality? Well, you will be happy to hear that OxygenOS still feels snappy and user-intuitive as ever. In terms of how it looks, it has adopted a mix between Android's Material looks and the Oppo ColorOS bold elements. There is a heavy and extensive emphasis on customizing the look and feel. Some features, like Oppo's one-hand mode, have been mixed with OnePlus-exclusive features like the Shelf (pull down from the top-right for a shade that's full of widgets).
Overall, we really enjoy the workflow and customization that the new OxygenOS 12.1 allows for.
Samsung's software does not feel that refined in comparison, when it comes to user experience. However, it's still feature rich and opens a lot of doors for a wider ecosystem of devices — Samsung's excellent smartwatches, SmartTags, and house appliances.
Of course, the Galaxy S22 Ultra also has the excellent S Pen plus Edge Panels and quicker ways to launch your apps in split screen and windowed mode. So, you can definitely call the Galaxy S22 Ultra the more productivity-oriented phone if your focus is more on multitasking and note-taking.
Camera comparison
Bigger sensors on the S22 make the difference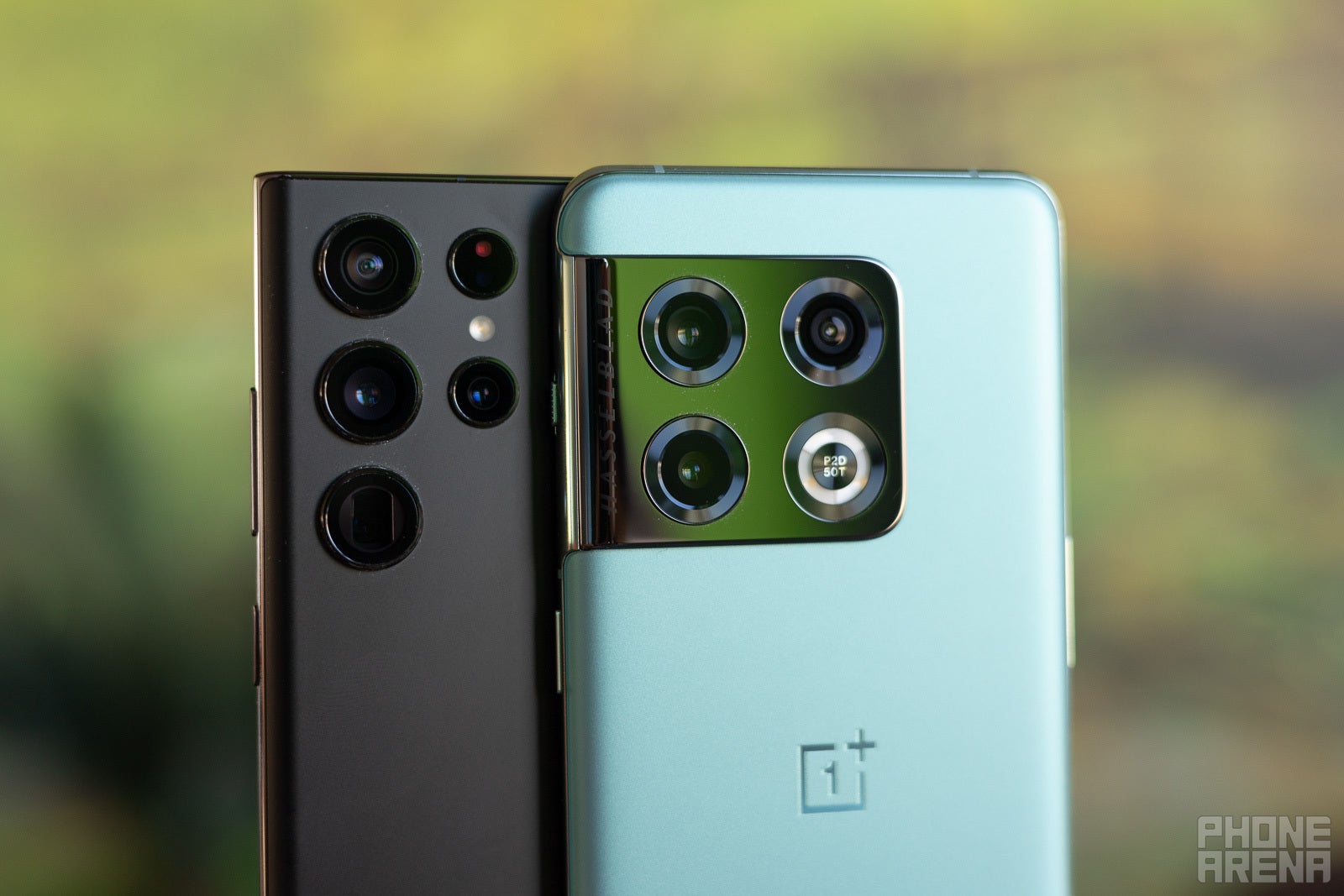 While on paper, not much has changed in terms of cameras on these newer Galaxy S22 Ultra and OnePlus 10 Pro (compared to the previous models), we still get improvements with software tweaks for both photos and videos.
But first, let's take a look at the S22 Ultra vs OnePlus 10 Pro camera specs:
| Camera Specs | Resolution | Sensor Size | Pixel Size | Lens |
| --- | --- | --- | --- | --- |
| Main S22 Ultra | 108MP | 1/1.33" | 0.8µm | 24mm, f/1.8 |
| Main OnePlus | 48MP | 1/1.43" | 1.12µm | 23mm, f/1.8 |
| Ultra S22 Ultra | 12MP | 1/2.55" | 1.4µm | 13mm, f/2.2 |
| Ultra OnePlus | 50MP | 1/1.56" | - | 14mm, f/2.2 |
| Tele S22 | 10MP | 1/3.52" | 1.12µm | 72mm (3X), f/2.4 |
| Tele OnePlus | 8MP | - | 1µm | 69mm (3.3X), f/2.4 |
| Periscope S22 Ultra | 10MP | 1/3.52" | 1.12µm | 240mm (10X), f/4.9 |
The Galaxy stands out with that massive main camera sensor, while the OnePlus has the bigger sensor for the ultra-wide camera. Of course, you also get that sweet 10X zoom lens on the Galaxy, and you simply don't have anything in that zoom range on the OnePlus, so the Galaxy remains the more versatile camera of the two.
During the day, there are subtle differences in color and detail, and of course, you also notice the wider camera on the Galaxy. A lot of these photos look very similar, but a notable trend is that the OnePlus exposes shots just a bit more. However, when it comes to details and colors within the highlights, the Galaxy S22 Ultra definitely does better — just check out the light gray fur on the doggo's head with the first portrait there.
Speaking of portraits, it's also disappointing that the OnePlus does not use that 3.3x telephoto camera for portraits. No, no, it only does a digital 2x crop in with the main sensor, which is... weird. The Galaxy S22 Ultra, of course, uses its 3x telephoto lens for more "honest" portraits.
Selfies also look a lot better on the Galaxy with more lively colors compared to the bleaker tones on the OnePlus.
When you zoom in, particularly in long-range zoom, the Galaxy just kills it thanks to having a dedicated 20x zoom camera. However, the OnePlus holds it together surprisingly well, considering that 20x is a digital crop from the 3.3x zoom lens.
And, for night time photos, both of these phones have their own Night Mode. The Galaxy does a bit better here, keeping lightbulb bloom to an absolute minimum and capturing great details. But the OnePlus 10 Pro doesn't hold back with some really great colors in many of these shots.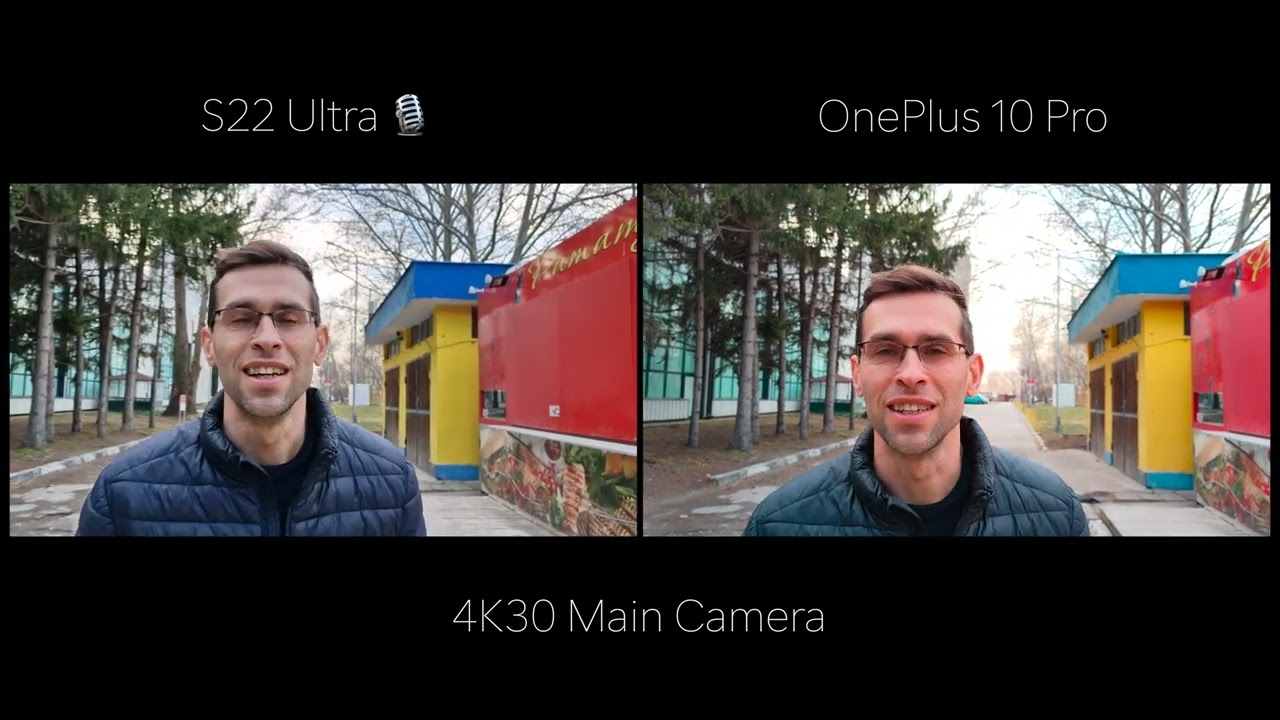 And above you can also see a video comparison between these two phones.
Battery and charging
Both have equally sized batteries, but the OnePlus charges much faster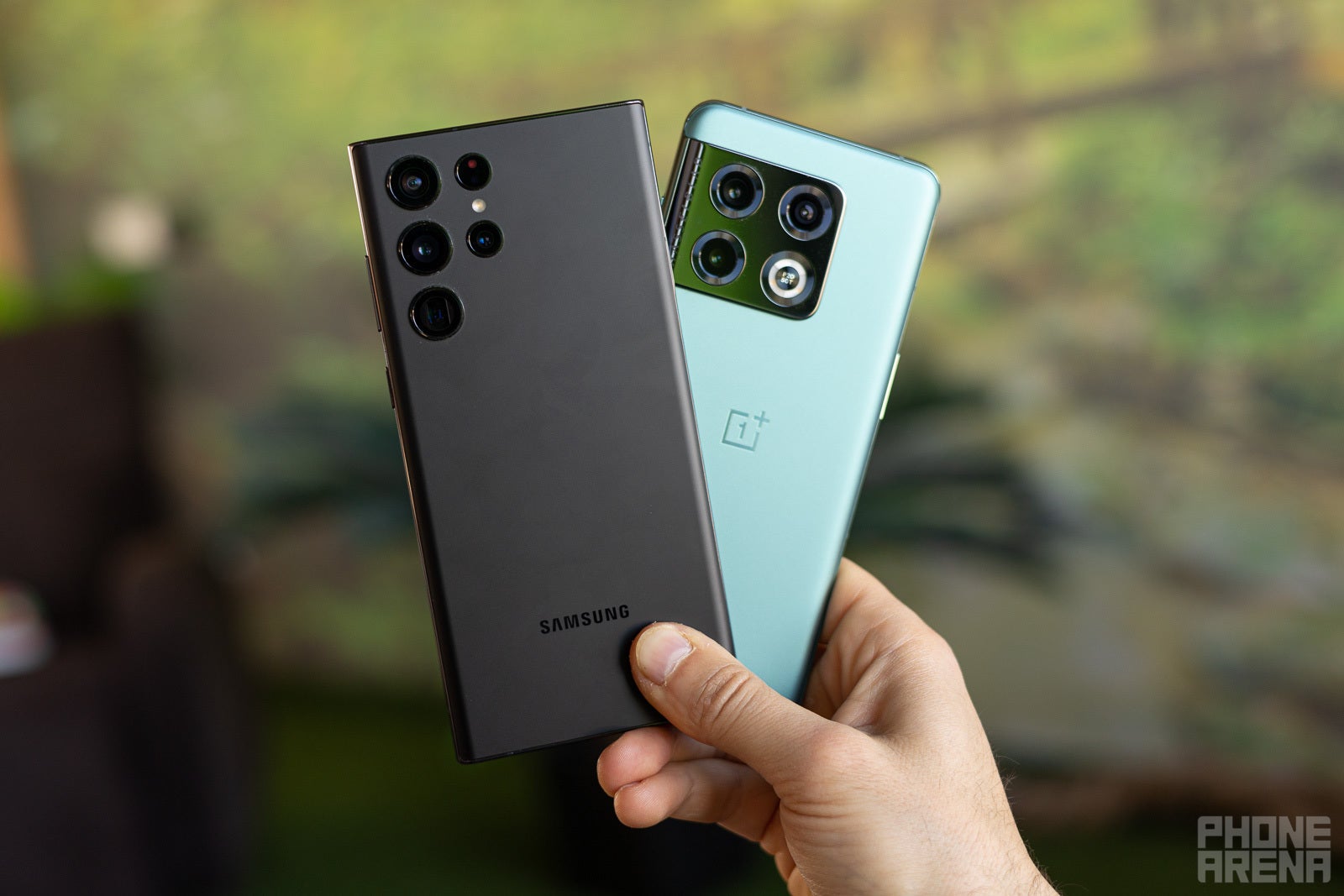 Interestingly, OnePlus has kind of caught up in this one key area: battery! Both phones feature large, 5,000mAh batteries that sound very promising.
But how long do these two phones really last? For that, we turn to our independent battery tests:
As you can see, both phones perform more or less similarly in all important areas — browsing, YouTube watching, and gaming. With the same capacity batteries and the same class of processor, it falls on software optimization to make sure the battery spends its juice evenly. And it seems both companies did similarly here.
Still, in real life, both of these require a charge every night, unless you are very frugal with your use, but even then you'd be better off topping them up daily.
On the charging front, the Galaxy doesn't come with a charger, while the OnePlus has that signature red cable and a charging brick included in the box. And not just any charging brick: the phone is capable of a max charging speed of 80W, compared to 45W top charging speeds on the Galaxy. And you'd need to get that Samsung charger separately.
We measured a full 0 to 100% charge takes 1 hour and 2 minutes on the Galaxy using the 45W charger, while switching to a 25W charger and you get 1 hour and 10 minutes for a full charge. The OnePlus on the other hand takes around 35 minutes for a full charge. Super impressive!
OnePlus is also pushing the boundaries with wireless charging. The Galaxy maxes out at 15W wireless charging speeds, while the OnePlus 10 Pro can do 50W with a compatible OnePlus charger. Again, the OnePlus gets a win here.
Galaxy S22 Ultra vs OnePlus 10 Pro: Specs Comparison
And here is a detailed specs comparison between the Galaxy S22 Ultra and the OnePlus 10 Pro:
Galaxy S22 Ultra
OnePlus 10 Pro
Size and Weight
163.3 x 77.9 x 8.9 mm, 227g
163 x 73.9 x 8.55 mm, 200 g
Display
6.7" OLED, 1-120Hz Adaptive
1440 x 3216 pixels
6.7" OLED, 1-120Hz Adaptive
1440 x 3080 pixels
Processor
Snapdragon 8 Gen 1 in the US
Exynos 2200 for rest of world
Snapdragon 8 Gen 1 everywhere
RAM
8GB or 12GB
12GB
Storage
128G / 256G / 512GB / 1TB, non expandable
128G / 256GB, non expandable
Cameras
108MP main camera, f/1.8
12MP ultra-wide camera, f/2.2
10MP 3X zoom camera
10MP 10X zoom periscope camera

40MP front cam
48MP main camera, f/1.8
50MP ultra-wide, f/2.2
8MP 3.3X zoom camera

32MP front cam
Battery size
5,000mAh
5,000mAh
Charging speeds
45W wired, 15W wireless
80W wired, 50W wireless
Prices
starting from $1,200
starting from $900
Galaxy S22 Ultra and OnePlus 10 Pro final verdict
Both the Galaxy S22 Ultra and OnePlus 10 Pro launched in H2 of 2022, so in terms of available hardware and technologies, they are on equal footing.
The Galaxy S22 Ultra is available across all major carriers (including AT&T, Verizon and T-Mobile), while the OnePlus 10 Pro is carried by T-Mobile, but you can buy it unlocked from major stores like Best Buy (or OnePlus.com) and it is compatible with both AT&T and Verizon's networks as well.
The OnePlus, of course, costs $900 — that's a full $300 down from the S22 Ultra's MSRP. And, for three quarters the cost, you get a phone that is very, very capable of competing with the top dogs. Sure, the Samsung still has the more fleshed-out camera experience and definitely has access to a wider ecosystem of smart devices that you can hook up to your phone. But, for just a phone, the OnePlus 10 Pro is no joke.
What do you think about these two? The OnePlus 10 Pro undercuts the Galaxy in price, but it also does not have a built-in S Pen for doodling or the long-range zoom camera. On the other hand, it does bring the convenience of super fast charging and... an actual charger in the box! Which one would you go for and why?
Recommended Stories