Samsung Galaxy Z Fold 4 vs iPhone 13 Pro Max
8
We may earn a commission if you make a purchase from the links on this page.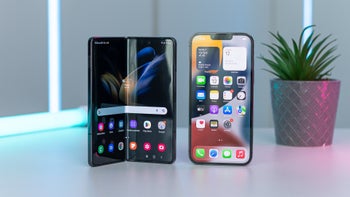 Intro
Samsung's
Galaxy Z Fold 4
is almost a year old now and due for an upgrade really soon — the summer
Unpacked
is coming in less than a month. For the time being, the Fold 4 is the company's most expensive, most high-tech phone. It opens up to a large, square-shaped tablet, it supports an S Pen, and it's somehow water-resistant. A true jewel of tech and the cutting-edge of smartphone hardware.
When it was released, in August of 2022, the best Apple phone to buy was the
iPhone 13 Pro Max
.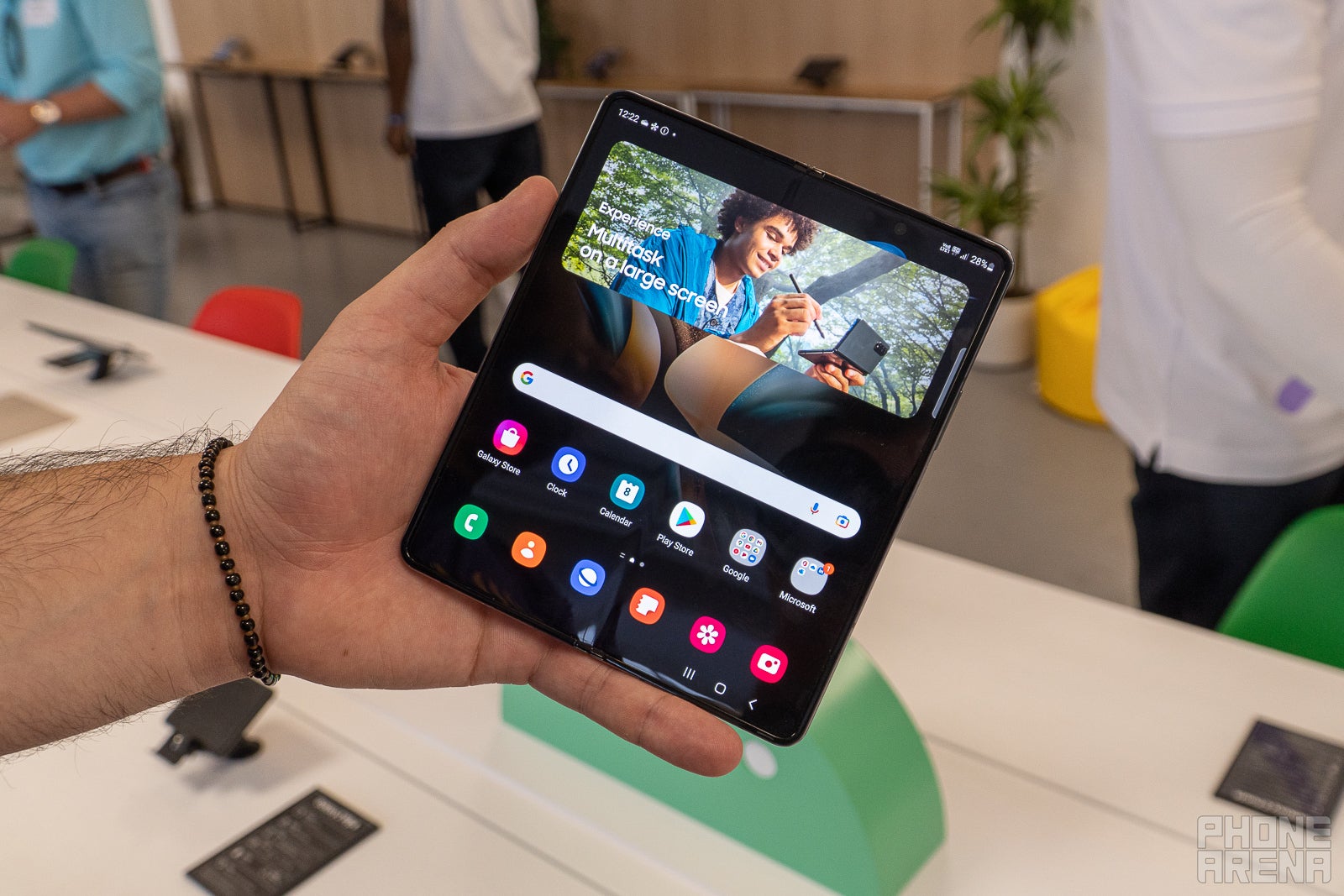 (Image Credit - PhoneArena) Galaxy Z Fold 4 unfolded
So, the most expensive phones from Apple and Samsung, respectively, were the
iPhone 13 Pro Max
and the Galaxy Z Fold 4 and we drew this comparison — we pitted the premium devices one against the other, even though it's a case of comparing apples to foldables.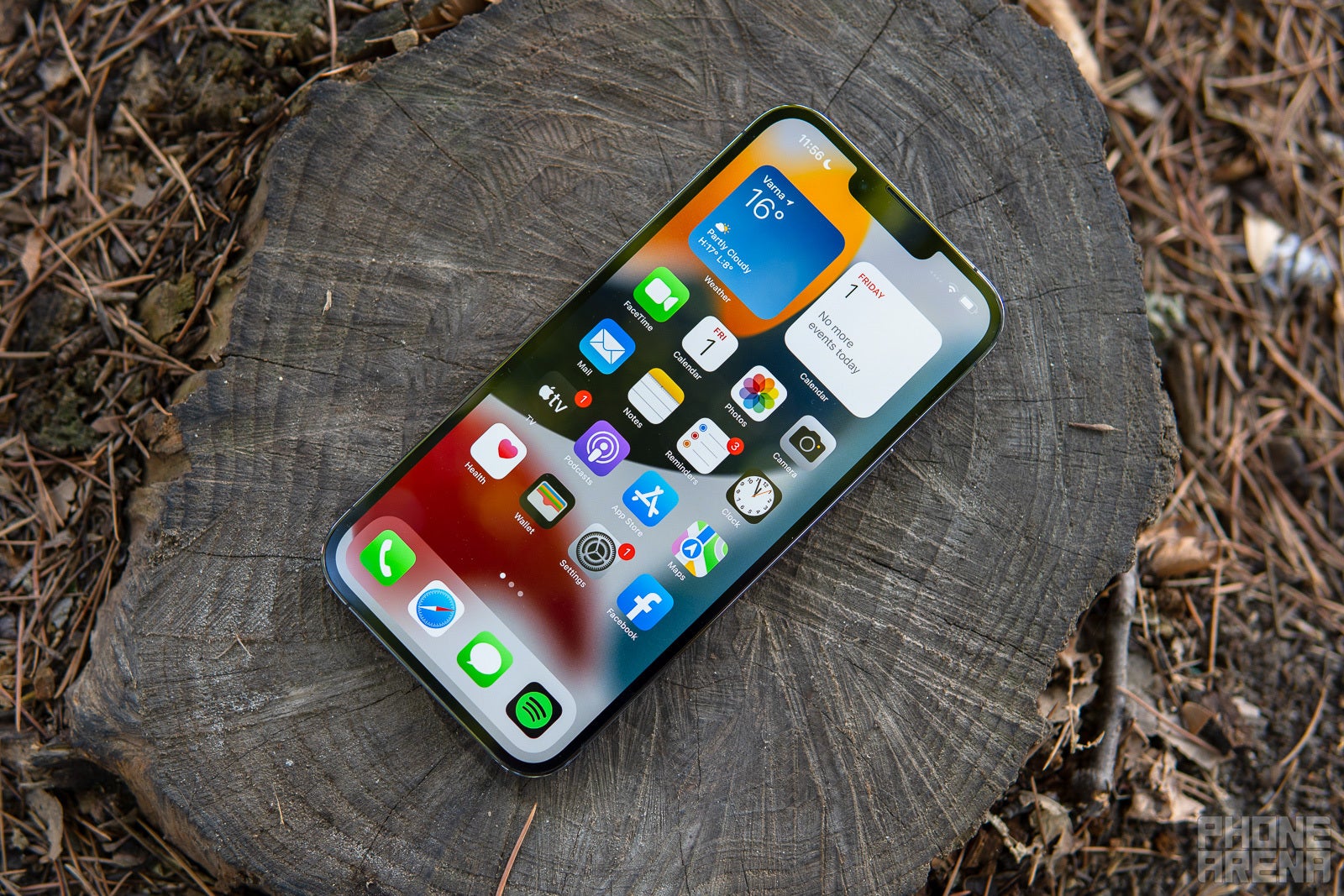 (Image Credit - PhoneArena) iPhone 13 Pro Max can't unfold further than that
Well, let's dive in this topic — should you bet on what has been working so far and go for the familiar iPhone? Or does the Z Fold 4 offer just the right mix of crazy, useful, and novel to get you over on its side? We'll be trying to answer that question more and more. Here's how these two phones stack up:
Galaxy Z Fold 4 vs

iPhone 13 Pro Max

in a nutshell:

Foldable vs classic phablet

Z Fold 4 supports S Pen, iPhone doesn't support Apple Pencil

Z Fold 4 leans into multitasking heavily

We expect similarly good camera results from both

iPhone 13 is a 2021 model
Galaxy Z Fold 4 vs iPhone 13 Pro Max Design and Display Quality
Fold vs slab
The story of how far apart these phones are starts here — with the design and screen sizes. The Galaxy Z Fold 4 has an external 6.2-inch screen, which is tall and narrow, for your regular checking of notifications, emails, and whatnot. Then, once you open it up, you get greeted by a large, 7.6-inch, almost square-ish (21.6:18 ratio) display.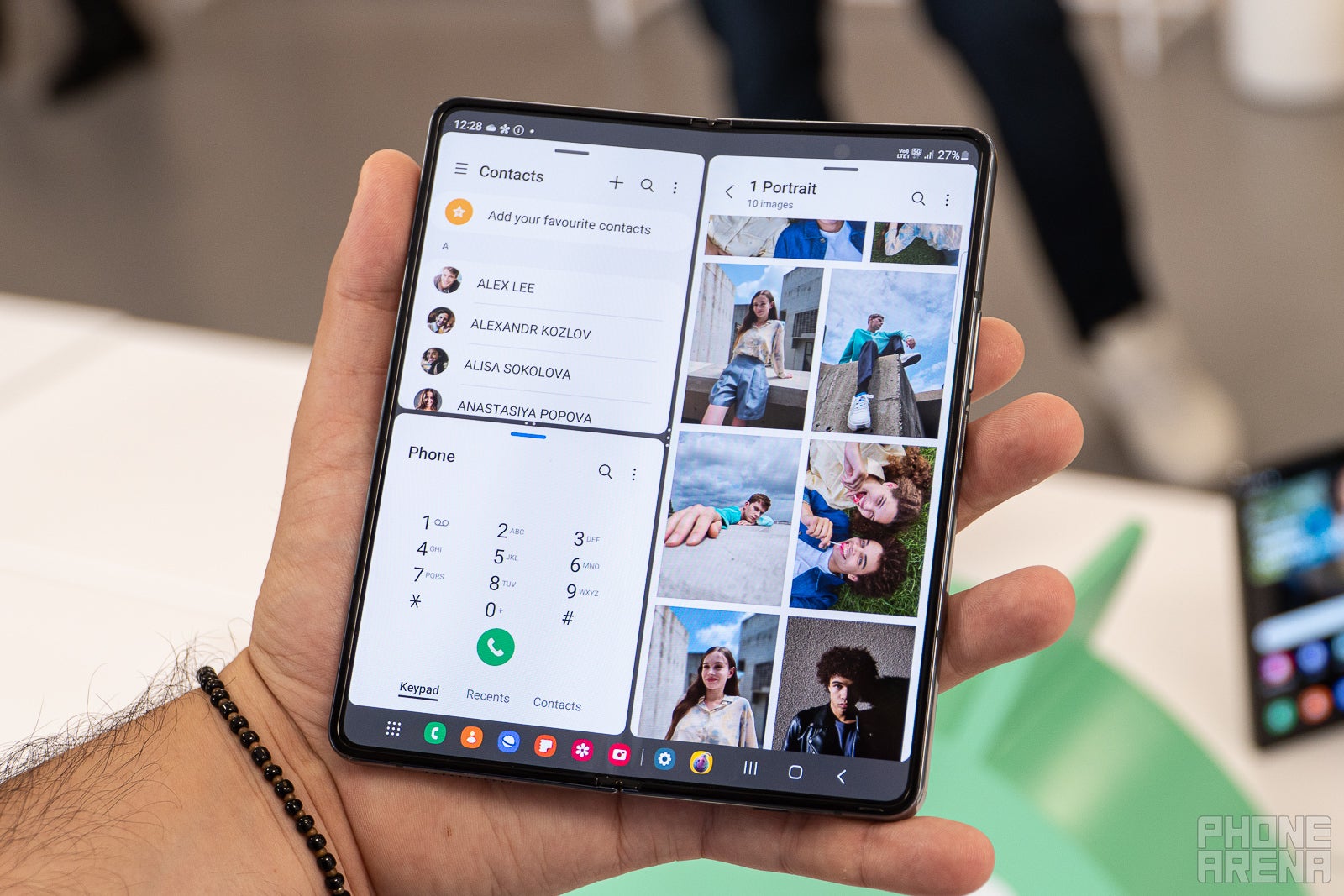 (Image Credit - PhoneArena) Count the apps
This is, of course, great for multi-tasking, viewing large bodies of text, or gaming. When it comes to watching videos or movies, it's kind of wasted, as a video is still (usually) 16:9 or 19:9.
The
iPhone 13 Pro Max
has a more classic phablet design with a 6.7-inch display with a 19.5:9 aspect ratio. So, by regular phone standards, it's still pretty good. It barely scratches the surface of what the Z Fold 4's screen can fit, though, and iOS is not really focused around multi-windows anyway. It can match the Fold when it comes to watching videos and movies, due to the aforementioned letterboxing. But when it comes to multiple windows, or browsing web pages and apps that are optimized for the
foldable phone
factor, the Fold is much more... spacious!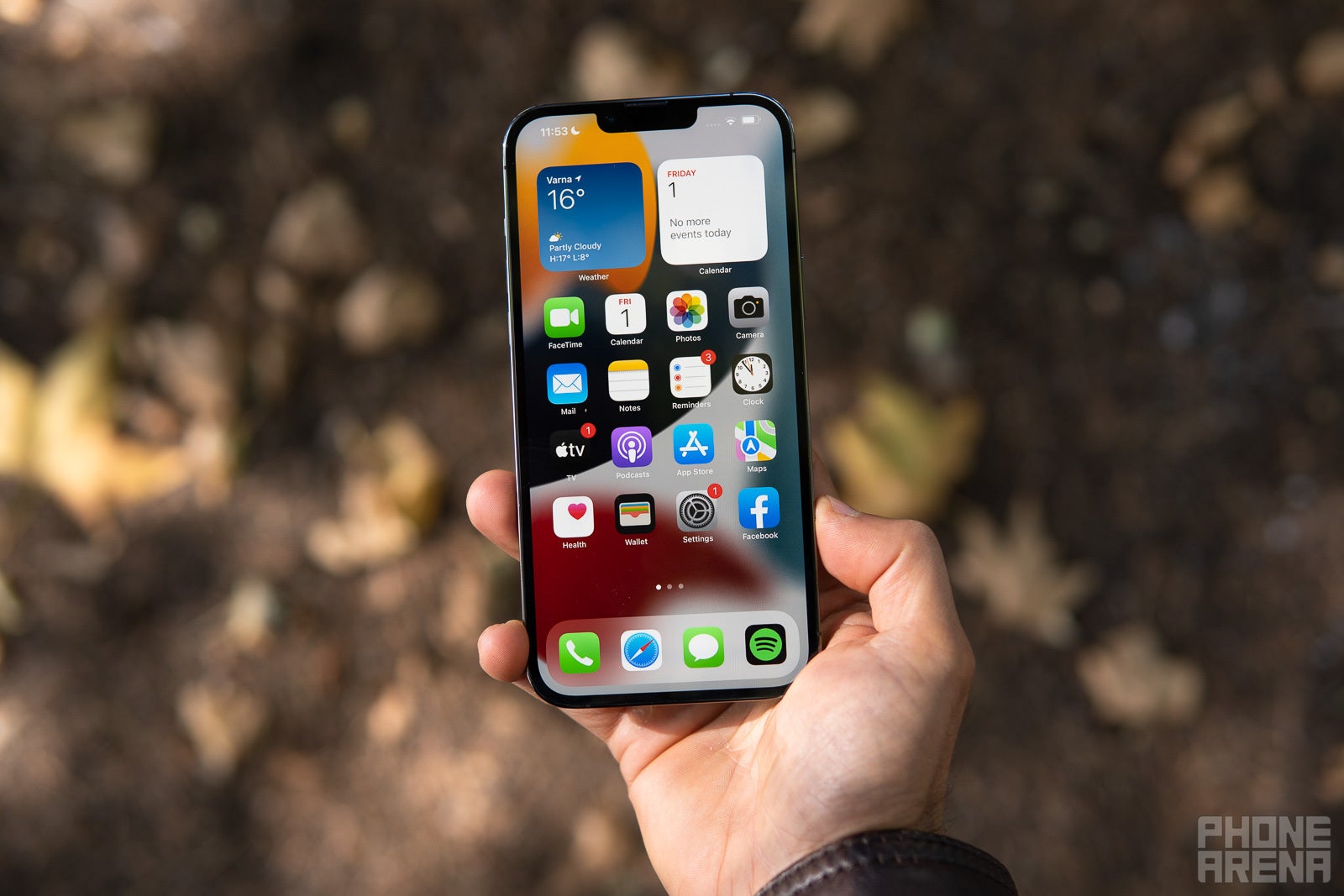 (Image Credit - PhoneArena) Still notching short of spectacular
That aside, both phones can hit 120 Hz refresh rates for super-smooth, responsive, and snappy operations. And both have excellent AMOLED screens, though we do tend to favor the lively, vibrant colors of Samsung's Dynamic AMOLED here.
Excellent brightness, colors, and sharpness on both of these screens. Obviously, the Fold can hold more content, but rest assured that said content looks lovely on each of these displays. Also, as always, Samsung offers two color profiles, one vivid for extreme punch, and one basic for more "realistic" hues.
As for their actual bodies, the
iPhone 13 Pro Max
is dust- and water-resistant, with a rating of IP68. The Z Fold 4 is a bit more prone to damage with an IPX8 rating — it can survive fresh water splashes and submersion of up to 1.5 m, but it has no dust or particle resistance.
The Galaxy Z Fold 4 is fairly thick when its folded in its regular candybar shape, measuring at 0.62 in (15.8 mm) at its hinge side. It weighs 263 g, too. The
iPhone 13 Pro Max
is considered a heavy smartphone, with its 240 g of weight, but it's still a bit lighter than the Fold. It is 0.3 in (7.65 mm) thin, too.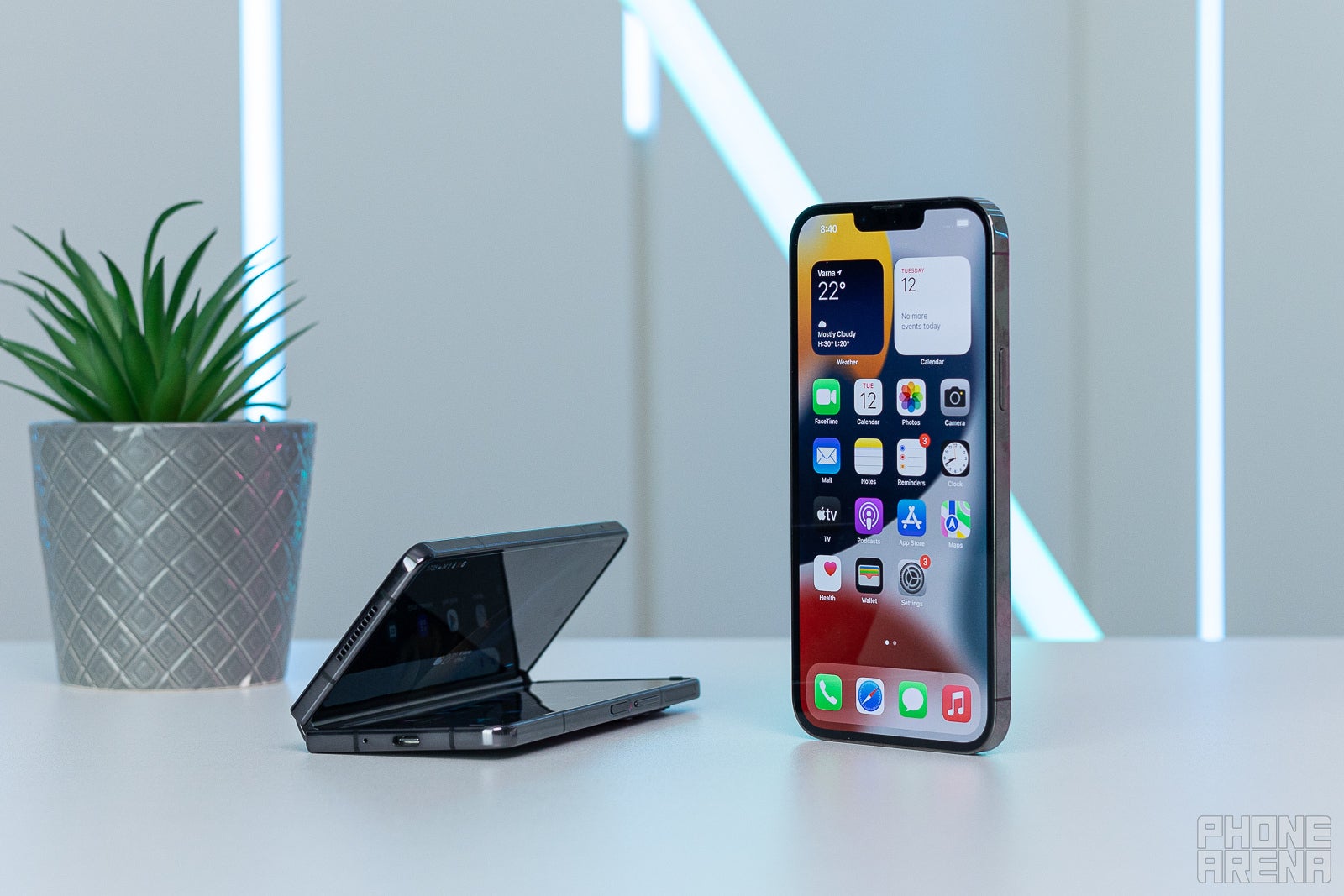 (Image Credit - PhoneArena) Folding it up makes it chunky
But, obviously, these large differences come due to the differing form factors and features these phones offer. When it comes to colors, both are available in classy, sophisticated, grounded hues — blue, green, silver, black, and gold for the iPhone; black, gray-green, beige, and burgundy for the Fold.
Lastly, the way you unlock these phones is very different, too. Apple has Face ID, which unlocks the phone as soon as it gets a glimpse of your mug (with eyes open). The Galaxy Z Fold 4 has a fingerprint scanner embedded in its power button, on the right side of the frame.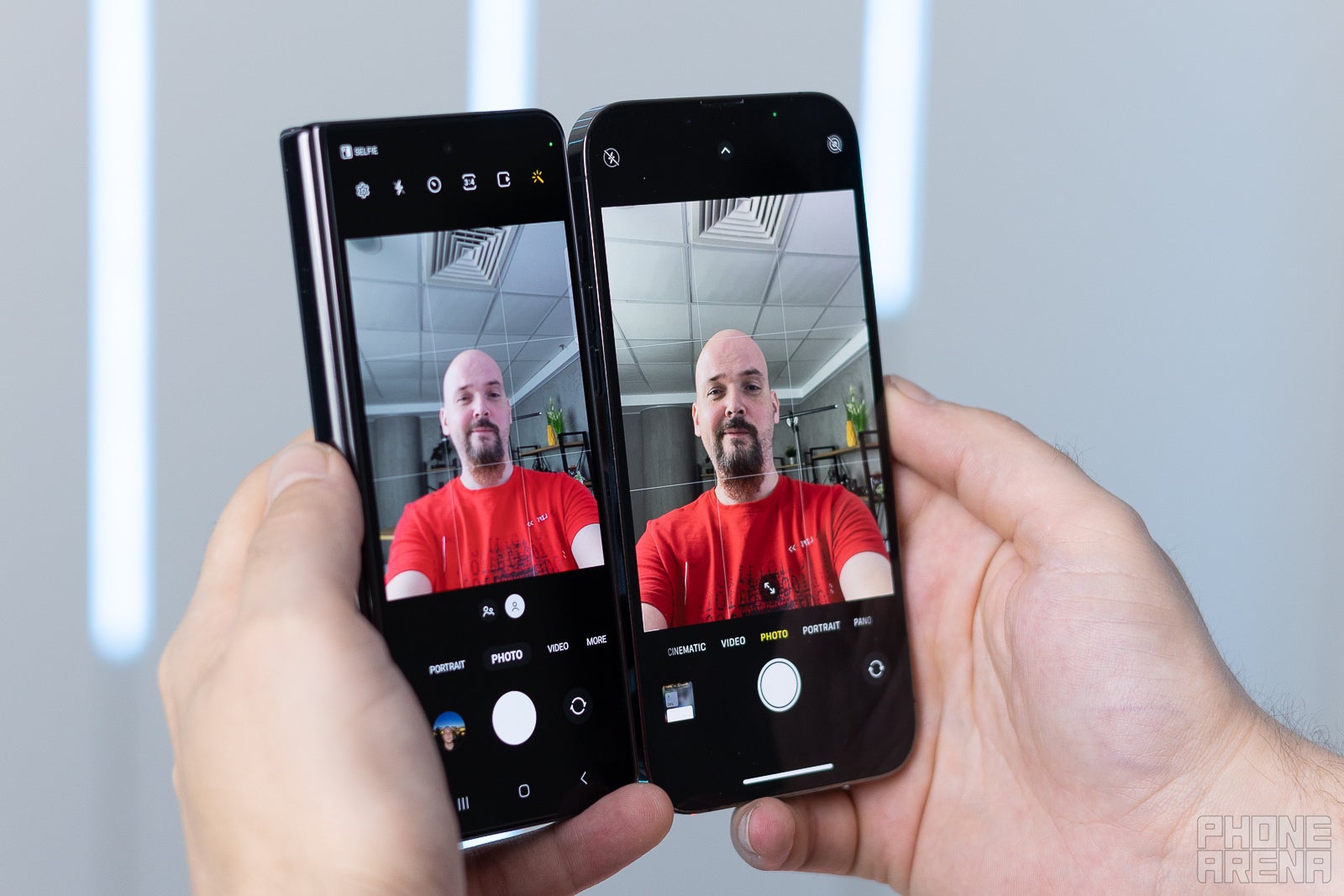 (Image Credit - PhoneArena)
Galaxy Z Fold 4 vs iPhone 13 Pro Max Performance and Software
Best vs best
The Galaxy Z Fold 4 comes with the Qualcomm Snapdragon 8+ Gen 1 — the latest and greatest SoC for
Android phones
with very impressive specs and performance. It's an octa-core processor, built on a 4 nm process, that can hit up to 3.2 GHz and has impressive energy efficiency, especially when it comes to AI tasks.
Apple's iPhone, of course, comes with an Apple A15 Bionic — a hexa-core chip that stands on top of the mobile landscape as a benchmark conqueror. Needless to say, both of these phones are peak performers. It's what you do with them that differs.
Samsung's One UI on the Z Fold 4 is designed specifically with multi-tasking in mind. You have a persistent app dock to switch apps quickly or launch split screen tasks easily. It has the DeX mode on board, which can transform a monitor, TV, or old laptop into an Android-powered desktop work station. And it has support for the excellent S Pen stylus.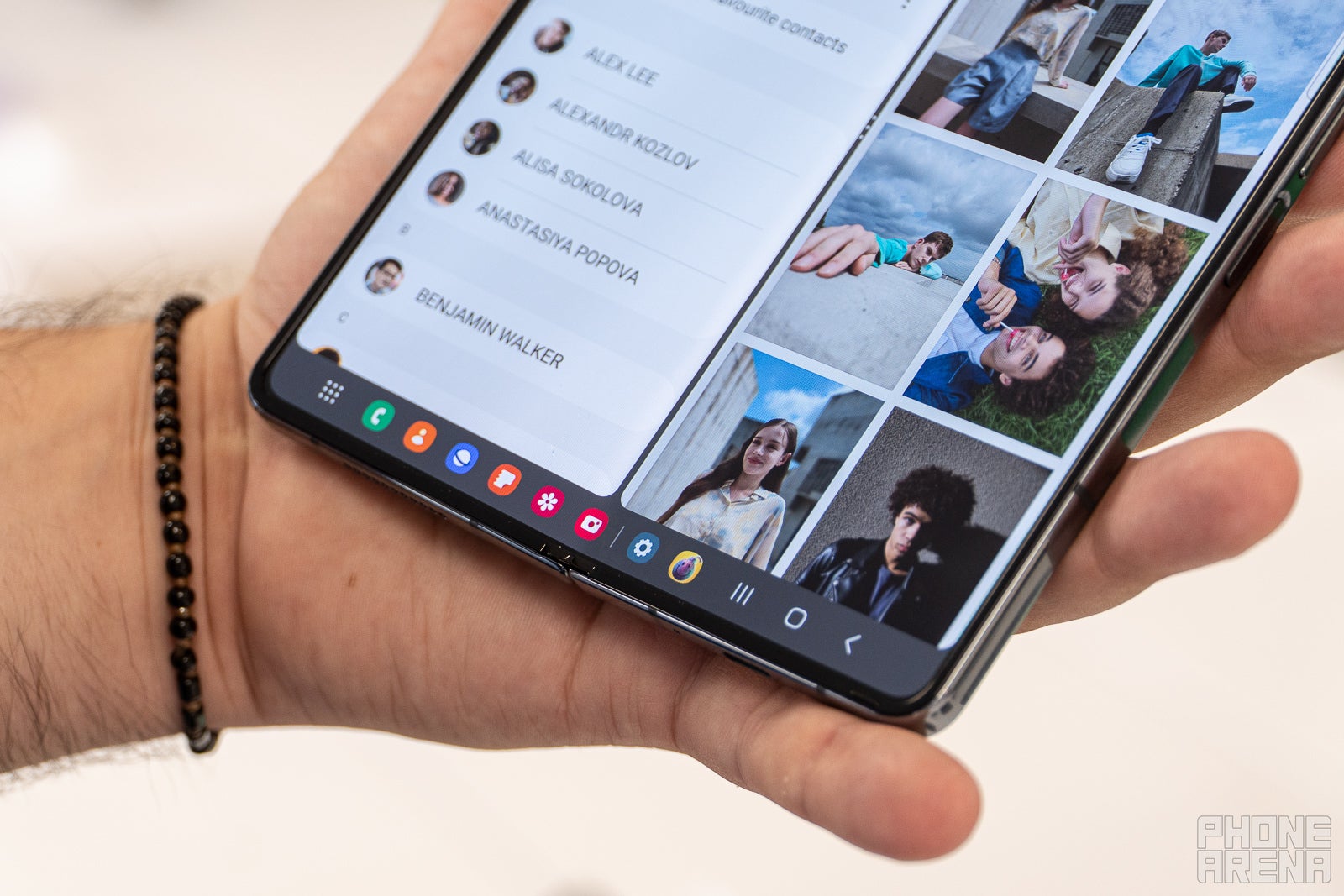 (Image Credit - PhoneArena) An actual taskbar
Apple's iOS 15 is fantastic and stable, but it doesn't really let the iPhone spread its wings too much. Aside from Picture-in-Picture for supported video players, multitasking isn't really on the forefront here. Still, it's a robust operating system, which has proven its worth in terms of reliability and app support.
Galaxy Z Fold 4 vs iPhone 13 Pro Max Camera
A run for each other's money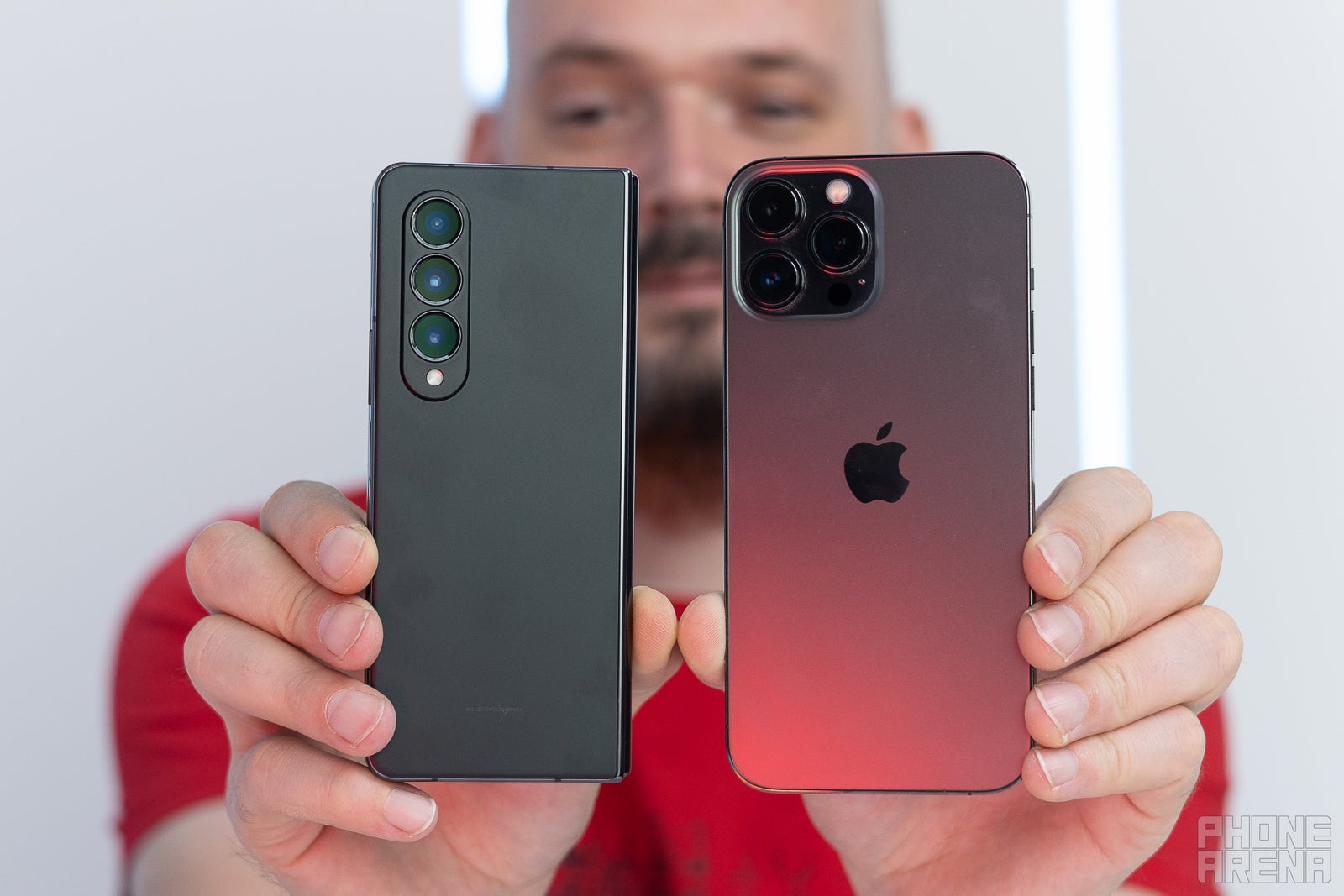 (Image Credit - PhoneArena) Triple camera vs Triple camera
Samsung's Z Fold 4 was upgraded to have a camera module similar to the one in the Galaxy S22 and S22+. That's a 50 MP main wide-angle camera, 12 MP ultra-wide, and a 10 MP camera with 3x telephoto lens. It can zoom up to 30 times with Samsung's Space Zoom technology, which we know from the mainstream Galaxy S series. The
iPhone 13 Pro Max
, on the other hand, has a trio of 12 MP sensors for its cameras, and its telephoto also provides a 3x optical zoom. The maximum the iPhone can go to is 15x zoom digitally and it doesn't look fantastic.
Both of these phones have similar styles and they take spectacular photos. Color temperature seems to be similarly warm on both, and most colors are represented in a similar manner. The Galaxy Z Fold 4 does saturate yellows a bit too much and it washes out reds into a pink hue sometimes.
For detais, it's refreshing to see that Samsung doesn't oversharpen too much. In fact, once we use zoom on these phones — like the 3x telephoto lenses or a 15x digital zoom — we can see that the
iPhone 13 Pro Max
prefers to oversharpen more. That said, at 1x, both phones are neck in neck, and detail capture seems to be better for one in one scene, and better in the other in another.
For ultra-wide lenses, again, great work from both, the iPhone does seem to capture slightly more detail. Also, the
iPhone 13 Pro Max
can use its ultra-wide lens for macro shots, the Z Fold 4 does not.
In any case, it's another stalemate. We do tend to prefer the details and sharpness in the Z Fold 4 photos, but then the colors from the iPhone — in some shots — are closer to reality.
For Portrait Mode, Samsung is doing much better at cropping the subject from the backgrond.
Galaxy Z Fold 4 vs iPhone 13 Pro Max Audio Quality and Haptics
Both phones have stereo speakers, though the setups are a bit different. The Galaxy Z Fold 4 has side-firing drivers on the top and bottom frame (left and right when phone is in landscape), which deliver balanced audio at both ends. The iPhone uses a bottom driver and an amped earpiece, so balance is slightly off, due to the different physical sizes and direction of the speakers.
Both sound really good. If we have to pick a winner — it's the Fold 4 due to the more balanced setup.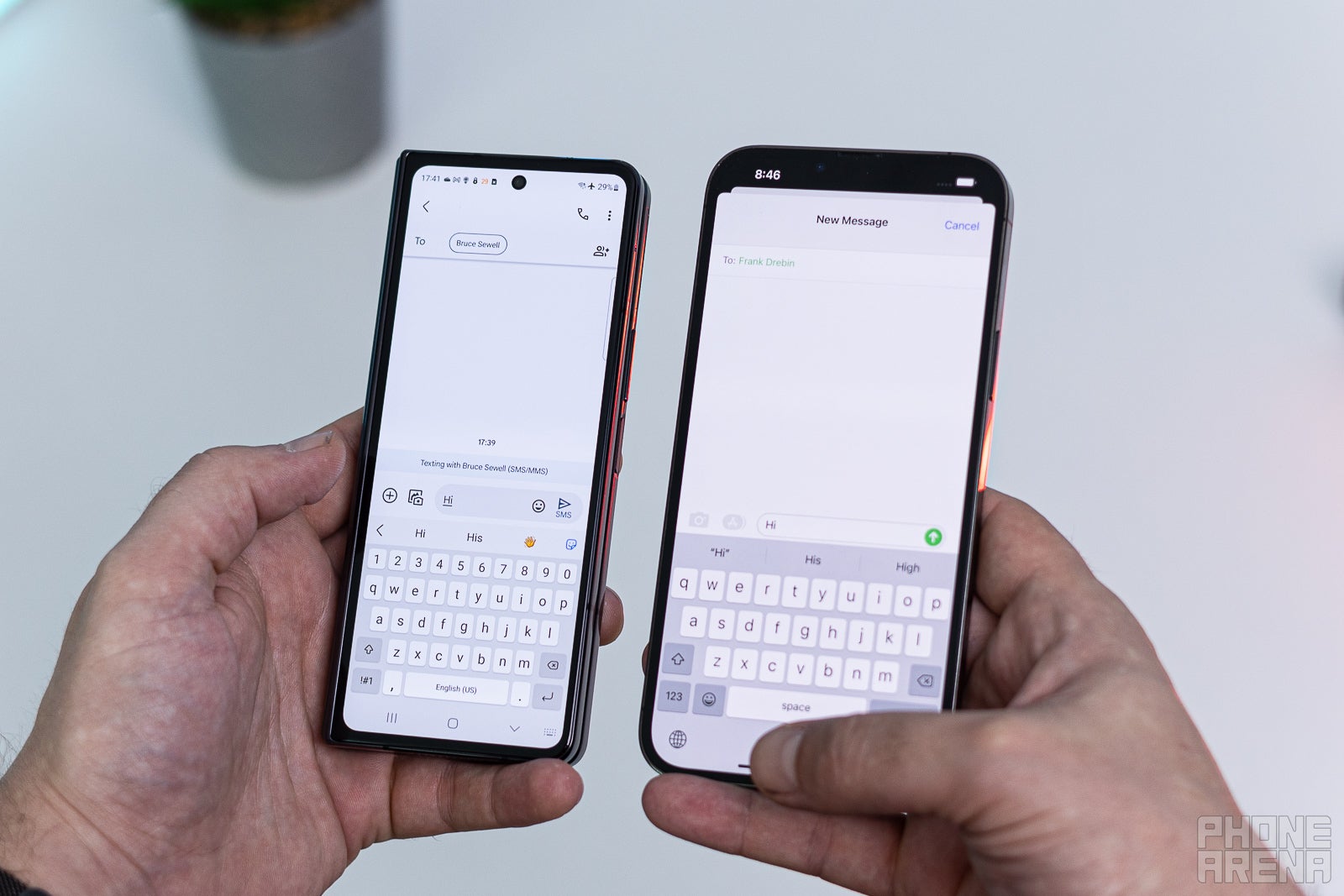 As for haptics, Samsung's vibration motors have been excellent over the past few years, and Apple's Taptic Engine is in a class of its own — both these phones will tick, tack, and clack with nice feedback in your hands.
Galaxy Z Fold 4 vs iPhone 13 Pro Max Battery Life and Charging
One is a champ, the other can last a day
The Galaxy Z Fold 4 comes with a 4,400 mAh battery, same size as its predecessor. While it can confidently last us a day, it's not much of a battery champion — especially if you use the huge internal screen a lot.
The
iPhone 13 Pro Max
, on the other hand, has fantastic battery life, owing to its 4,352 mAh battery and great iOS optimizations. It can last you for two days easily, and you will certainly forget the habit of nightly charging with this phone.
Both devices support fast charging — the Z Fold 4 accepts 25 W, the
iPhone 13 Pro Max
- 27 W. And both have wireless charging coils compatible with the Qi standard.
The Galaxy Z Fold 4 pushes things a bit further, offering Power Share, or reverse powerless charging, so you can top up your earbuds case, Galaxy Watch, or even share some charge to another phone.
Galaxy Z Fold 4 vs iPhone 13 Pro Max Specs Comparison
Here's a more concise overview, but feel free to check out our dedicated Galaxy Z Fold 4 vs
iPhone 13 Pro Max
specs comparison page.
Specs
Galaxy Z Fold 4
iPhone 13 Pro Max
Dimensions
6.11 x 5.12 x 0.25 inches (155.1 x 130.1 x 6.3 mm)
6.33 x 3.07 x 0.30 inches (160.8 x 78.1 x 7.65 mm)
Weight
9.28 oz (263.0 g)
8.47 oz (240.0 g)
Screen
7.6 in, 120 Hz, Dynamic AMOLED
6.7 in, 120 Hz, OLED
Processor
Qualcomm Snapdragon 8+ Gen 1, octa-core, 3.19 GHz
Apple A15 Bionic, hexa-core, 3.24 GHz
RAM
12 GB
6 GB
Rear Cameras
50 MP wide-angle; F1.8; Pixel size: 1.0 μm
12 MP ultra-wide-angle; F2.2; Pixel size: 1.12 μm
10 MP 3x telephoto; F2.4; Pixel size: 1.0 μm
12 MP wide-angle; F1.5; Pixel size: 1.9 μm
12 MP ultra-wide-angle; F1.8
12 MP 3x telephoto; F2.8
Front Camera
10 MP outside
4 MP under-display camera inside
12 MP
Battery Size
4,400 mAh
4,352 mAh
Charging Speeds
Wired: 25 W
Wireless: 15 W
Wired: 27 W
Wireless: 15 W
Price
$1,799.99
$1,099
$1,199 (to match the 256 GB storage of the Fold 4)
Summary and Final Verdict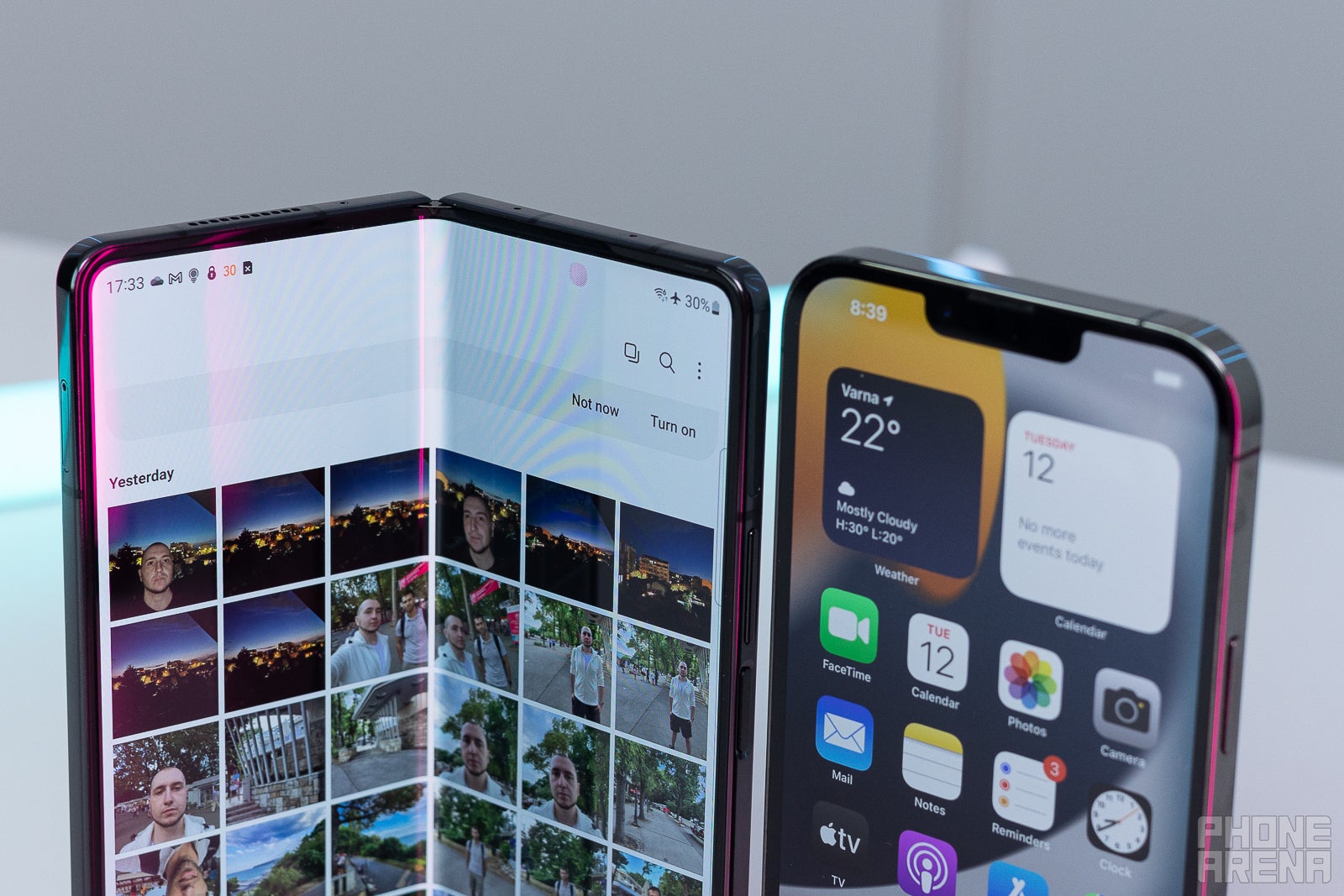 (Image Credit - PhoneArena) Open the flap, double the phone
So, how does one compare these two phones? They are representative of two entirely different types of device. Sure, they are smartphones... one happens to unfold into a semi-tablet-type thing that can display multiple apps and supports an excellent stylus. The other is a staple in the industry.
Obviously, the Samsung is quite a bit more expensive, but if you are looking to dive into that digital nomad lifestyle, trusting that you can be productive on nothing but a
foldable phone
— there's no other device that can give you this experience right now.
If you just want to get a super-solid phone that will be supported for years to come, and that will sync up with your Mac effortlessly — the iPhone is an easy choice.
Tough decision, we know. Which one do you choose?
Recommended Stories