Lease the LG V30+ for just $12/month, or the LG G6 for only $6/month from Sprint
2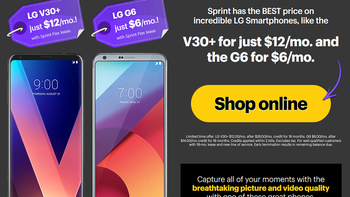 Ok, Mr. Claure. You got our attention, and the attention of many phone fanatics and other consumers in the U.S. After all of the previous deals Sprint has promoted recently, including
last month's controversial 50% off Apple iPhone X lease
, this new deal involving the
LG V30+
and the
LG G6
might finally resonate with the public. For a limited time only, you can lease either model for 68% off the usual lease price, using Sprint's Flex lease plan.
This means that for 18-months, you can pay only $12 a month to lease the LG
V30
+ after taking into consideration the $26 in 18 monthly bill credits that will be applied to your account. The "Plus" variant of the phone is equipped with 128GB of native storage, twice the 'measly' 64GB found on the LG V30. And while the latter doesn't come with earphones pre-packaged in the box, the LG V30+ box contains LG QuadPlay
earbuds
.
The
LG G6
will soon give up its title as LG's flagship phone to the
LG G7 ThinQ
. Sprint, trying to empty its warehouses of the device with the new model close at hand, will lease you the handset for $6 a month after the $14 a month bill credit is applied. Again, this is an 18-month lease, which means you need to keep the device in good condition.
After the 18-month lease ends, you can continue to lease the device, walk away from it, or buy it for the purchase price option minus the amount paid over the 18-month lease period. That figure can be paid off in 6 monthly installments. The current retail price of the LG V30+ is $912 and $480 is the current cost of the LG G6. And the $30 a line activation fee is waived if you call or order online.
If you don't mind leasing your daily driver (we strongly suggest that a case be purchased), this is a great way to grab a top-shelf handset at a very low monthly price. You can check out the deal by clicking on the sourcelink, or by visiting your local Sprint store. Tell them Marcelo sent you.
source:
Sprint