Consumer organization says Sprint's promotion of its 50% off Apple iPhone X deal is misleading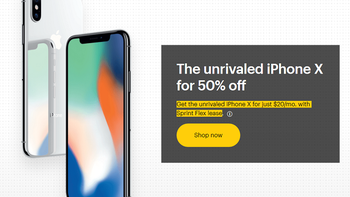 Some consumers are getting the idea that
Sprint will sell them the Apple iPhone X for half price
. But the truth of the matter is that last week, the nation's fourth largest carrier said that it will
lease
you an
iPhone X
for half off. And while that works out to just $20 a month, when the lease ends in 18-months, guess what? You don't own the phone. And during the lease period, you have to make sure to keep the phone in good condition.
If you're a member of Sprint's iPhone Forever program, you can return the
iPhone X
after 12 payments and exchange it for the latest model. At that point, the 18-month lease starts anew. If you aren't a member of that program, or fancy another phone, after 12-monthly payments you can exchange your iPhone X for that new handset you want. This will require a $5/month add-on to the lease price, and the 18-month lease period starts over.
At the end of the 18-month period, if the Sprint subscriber is still leasing the iPhone X from Sprint, he or she can buy the phone by paying the difference between the cost of the device and how much he/she has already paid for the lease. That amount can be paid over 6 months. Bottom line, any Sprint subscriber who takes advantage of the 50% off the Flex Lease payments for the tenth anniversary Apple iPhone will save about $100 if he/she ends up purchasing the device.
The problem here, according to ConsumerWatchdog.com's John Simpson, is that Sprint has been using headlines on its website that read "The unrivaled iPhone X for 50% off." Simpson says, "That, to me, is a clear offer that I'm getting an iPhone at half price." But we have to wonder about Mr. Simpson's reading comprehension because immediately under the headline, the carrier writes "Get the unrivaled iPhone X for just $20/mo. with Sprint Flex lease." On the screengrab of Sprint's website that you will find at the top of this story, we highlighted that sentence for Mr. Simpson in yellow so that he could see it next time he visits Sprint's site (and no, we didn't pick yellow because his last name is Simpson).
We are sure that ConsumerWatchdog.com must do plenty of good things for consumers to make sure they aren't ripped off, and that is very important. But in this case, it seems that a little more effort on the part of the organization would have allowed them to understand that this was a lease from the get go. A Sprint spokeswomen said that the company was very careful with the wording of the promotion and she blames writers of non-Sprint related publications for the confusion.
source:
KansasCity.com