LG V30 Review
68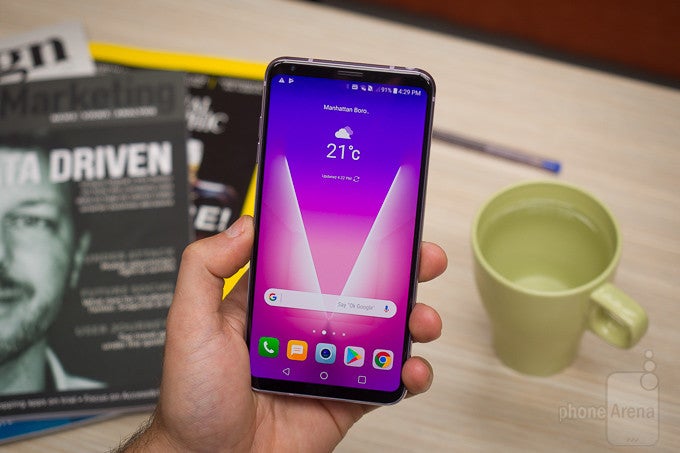 Update

: Read our LG V40 ThinQ review!

This year, you don't have to look far to find a smartphone maker experimenting with something new, shaking up the old ways of doing things. The look of phones is changing, and everywhere from the
Samsung Galaxy S8
to Apple's
iPhone X
, we're seeing the effect that the arrival of super-widescreen displays has on established brands. LG helped lead the charge earlier this year with the
G6
, and in doing so showed us just how ready it was to abandon the old and usher in the new, scrapping the G5's modular hardware in favor of a clean, streamlined look.
But just as Samsung brought a new design to both its Galaxy S and Note lineups, LG's got its own feature-enriched phablet to complement its more mainstream flagship, and this tide of change was inevitably coming to wash over the LG V-series, as well.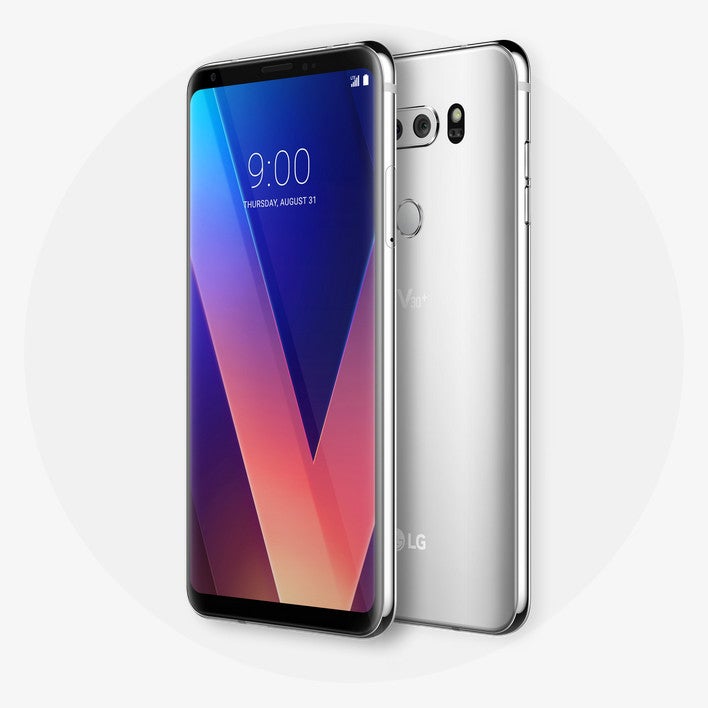 Sure enough, the
V30
is a radical departure from the
V10
and
V20
. Now, those were both some seriously beloved handsets, with particularly vocal fanbases – not something every smartphone, or even a significant fraction of them, can say for themselves. So for LG to go and turn things on their head, shattering user expectations in the process, is a major deal. Is the V30 really so compelling that shoppers won't miss what didn't make it over from the V20?
When we first got to meet the V30 back around the time of IFA 2017 at the end of August, we went hands-on with an early preview edition of the hardware: maybe 95% of the way towards the final product, but with LG still making some last-minute adjustments before the phone was ready to go up for sale. Well, retail availability has finally landed, and that means it's time for us to turn our attention back to the V30 and really put this hardware under the microscope; what can it do, how does it stack up to the rest of the smartphone pack, and just how strongly will it appeal to ardent V20 fans?
We've been putting together some answers to those burning questions – read on to find what we learned.
In the box:
LG V30
Quickcharge 3.0 charger
USB Type C to standard-A cable
Warranty card
Welcome guide
SIM tool
Cleaning cloth
Design
If you thought the G6 was too boxy, the smooth, rounded V30 could be just what you're looking for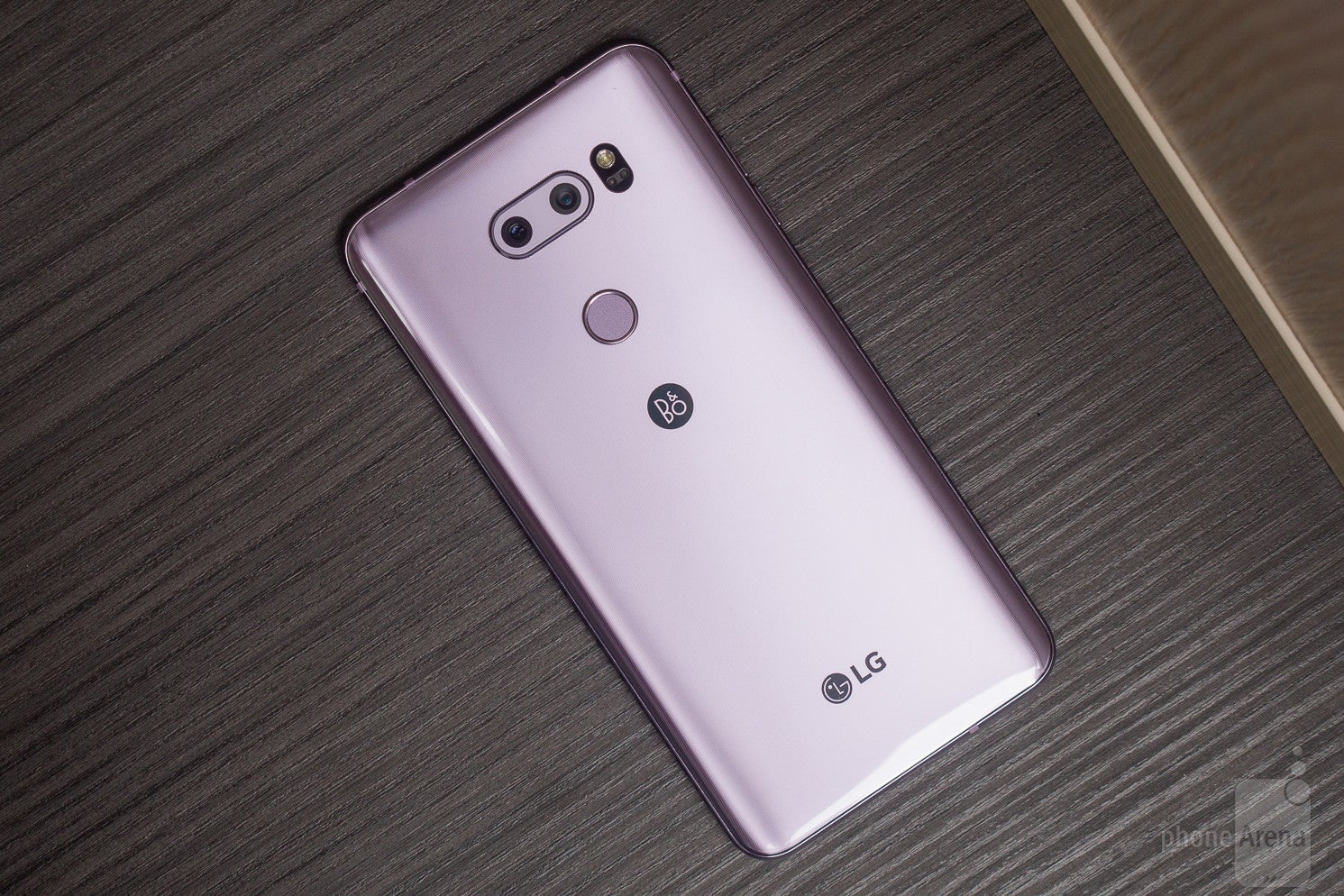 Just as this year's G6 is a radical departure from 2016's
G5
, the V30 shares very little in common with the look of last year's V20. The V30 is smaller, lighter, and built from different materials. But while LG's definitely not afraid to take the V series in a new direction, there are still traces here of what we liked about how previous V phones were put together.
But metal back? Out. Removable rear panel? Forget about it. In fact, from a pure design standpoint, it makes a lot more sense to compare the V30 to the G6 than the V20. Like the G6, we've got another face-filling 18:9 aspect ratio screen. We'll talk about that panel's performance in just a moment, but insofar as design goes, compared to the G6, LG has seriously upped the ante with the V30. Bezels are reduced here, letting the V30's screen expand to fill even more of the phone's front panel – here, just under 82% – and while we don't get a curved over-the-edge display like on a Samsung phone, the use of curved glass does give the V30 a sleeker, more streamlined look than the G6.
Don't get us wrong: we've got a major soft spot for the rigid, squared-off look of the G6. But it's impossible to deny that the design of the V30 feels like a more mature version of that initial effort.
Like both the G6 and V20, the V30 gets a pair of rear cameras, mounted atop the combination fingerprint scanner/power button. Like the former and unlike the latter, those are all surrounded by a sea of glass. Underneath you'll find an array of finely textured lines, helping to catch and reflect light; the effect isn't quite as pretty as we see from Honor flagships, but it's a noble effort, all the same.
Up top we've got the V30's headphone jack, which the phone admirably holds onto – and while other phones have dropped that entirely, LG continues to double-down with not just the presence of that port, but also a dedicated quad-DAC for pumping out the highest-quality tunes possible.
On the right, there's just the combination SIM/micro SD tray, and on the left – the phone's volume buttons. Down below lives the USB Type-C port and the V30's speaker.
Thanks to the new screen shape, the V30 is able to cram a six-inch screen into a package that's more petite than the V20 in every dimension, but maybe most significantly when it comes to the phone's height, which at 151.7mm is five percent shorter than the V20. That makes reaching every corner of the phone that much easier with one-handed operation. Really, the new V30 isn't that much larger than the G6: just about 3mm taller, 3mm wider, and 0.5mm thinner; that's right, the bigger-screened V30 is actually thinner than the G6.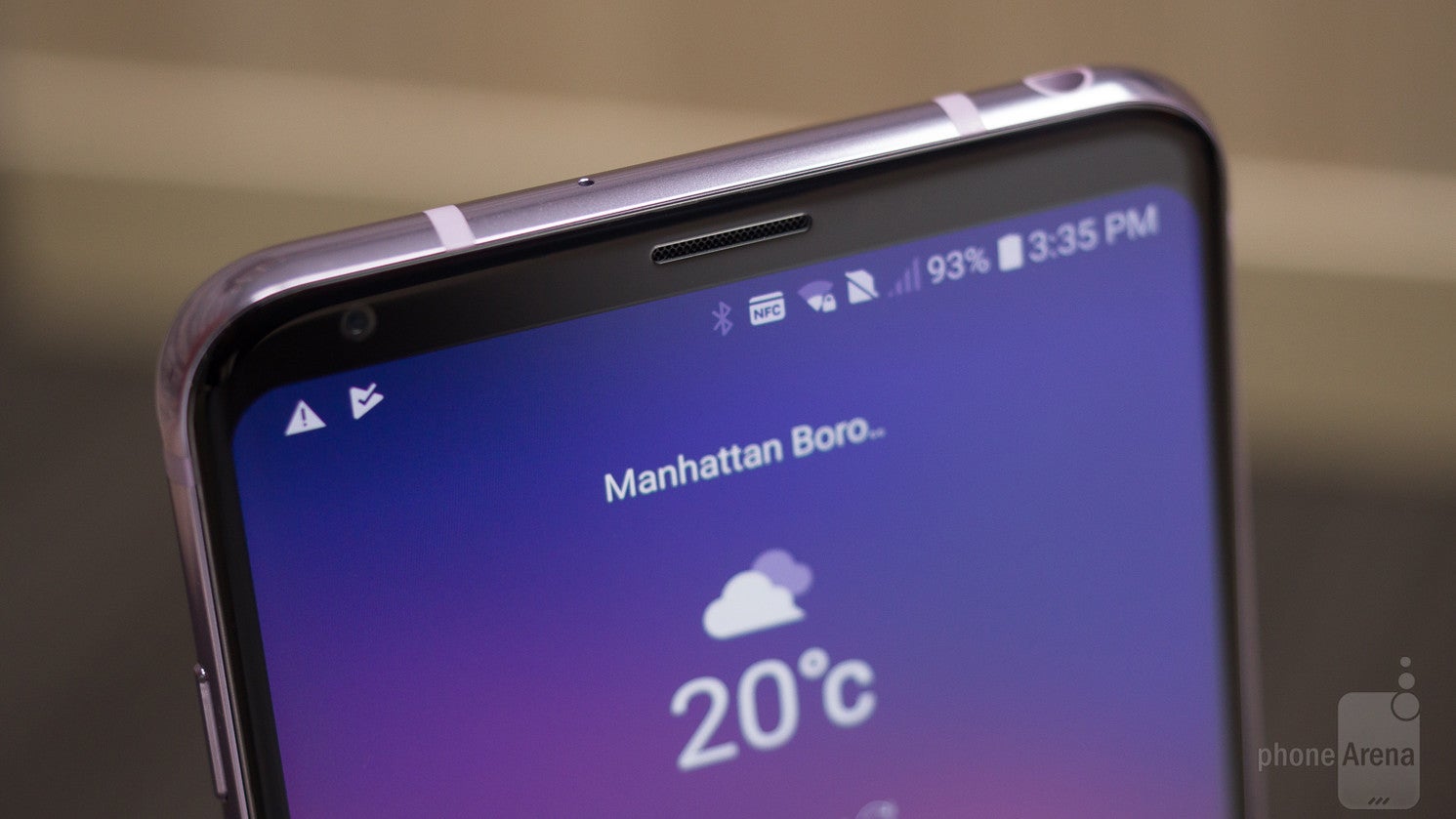 While some users will miss the V20's removable back (and correspondingly replaceable battery), sealing the V30 up as tight as it is does deliver one very nice benefit, as the phone carries an IP68 rating for water resistance.
All this comes together to give us a fantastically dense, well designed phone. Past V-models were good too, but maybe leaned a little too far into feeling "big." The V30, meanwhile, manages to stick to the core functionality users need while taking a form that feels refreshingly compact. You won't mistake this handset for an iPhone, sure, but you won't feel like you have a tablet in your pocket, either.
Display
A promising display that's nonetheless haunted by issues with uniformity
LG introduced us to the 18:9 extra-wide smartphone display on the G6, but the panel on the V30 isn't just a simple rehash of that screen. While we're looking at another screen with a pixel-dense 2880 x 1440 resolution, instead of an LCD like on the G6, the V30 goes with a low-latency OLED display. Beyond spelling support for Google Daydream, that means the promise of super-saturated, extra-bold colors.
Indeed, that's just what we get on the V30, but like with so many other OLED screens, we're trading color accuracy for that bigger-than-life look. Nothing's so bad as to have us disliking how content appears on the V30's display, but don't treat it as the gold standard by which other screens should be compared, either.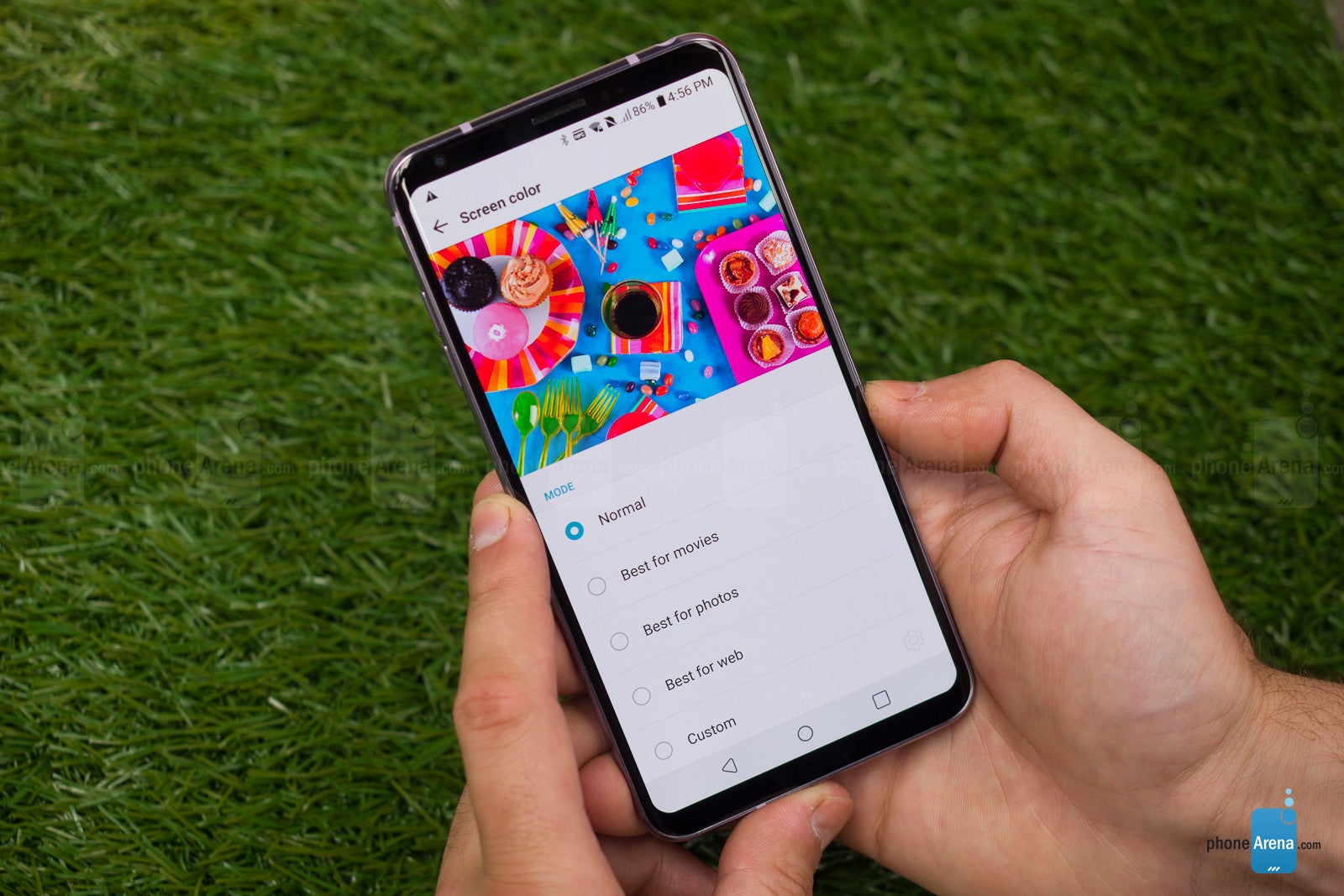 Brightness is decent, and while output comes in a bit below that of the G6, it's not so low as to cause problems – at least with auto-brightness engaged (max output takes a more substantial hit when you're manually controlling brightness).
Like on the G6, curved corners are back, and those on the V30 look just like they did on that model. That is to say: they're not perfectly round, and feel a bit more like smoothed-off 45-degree angles. But since our introduction earlier this year, we're now far more at ease with the very idea of losing screen corners in the first place, and the implementation here doesn't leave us with any objections.
LG also arms the V30 to take advantage of the coming onslaught of HDR-enhanced video content, ready to reproduce such footage with all the extra detail it promises. While availability of such videos is still limited, it's getting better all the time. And for those of you who have been tracking the various formats, the V30 supports HDR10 video.
This all sounds just fine, but fans of the V10 and V20 have no doubt already noticed what we're forgetting: a secondary screen. Those phones both offered secondary mini-screens that sat perched above the main display, ready to offer app shortcuts, easy access to phone features, and much more. In fact, before the V20 arrived with its dual cameras, this was THE defining feature of a V-series phone.
While the V30 is missing the extra screen, all the functionality remains in the form of a new "Floating Bar." When enabled, the bar lives tucked away on the edge of the V30's screen – you can drag it around anywhere you like – and then tapping it causes the bar to fully expand, giving you access to its shortcuts. Some users may feel that this is a bit of a cop-out, but look at it this way: the new 18:9 screen on the V30 is just so big that there's literally no room for an extra screen, so it was either a matter of wasting space and making the phone bigger, dropping that functionality altogether, or taking this, the software route. We might have been able to live without it at all, but the Floating Bar is a nice extra to have, and all things considered, this is one compromise we're happy to make.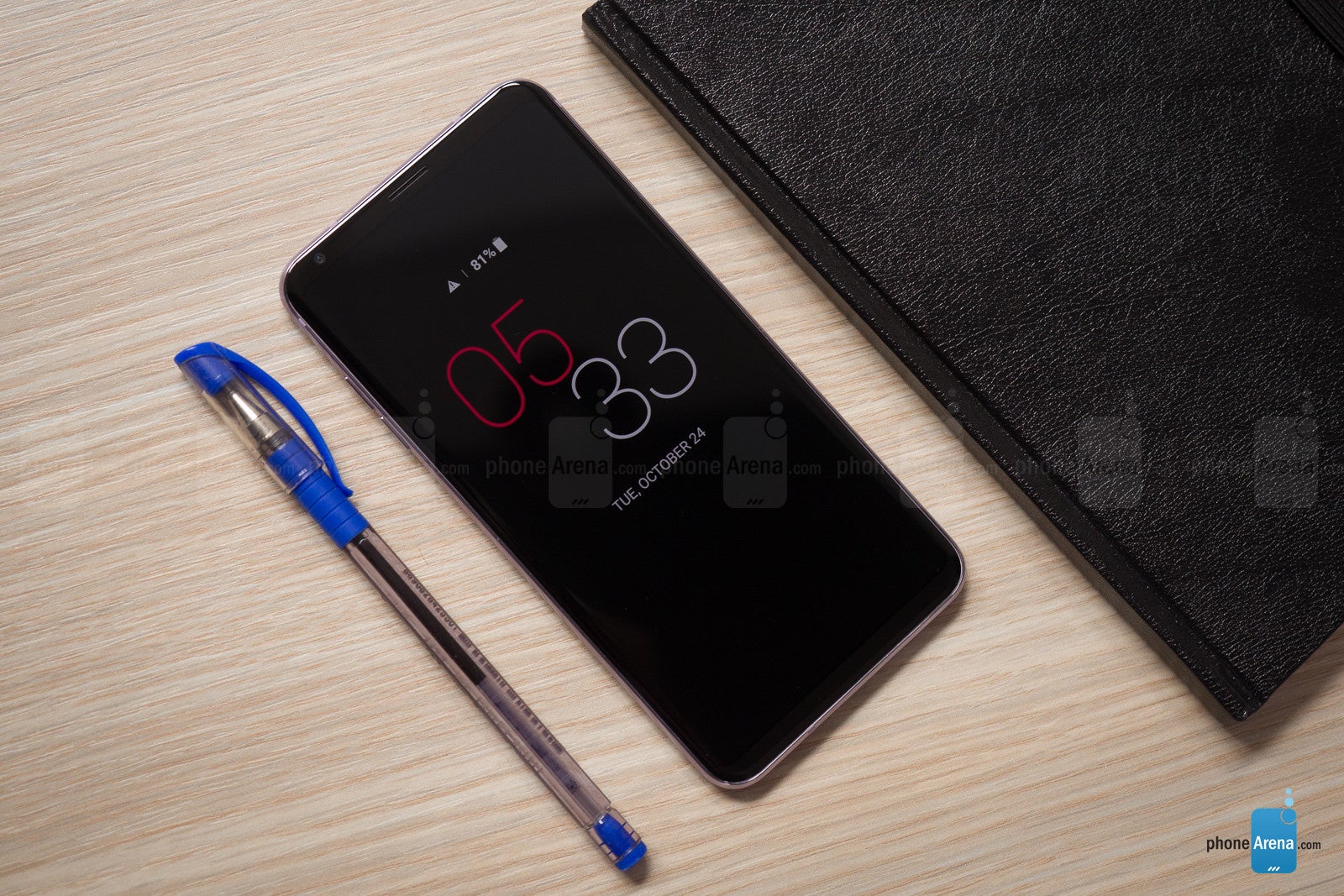 The always-on display
LG also taps into the screen's OLED roots to deliver a nice always-on display mode, offering adjustable brightness levels (to help conserve additional power), and serving to further cushion whatever blow users may feel from the absence of the dedicated secondary screen.
Undermining perhaps all of the other qualities of the V30's display is an apparent issue with screen brightness uniformity. On our review unit (and we've heard similar complaints from other users), viewing a pure white screen doesn't result in consistently bright output across the entire panel. Instead, there are splotchy areas of dimness here and there.
When you're viewing very "busy" imagery, you're probably not going to notice this at all. But when looking at big, uninterrupted block of color – like the background of an app's menu – the effect can be annoyingly prominent. It's not necessarily a full-on deal-breaker, but for a phone this seemingly premium, it's an unsightly and embarrassing blemish.
Display measurements and quality