LG G6 Review
99+

Introduction
Smartphones are changing. And not in the sort of standard "slightly faster than last year, and with a marginally better camera" way that ends up defining so many popular handsets. With the fresh crop of 2017 flagships just beginning to land, we're seeing the arrival of a new direction for one of the most familiar, fundamental components of a smartphone's hardware makeup: the display. And while it may not turn your day-to-day interactions with your phone on their head, changes are coming that threaten to tweak the way we hold our phones, operate them (especially one-handed), and consume media.
With the LG G6, the manufacturer invites us into the new world of the 18:9 screen. For years now, the standard 16:9 display has dominated smartphone sales – even Apple (reluctantly) joined the party – but this year we're finally seeing the companies that make our favorite phones start trying something new. And while LG may be the first, all the leaks we've been seeing of upcoming hardware certainly suggest it won't be the last.
This new extra-wide (or extra-tall) shape for the G6's screen is a big part of what makes this phone so interesting, but that's far from the only design decision worth paying attention to. We've got a sleek new look with no appreciably camera bump, a premium, glass-encased metal body that trades its removable battery for water-resistance, and built-in wireless charging (for some of you).
Add to that things like a no-compromise, full-resolution wide-angle camera, and Google's latest software and services, and we've got what looks (on paper, at least) like one of the most compelling new smartphones to land so far this year.
Does the LG G6 deliver on all of its potential, or will it follow more in the shoes of the
G5
and its modular hardware: a possibly good idea, but one quite thoroughly ruined by some bad decisions about its implementation and marketing? Let's waste no more time before getting deep into what you can expect from one of the year's first big-name flagship phones.
LG G6
USB Type-C to standard-A cable
Quick charger
SIM tool
Design
LG finds success by being willing to try a bold new look for its flagship
The LG G series has long been one defined by its design. From the
G2
(the first to drop the old "Optimus" branding) through the
G4
, that meant lots of unusual rear-mounted hardware buttons, including the volume rocker. And even though LG returned to more traditional volume controls for the G5, the rear power button remained – while upgrading to pick up an integrated fingerprint scanner.
But with the LG G6, we're looking at a company that has decided "enough with the past." Sure, we've still got that rear power button, but to a very large extent, LG has decided to tackle the look and feel of the G6 from the ground up. And as it would happen, that's a very good thing.
We're going to pivot back around to LG's crazy-wide-screen display in just a moment, taking a closer look at what it offers (and why), but it's impossible to talk about the design of the G6 without putting the phone's screen front and center. While this isn't a phone that strives to offer a stunning bezelless or otherwise over-the-edge display, it's still one that's particularly eye-catching if only because of the spectacular job that screen does at filling the phone's face.
LG quotes an 80-percent screen-to-body ratio, and while that's not quite the highest we've ever seen (thanks to entries from companies like Xiaomi), it still goes a very long way towards making it feel like you're not so much holding a phone with a screen on it, but that you're just holding a screen. Little details like how the curves at the corners of the display mirror the curves of the phone itself really help sell that that illusion.
The rest of the G6's body is similarly refined. A solid-feeling metal frame helps you get a good grip on the handset, and while the phone's back looks like brushed metal, as soon as you pick it up you'll realize it's protected by a pane of glass. Yet while the G6 is glass front and back, it's not a model that suffers a lot as a result; the phone still feels surprisingly durable, and resists showing off stray fingerprints – helping to keep it looking as premium as possible.
Speaking of durability, LG blesses the G6 with an IP68 rating for dust and water resistance. That's been a long time coming, and while it's hard to get overly excited about when so many other phones do the same thing, it's still fantastic to see LG step up to join the rest of the pack. We used the G6 in conditions ranging from a light drizzle to a heavier downpour, and while the phone showed some of the expected touchscreen glitches when actively covered in water, it also suffered no permanent damage.
Display
The G6 feels like it's more screen than phone – and we love it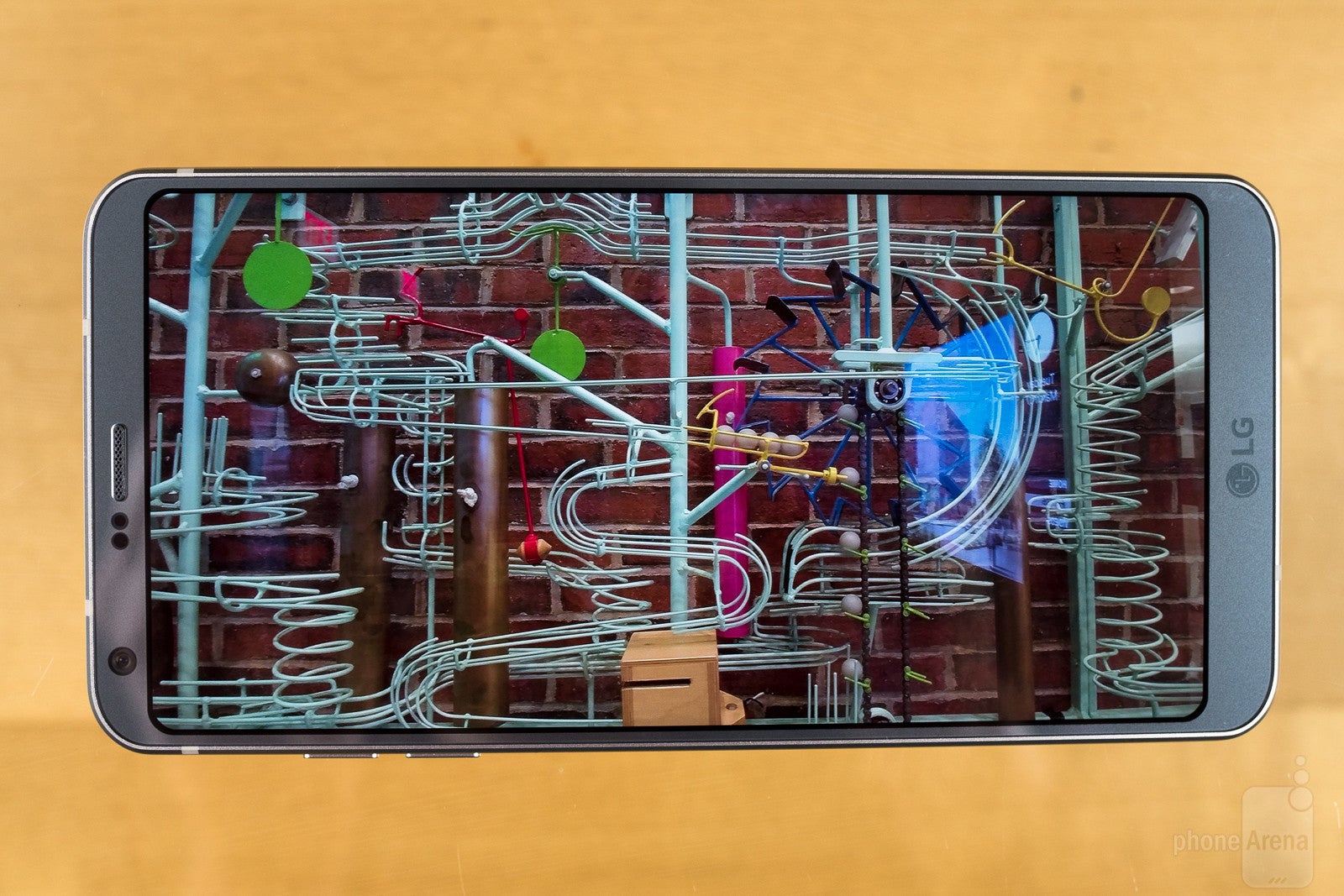 LG's flagship phones have played around with screen sizes for years, usually bouncing around the low-to-mid 5-inch space. With the G6, though, we step up to a panel that's solidly in phablet territory – though you might not appreciate that to actually use the phone.
The G6 is built around an all-new 5.7-inch LCD screen with a 2K-class (1440 x 2880) resolution, rounded-off corners, and featuring an extra-wide 18:9 aspect ratio.
We could spend this entire review just talking about the unusual new display LG chose to use on the G6 – what's changed, why that matters, and how it all ultimately impacts how you'll use the phone – but because there's a lot more to this smartphone that just its screen, we're going to try and show some restraint.
First, though, we've got to talk about the shape. This 18:9 aspect is arguably more properly called 2:1 – that is, the screen's exactly twice as tall as it is wide. Your typical 16:9 phone screen, by comparison, is a bit too short to have the same said about it.
This means several things for how you use the phone. If you're watching regular 16:9 video on it, you're going to see some black bars on the sides. And while it's easy to associate such bars with a feeling of "I'm watching this content on the wrong screen," they can actually work the G6. For one, there's enough wiggle-room such that you don't have to jam 16:9 video right up against those rounded corners, losing some pixels in the process. And the screen's also wide enough that you can call up your virtual on-screen Android buttons without them appearing on top of (and blocking) your video.
The situation with apps is a little tricky, as few are explicitly designed to be used on a screen like this. Thankfully, LG includes an easy-to-use settings panel that lets you dictate how apps are scaled to the screen. And if you don't like how one option looks, it's simple to switch to another. Really, though, we didn't run into many issues with how apps use the screen – though it's very nice to know that LG has gotten ahead of the potential problem, all the same. The main downside is that you can only adjust the scaling for downloaded apps – not pre-installed software (like most of your Google titles).
How about those curved corners? Unlike the way most smartphone screens are perfect rectangles, LG rounds-off the corners of the G6's panel. They're not perfect 90-degree arcs, and we have to admit that our first reaction to seeing them was a bit along the lines of, "eww, why?" We even briefly considered the lengths we might go to with custom-ROM hacking in order to try illuminating those missing corner pixels.
But then we sat down and talked to LG about what was going on here, and the story began to make more sense. See, this isn't just some weird software trick to give the G6's screen a (more) interesting look. And you can't turn those curved corners back on in software; the screen really is clipped. But it turns out this is about way more than just aesthetics. By avoiding hard right angles, LG is trying to mitigate screen damage caused by drops and other impacts. While the shock wave from such incidents has a bad habit of traveling along the screen, being concentrated in right-angle corners, and causing breakage, this new design supposedly lessens that risk. And though we're not about to go intentionally dropping our G6, the company's own tests with actual hardware seem to support the idea that this change really is making a difference.
While we're quickly finding ourselves won over by the eccentricities of the LG G6's display, it's still not a screen without its issues. Though our measurements confirm that the display is decently bright, it's still a phone that's dimmer than a number of its peers, and our subjective experience often felt like the handset was on the dimmer side when actually using the G6, especially outdoors. Part of that may be attributed to its cooler color temperature – but short of some pre-set blue-light-reduction options for nighttime usage, there's no way to customize that look.
Color reproduction in general also isn't superb, and while it's better than many phones, there's a touch of AMOLED-style (which this LCD panel very much is not) over-saturation at the top of the screen's output range. At least, that's our experience with the UI, but the phone does claim to offer a wide color gamut with its support for HDR video, including both Dolby Vision and HDR 10 formats.
Display measurements and quality