Android Pie update for Razer Phone 2 is right around the corner, at least in an unlocked variant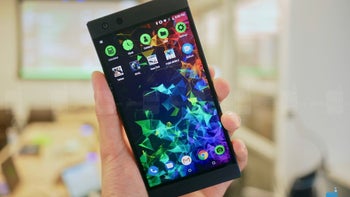 For a little while there, it seemed like
gaming phones
could become the industry's next big thing. But because essentially all high-end handsets are more than capable of running popular graphics-intensive titles like PUBG Mobile and Fortnite in crystal clear detail, Razer and
Asus aren't exactly topping the charts
in terms of global smartphone sales.
Still, the Razer Phone 2 is on track for an official Android Pie rollout start by the end of the month, according to a
timeline shared with Android Authority
as the company's internal beta process draws to a close. That's... not ideal, considering this is a
Snapdragon 845 powerhouse we're talking about
, commercially released just around four months ago, when the newest OS version was already out, running on the Essential Phone, OnePlus 6, and Nokia 7 Plus in addition to Google's Pixel devices.
Then again, the PC gaming hardware specialist is
rumored to be leaving the smartphone market
after experimenting with the
Razer Phone
1 and 2, so we should probably be happy about any software update delivered from this point on. By the way, there are no words on Pie goodies heading for the original Razer Phone anytime soon, which isn't particularly encouraging.
Back to the Razer Phone 2, we should highlight unlocked devices in the US are scheduled to receive their first OS makeover on February 27, followed by "most" carrier variants on March 13, and AT&T-locked models on April 4. The latter two dates are unsurprisingly "subject to change", naturally depending on how stable the first update wave proves to be for the masses and how fast last-minute optimizations can be achieved.
The "early" beta build the company allowed Android Authority to test-drive is described as "enjoyable" and largely glitch-free, containing very few proprietary software revisions to the satisfaction of purists nationwide.
Razer's new gesture implementation comes with a couple of subtle differences compared to Google's stock approach, but otherwise, you should be familiar by now with
what you're about to receive
. We're talking things like Adaptive Battery and Adaptive Brightness, Digital Wellbeing tools, general performance improvements, and of course,
February security patches
. Oh, and don't worry, you will be able to easily deactivate the love-or-hate gesture-based navigation.