Brand-new LG G6 on sale at eBay might be the best phone you can buy for less than $200
2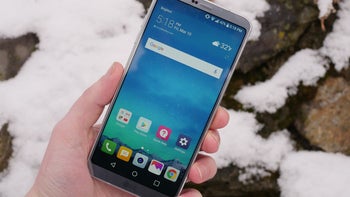 If you're looking for a nice sub-$200 Android phone, you could purchase a respectable mid-ranger like the
Moto X4 or Moto G6
from Best Buy or B&H Photo Video or choose a slightly older high-ender. The
LG G6
, for instance, is available at a crazy low $184.99 right now from a 99.9 percent positively rated eBay seller.
Originally released around two years ago, this sleek 5.7-incher can actually be snapped up for even less than 185 bucks
in "new other"
or refurbished condition. But Amazing Wireless, which has been a trusted eBay member for several years now, is selling brand-new units in an Ice Platinum color at the aforementioned price point.
These are "unused, unopened, and undamaged" items that can be shipped free of charge nationwide in their "original packaging", alongside all standard accessories, including an original LG charger. The heavily discounted handsets are apparently also sold "under LG warranty", although no details on the duration of said warranty are offered. We're guessing that means you get a full year of manufacturer coverage, but just to be on the safe side of things, you may want to contact the seller and ask for additional information.
One important detail you need to consider is G6 units on sale today for $184.99 a pop are T-Mobile-specific variants, which means they're not compatible out the box with AT&T, Sprint, or Verizon. That might sound like a major inconvenience, but keep in mind that Best Buy is currently charging a substantially higher $350 for unlocked models as part of a "clearance" deal.
The
LG G6
is hardly a pushover by today's (mid-range) standards, mind you, packing a Snapdragon 821 processor, 4GB RAM, 32GB internal storage, and 3,300 mAh battery, with a sharp 2880 x 1440 LCD panel also in tow, as well as relatively thin bezels, dual 13MP rear-facing cameras, and a headphone jack. Made from a robust combination of metal and glass, the device is also water and dust-resistant.